A Rolex 'Deep Sea Special' Surfaces for Fall Auction
These watches rarely hit the market, and this particular timepiece is expected to sell for as much as $2.6 million.
Geneva—A rare Rolex watch originally designed to test dive watch depth limits is surfacing at auction this fall and is expected to sell for as much as $2.6 million.   
Rolex created the "Deep Sea Special" in the 1950s in response to increasing demand for waterproof watches. 
The company had already created a watch with a waterproof case—the Oyster, which came out in the early 1920s—but now wanted to go deeper by making a watch that could withstand the incredibly high pressure present in the depths of the ocean. 
It began testing the first Deep Sea Special prototype in 1953 and, by 1960, had developed a watch that could be submerged to more than 10,000 meters—10,908 meters to be exact.
For reference, that's 35,789 feet deep, or about 7 miles straight down. 
Phillips likened the Deep Sea Special to a Formula One racecar, as it is designed to push the limits of what is possible, testing technologies later used on models serially produced for sale.
"The DSS is the watch that defined what Rolex is today; it is the philosophy behind its creation that led Rolex to focus on tool watches in general and dive watches in particular," said Alexandre Ghotbi, Phillips' head of watches for continental Europe and the Middle East.
"Without the Deep Sea Special, there would be no Submariner or Sea Dweller as we know it."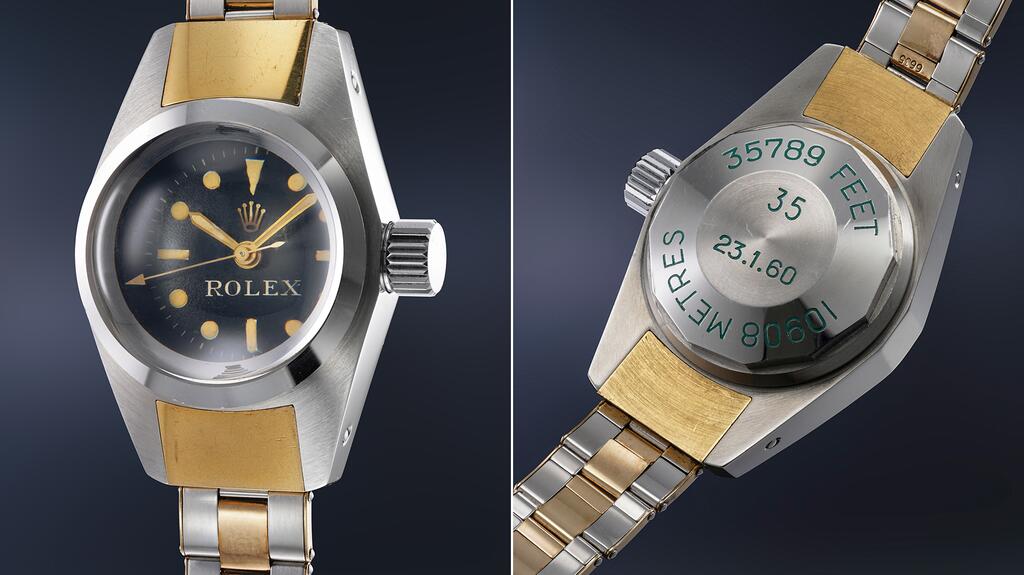 The watch being offered at Phillips in Association with Bacs & Russo's sale in Geneva is one of a number of commemorative timepieces made to celebrate that first successful deep dive in 1960. 
Crafted in stainless steel and gold, the watch was made in 1965 and is No. 35 in the commemorative series. 
Phillips said Rolex never offered the Deep Sea Special for public sale. They were all either prototypes entrusted to people like oceanographer Jacques Piccard, who participated in the testing, or given to science and watch museums for display. (The Deep Sea Special No. 3 is currently on display in the Smithsonian.)  
Only a handful of Deep Sea Special owners have offered them for sale over the years. 
A total of five have been sold in the public sphere, Phillips said, and it has been 12 years since a Deep Sea Special last hit the market. 
 Related stories will be right here … 
The Rolex Deep Sea Special will be part of Phillips in Association with Bacs & Russo's "The Geneva Watch Auction: XIV," scheduled to take place at La Réserve in Geneva from Nov. 5-7.
The watch is estimated to sell for CHF 1.2 million to 2.4 million ($1.3 million to $2.6 million).
The Geneva sale also includes a full set of
four Philippe Dufour watches
and a complete set of
five F.P. Journe's "Souscription" watches
.
For more information on the upcoming Phillips auctions, visit
its website
.
More on Auctions