Al Capone's Jewels Head to Auction
Jewelry and watches belonging to the notorious gangster will hit the auction block at Witherell's this fall.
Sacramento—American businessman Al Capone rose to notoriety during the Prohibition era and was later immortalized in pop culture as the ultimate gangster. 
Now, items from his estate are heading to the auction block this fall at Witherell's in Sacramento, California.
Capone's estate "survives as an undisturbed time capsule," said Witherell's.
When Capone died in 1947, his widow, Mae Capone, moved into the guest quarters of their Palm Island, Florida mansion and left the main house untouched until its sale in 1952.
She passed heirlooms on to their only child, Sonny Capone, and to his daughters, Barbara, Diane, and Ronnie.
The family lived most of their lives out of the spotlight, tucked away in Northern California. 
That was until 2019, when granddaughter Diane Capone published, "Al Capone: Stories My Grandmother Told Me."
The public remembers Al Capone for his gangster reputation and a life of crime, but his family remembers him differently.


"What people don't know is his personal story as a father and grandfather and his painful path of redemption while at Alcatraz," said Diane Capone in a press release about the auction.
"That is the unknown Capone I talk about in my book and it's the story that comes to life with these family treasures."
Following the book's publication, the family has decided it's time to share their history with the public.
"My sisters and I are getting older. We didn't want these things to be left, and people wouldn't know what they were, what the story behind each of them is," said Diane. 
A resident of Northern California, Diane also said she feared a wildfire coming through and destroying her family history.
The top lot in the jewelry/watches category is Al Capone's Patek Philippe pocket watch with 90 single cut diamonds (0.02 carats each/ VS/ EF) with a platinum contract case featuring a signed dial and movement, pictured at the top of the article. 
It is estimated to sell for $25,000 to $50,000.
Another highlight is Capone's 14-karat white gold matchbook cover, seen below, set with 63 diamonds and estimated to sell for $2,500 to $5,000.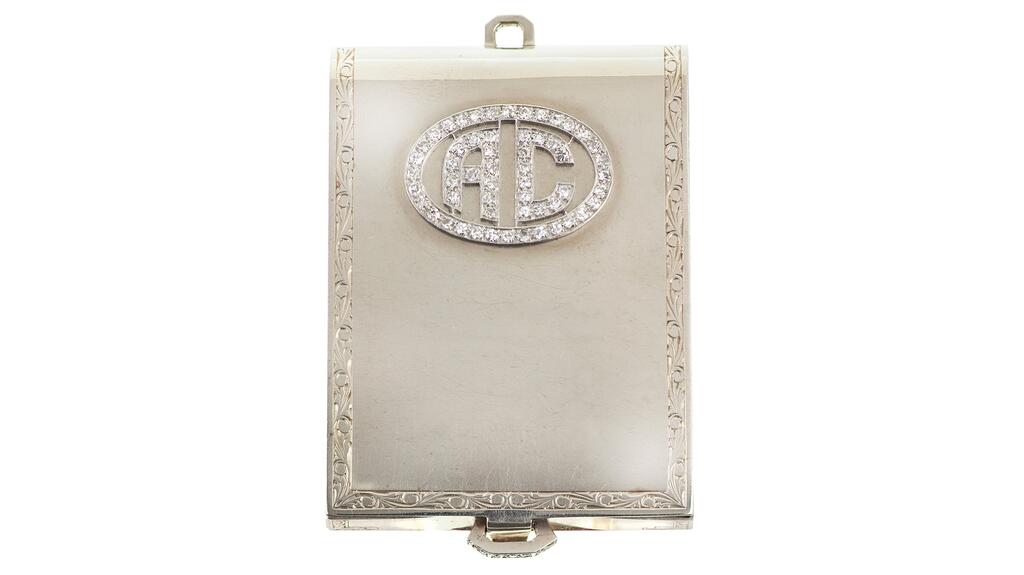 Capone was particularly fond of this piece, recalled his granddaughter Diane Capone in an interview with Witherell's, and always carried stick matches with him to light his cigars.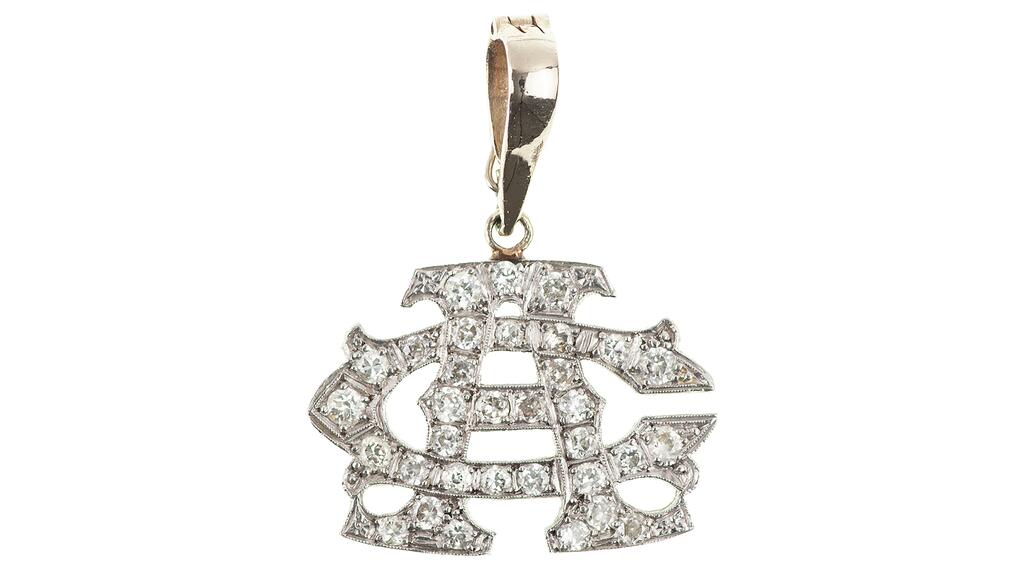 A 14-karat white gold and diamond monogram "AC" pendant, seen above, is also up for auction, expected to sell for $2,500 to $5,000.
 
The above platinum Haynes Stellite pocketknife, set with 20 single cut diamonds to spell "Al," is estimated to sell for $2,500 to $5,000. 
A platinum and 10-karat white gold
stick pin
belonging to Al Capone, topped with a pearl, synthetic sapphires, and 14 diamonds (.16 ctw), is estimated to sell for between $2,500 and $5,000.
His granddaughters, Barbara and Diane, recall it being a gift from Italian actor Rudolph Valentino.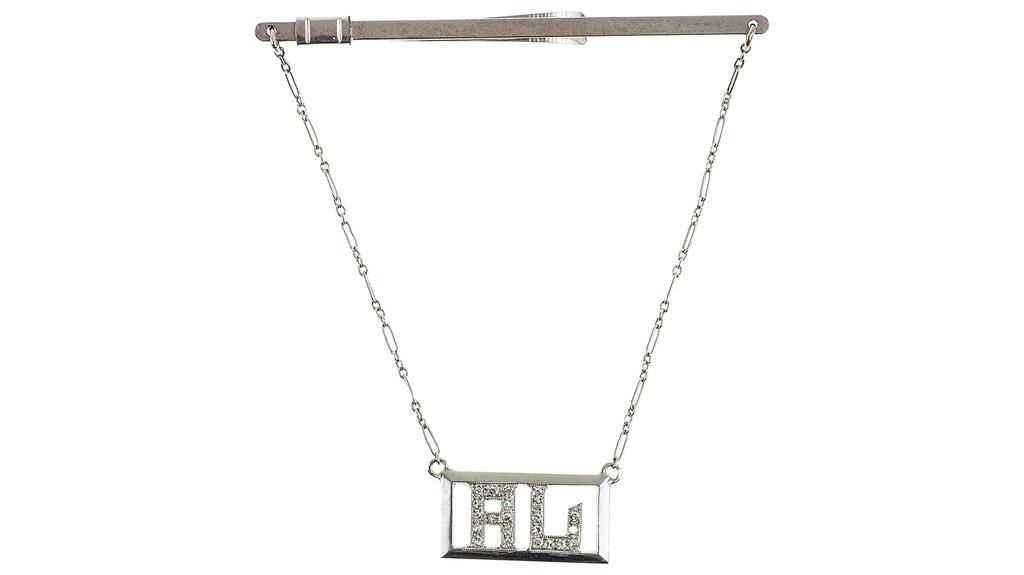 Capone's diamond tie bar (above), set with 21 single cut diamonds, each .005 carats, VVS, and D, E, or F in color, is expected to sell for $2,500 to $5,000. The pendant is 10-karat white gold while the bar is a less valuable metal. 
Other jewelry items from Capone include his "tuxedo set" of abalone and diamond studs and cufflinks, an 18-karat gold and platinum belt buckle, and a gold initialed "AC" money clip that he was known to carry every day.
Jewelry belonging to his wife, Mae Capone, will also be up for auction, including a pair of emerald, diamond and onyx earrings and a matching pendant.
Items from Sonny Capone, Al's son, will appear in the auction as well, including a
watch
he received from his uncle Ralph Capone and his then-wife Val for Christmas 1931.
The Mimo 8 day white gold filled wristwatch has a rectangular Art Deco face set with 17 jewels. The engraving on the back reads "Merry Christmas Sonny. From Val and Ralph. 1931." It is expected to sell for $1,000 to $2,500.
Additional pocket watches belonging to Sonny will be up for auction alongside a 14-karat yellow gold and
carnelian ring
, circa the mid-to-late 20th century. The ring is expected to sell for $250 to $500.
The top lot overall, by estimate, is a Colt Model 1911 semi-automatic pistol, said to have been
Al Capone's favorite .45 firearm.
It is expected to sell for $100,000 to $150,000.
An auction preview, including a book signing by Diane Patricia Capone, will be held Oct. 7 at Witherell's. The auction will be held Oct. 8 at Sutter Club in Sacramento.
Auction seating will be available by invitation and lottery. Those interested should send an email to
brian@witherells.com
by Sept. 17 to be eligible for lottery seating.
 Related stories will be right here … 
More on Auctions