2 of Sammy Davis Jr.'s Diamond Rings Top Bonhams Jewelry Auction
They both sold for well above their pre-sale estimates in the recent "California Jewels" sale.
Los Angeles—Jewels with a celebrity provenance always drum up plenty of excitement at auction and pieces once belonging to Sammy Davis Jr. were no exception. 
Born in Harlem to Afro-Cuban vaudeville dancers, Davis (1925-1990) spent his life in showbusiness, breaking down myriad racial barriers to become a successful comedian, actor, dancer, and singer.
A part of the "Rat Pack" and a Tony-nominated performer, he also had a flair for style, always seen wearing a suit and donning at least one big gold ring. 
So when a few of his pieces recently went up on the block at Bonhams Los Angeles' July 20 "California Jewels" sale, they were understandably popular with buyers who wanted a piece of the history that helped represent who he was. 
Topping the auction was a gold ring centered on an octagonal-shaped modified brilliant-cut diamond weighing 6.28 carats, seen at the top of the article. 
Estimated to go for between $30,000-$40,000, the ring sold for much more than its high estimate, garnering $69,063.
Also at the top of the sale, coming in at No. 3, was the 18-karat gold ring seen below, featuring a round-shaped brilliant-cut fancy deep yellow-brown diamond weighing 10.75 carats and marquise diamond accents weighing 1 total carat.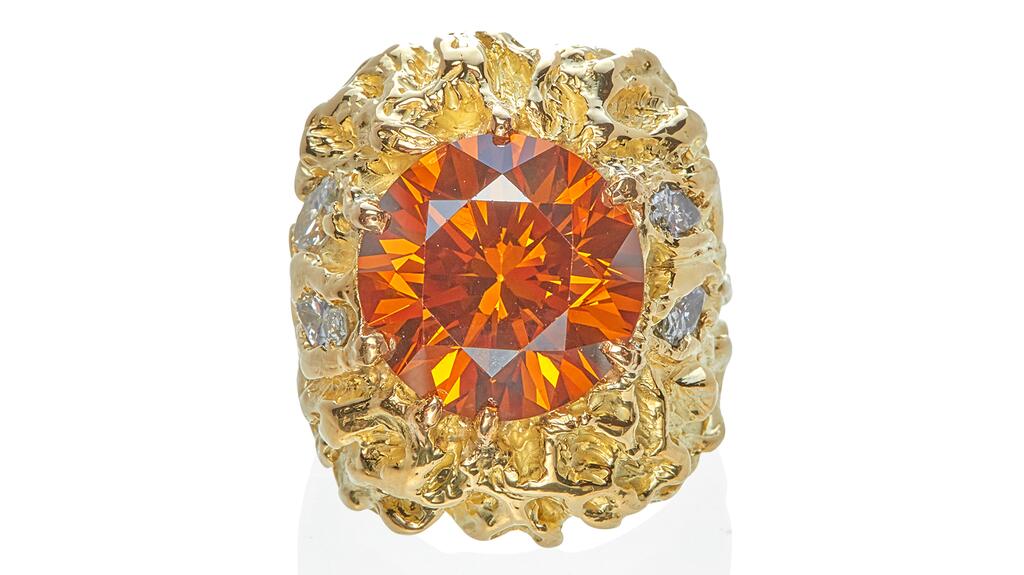 It also went for well above its pre-sale estimate of between $7,000 and $9,000, selling for more than four times that at $40,313.
Davis' 18-karat bicolor gold, diamond, and enamel monogram necklace also fell within the top 10 lots, selling for $20,313 compared with a pre-sale high estimate of $8,000. 
"Sammy Davis Jr. was an iconic performer with incredible style. He wore his jewelry everywhere, and the brown diamond in particular was one of his favorites, appearing in countless photographs," said Bonhams Los Angeles Head of Jewelry Emily Waterfall. 
"There was palpable excitement during bidding and the outstanding prices achieved by the two rings from his personal collection demonstrate the strong demand for one-of-a-kind jewels with unmatched provenance."
Coming in at No. 2 in the auction was a Bulgari set, pictured below, featuring a gold and pavé-set diamond link necklace, a bracelet, and a pair of earrings with an estimated total diamond weight of 20 carats that sold for $40,313. 

There was also a multicolor sapphire and diamond brooch that garnered $37,813, compared with a pre-sale estimate of $5,000-$7,000, and a multicolor sapphire and diamond bracelet that sold for $31,563, compared with an estimate of $3,000 to $5,000. 
Meanwhile, the jewelry auction also included six pieces from modernist designer Art Smith, known for making jewelry influenced by biomorphism and Surrealism. 
Smith (1917–1982) trained at Cooper Union in New York City and sold his jewels at his store in Greenwich Village from 1946 to 1979. He would eventually be featured in Vogue and Harper's Bazaar as well as numerous museum collections. 
The pieces featured in the Bonhams auction came from a collector who said her mother became friends with Smith in the late 1940s and bought several pieces at his Greenwich Village store.



Of the six items put on the block, only two sold during the event—a gold and opal bead ring and a sterling silver cuff bracelet, both of which can be seen above.  
Overall, the California Jewels auction achieved $1.3 million. To see the full results, visit
Bonhams.com
.
More on Auctions