A Look at Protective Jewelry Through the Ages
From Native American turtle amulets to the Italian cornicello, Associate Editor Lenore Fedow delves into the history of pieces of jewelry believed to shield the wearer.
I am a bit superstitious, to say the least.

I'd say it's a mix of my nervous nature and my Italian-American upbringing, a culture steeped in old-world tradition with no shortage of superstitions.

Everything from placing a hat on the bed to putting new shoes on the table was a way to bring bad luck.

But for as long as we've believed in bad luck and curses, we've also believed there were ways to protect ourselves, and those included wearing jewelry.

Across cultures, jewelry has served as both adornment and protection for centuries, its beauty doubling as a safeguard for the wearer.

Join me as I take a look through some notable protective amulets throughout jewelry history.

The Cornicello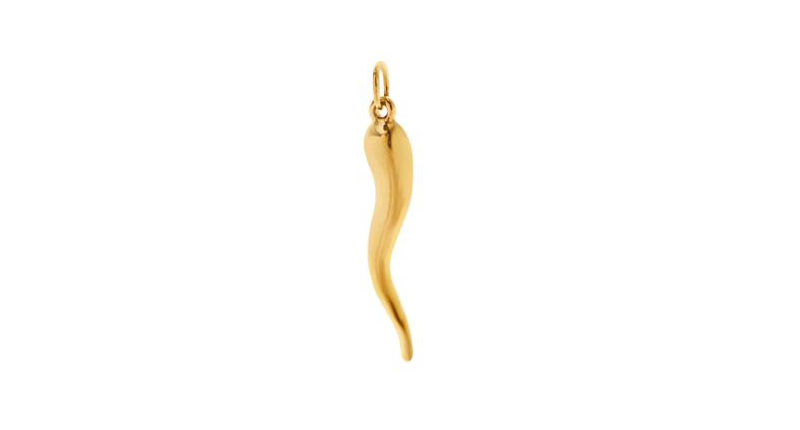 My mother was a fervent believer in "il malocchio," or the evil eye, the belief that someone could be so jealous of you that the envy would manifest into a curse on you.
One way to protect yourself and repel the curse was to wear the cornicello, or "little horn," a small pendant that looks like a red chili pepper.
Once made of red coral, it's taken various forms through the years and has been embraced by jewelry designers many times over; check out these modern cornicello charms from
Ariel Gordon
and
Loren Stewart
.
In addition to protecting oneself, the symbol is thought to promote fertility and virility. 
You can still find the charms today, hanging off necklaces, keychains, and rearview mirrors, particularly in southern Italy, where my family is from, and in Italian-American neighborhoods, where my family is now. 
Similar to the superstitions surrounding pearls and opals, it's considered bad luck to buy a cornicello for yourself.
Tau Cross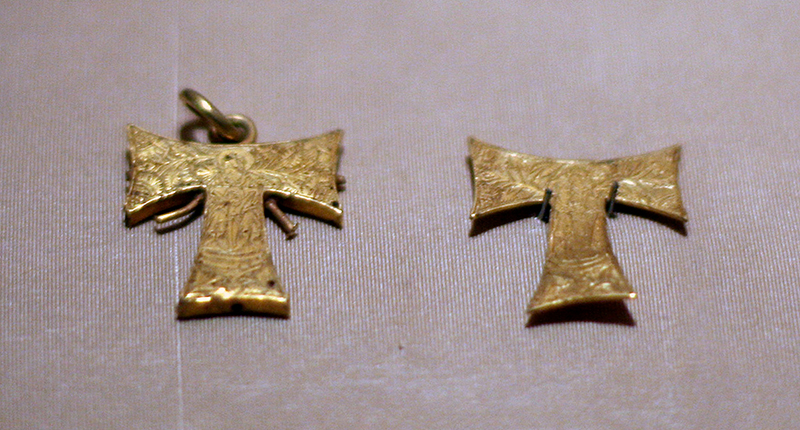 We're taking it back to the first millennium to talk about the Tau Cross.
Religious jewelry as protection stretches back thousands of years, but the Tau Cross has a particularly interesting backstory.
The story has monks, poison, and demonic visions, so buckle up.
The t-shaped cross is named after the Greek letter "T" and was known to the Romans as "crux commissa," or "connected cross" in Latin.
Also known as Saint Anthony's Cross
, it is linked to
Saint Anthony of Egypt
,  251-356 AD, one of the earliest monks and a founder of organized Christian monasticism. 
Anthony gave up his worldly possessions and went into the desert to live a life of fasting and solitude.
He was depicted wearing a Tau cross on his cloak and his followers did the same, adopting a black religious habit marked with a blue version of the symbol.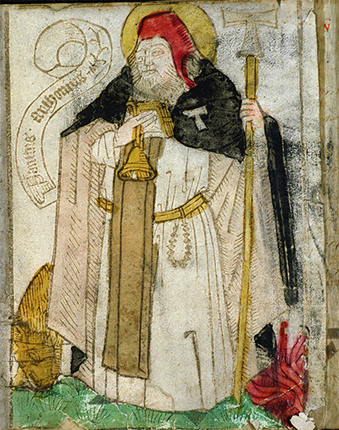 Anthony was said to experience visions brought on by the devil, taking the form of a fellow monk bringing him bread during his fasts or wild beasts attacking him.
It was believed that Anthony's devotion to God is what helped him to repel the visions.
You know what else can make a person see visions? Ergotism, a type of poisoning caused by a fungus on grains, like rye or wheat, used to make bread.
It can lead to convulsions, as well as muscle spasms, delusions, hallucinations, and crawling sensations on the skin, all similar to what Anthony was described to have experienced. Ergotism can also cause a burning sensation in the limbs, giving it the nickname "Saint Anthony's Fire."
While it later became clear that bad bread was the cause of Saint Anthony's Fire, it was long believed that wearing the Tau cross, as he had done, was a way to
protect
against his eponymous disease.
Tau cross pendants were worn around the neck and on clothing, but also formed into sculptures and incorporated into church window designs.
There are still
followers of Saint Anthony
in the Middle East, particularly in Lebanon, who wear Tau crosses on their black habits.
Today, the symbol is more widely associated with the
Franciscan Order
.
St. Francis of Assisi adopted the Tau symbol after hearing Pope Innocent III speak of its symbolism and power.
Turtle Amulets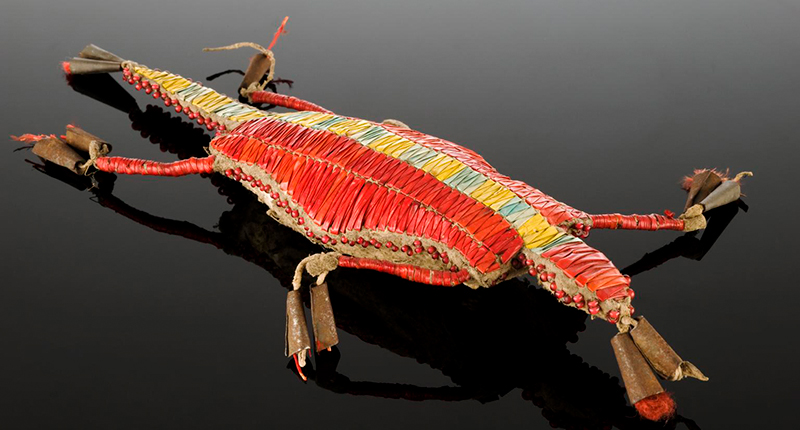 Symbolism coupled with beautiful, intricate craftsmanship is a hallmark of Native American jewelry.
In the
Lakota tradition
, babies were gifted turtle-shaped amulets to protect against illness and ensure a long life.
 
The spirit of the turtle, or keya, represented life, longevity and strength.

When the baby's umbilical cord fell off, it was sewed into a buckskin bag, usually shaped like a turtle, and the bag was attached to the baby's cradle to be used as a toy.

The keya was thought to protect newborns from "mni watu," or bacteria and germs that cause illness.


 Related stories will be right here … 
The turtle was also used as a teaching tool related to the tribe's 13-month calendar.
Upon observing changes in the moon and stars, the tribe counted 13 new moons, each with 28 days between them. The turtle mirrors this, with 13 scales on its back and 28 small scales around its shell.
For the turtle charm to work, the child
would have to keep it for a lifetime
. But kids will be kids, so the turtle amulet was taken away from them for a number of years so they wouldn't lose it.
The child would get it back when she or he was older and it could then be worn on a costume or a ceremonial dress.
The cord the amulet was held on was symbolic of a tie between the child's existence before birth and life afterward.
Hematite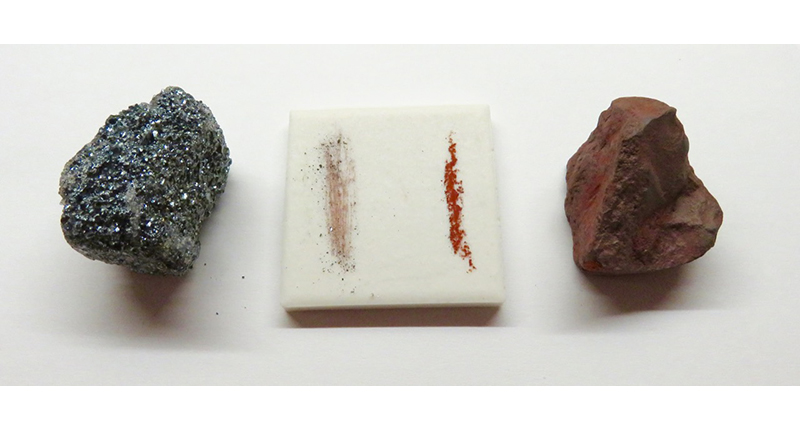 It wouldn't be a historical jewelry blog without input from Isabelle Corvin, staff gemologist at Panowicz Jewelers in Olympia, Washington.
Corvin has contributed to my blogs about
gemstone legends
and
cursed gemstones
, so I had to bug her again for this one.
Hematite
, a gray-to-black iron ore, is one of the most interesting protective amulets, said Corvin.
Derived from the Greek word for blood, "haima,"hematite was known as the "bleeding stone" because of the reddish streak of iron oxide it leaves behind, which Greek warriors once used as war paint.
"They would use oils or heated water on the stone so that when they pressed it on the skin, the iron staining would be applied," Corvin said.
Historical evidence about folklore can be hard to find, but "
Crystal Enchantments
," by author and occult researcher D.J. Conway, had some interesting information to share about hematite.
Roman soldiers believed in its protective properties, too, as hematite was thought to be sacred to Mars, the god of war.
When scraped against something, hematite produces a red powder, and that powder was
rubbed against the skin before battle
.
The stone itself was also worn for protection against battle wounds.
Lawyers suiting up for a courtroom battle may also want to wear hematite, since it's known as the "lawyer's stone."
Conway's book shares the story of a Babylonian gem treaty written on behalf of Mithridates the Great (63 B.C.) that states hematite could be used "to gain favorable hearings during judgments and lawsuits, to win positive petitions before all those in authority."
Is any of this real?
I hold onto some superstitions I grew up with, partly out of fondness and partly out of fear.
I don't know that I wholeheartedly believe in all of them but as I write this a few months into the coronavirus pandemic, I can understand why you would want to believe that a piece of jewelry can protect you.
In times of uncertainty, when misfortune feels wide-reaching and unescapable, I understand the desire to look for a way to take control of the situation.
When the real safety measures are isolating and feel scary, it's comforting to believe we can protect ourselves just by wearing a pendant, or rubbing some rock dirt on our skin.
Rather than searching for a magical amulet, I'll be looking for comfort where I've always found it: my family, my friends, my faith, and my fuzzy companions.
All that being said, does anyone have a spare cornicello? 
More on Editors
Editors
Jan 18, 2023