Here's What Our Second Las Vegas Survey Shows
National Jeweler shares the results of its latest poll on plans for Las Vegas market week.
New York—Back in June, National Jeweler
conducted a survey
to see how many people would be heading to the Las Vegas trade shows, with 54 percent of the 515 respondents saying yes and 32 percent saying no.
With the rapid spread of the COVID-19 Delta variant, National Jeweler reached out to readers again last week to see if sentiment has changed.
This time, 766 people took the survey.
Forty-three percent of respondents said they will not be attending the shows, an uptick when compared with the first round of the survey, which found 32 percent of respondents declining to attend.
Eleven percent of respondents were undecided, down from 14 percent in the first survey.
Personal COVID-19 precautions remained the top reason (78 percent) respondents have decided not to attend, just as in the first survey.
However, company COVID-19 policies have also prevented a growing number of respondents from attending.
In the most recent survey, nearly 21 percent of respondents cited a company COVID-19 policy as the reason for not attending, compared with 13 percent in the first survey.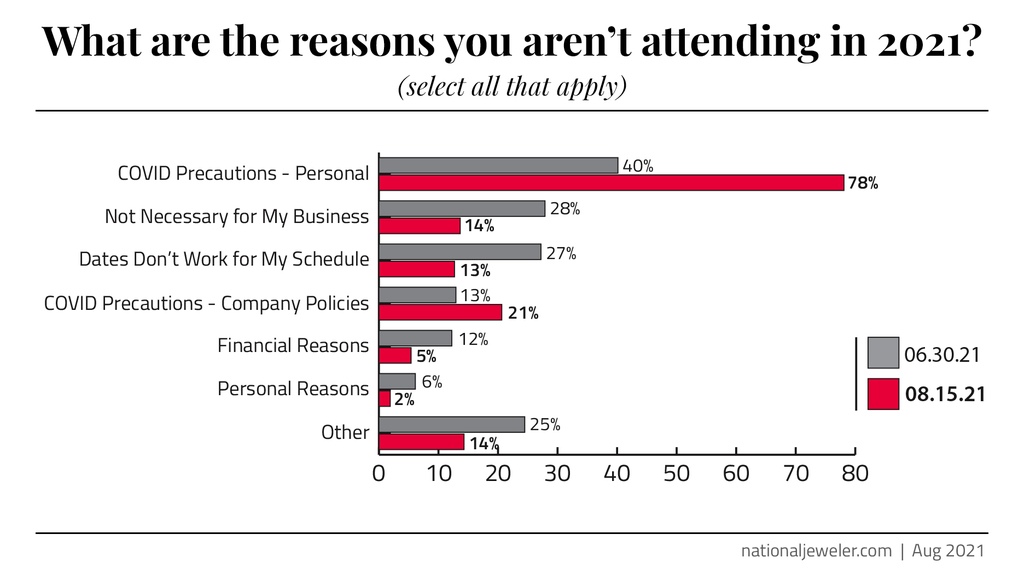 Among the companies that have changed their stance on the shows in recent weeks was Stuller.
The Lafayette, La.-based supplier announced last week it would not be exhibiting at JCK Las Vegas, citing concerns about the rise of the COVID-19 Delta variant, particularly in its home state of Louisiana.
"With the recent resurgence of the COVID-19 Delta variant and its concerning spread rate in the state of Louisiana and beyond, we believe that we should limit the risk of exposure for both our associates and our customers at this time," wrote Stuller President Danny Clark in a
letter
on its website.
Survey respondents who marked "other" when asked why they weren't attending had the option to write in an answer. 
Many said the new timing of the shows didn't work for them, noting it's too late in the season to shop for the holidays, a common answer in the first survey as well.
"Placing orders at the end of August is too late in the game," wrote one respondent.
Another respondent noted the show dates for Couture and JCK do not overlap this year and said a nine-day show period may be too long for some buyers.
Others cited the exit of major vendors, international travel restrictions, mask mandates, and the hot weather as reasons for not attending.
For those who do plan to attend the shows, most (85 percent) will be heading to JCK, followed by Luxury by JCK (53 percent), Couture (34 percent), AGTA Gem Fair (29 percent), and the U.S. Antiques Show (26 percent).
When asked why they're attending the shows, most respondents (62 percent) said they will meet with existing vendors and clients. Around 51 percent said they will source new vendors or clients. These were the top two answers in the first survey as well.
JCK Las Vegas
,
Couture
, and
AGTA Gem Fair
have implemented health and safety protocols in line with CDC guidance, local health guidelines, and those of the venues, and have updated these policies as guidance has changed.
"We know how important it is for the industry to get back to business, restock cases, discover what is new, and be ready for another very strong holiday season," said Sarin Bachmann, group vice president, Reed Jewelry Group.
"As always, health and safety is at the forefront of our planning, and we are committed to safeguarding our industry by keeping our health and safety protocols updated in accordance with public health recommendations and in consultation with our venue partners at The Venetian and Sands and our fellow industry Vegas jewelry week event organizers."
JCK released its events schedule last week, including a few new additions to the trade show as well as some familiar events.
The Jewelers for Children's Rings of Strength event, a fitness-focused charity event, is scheduled for Thursday, Aug. 26 from 5:30-10 a.m. The charity's Facets of Hope dinner will be held Sunday, Aug. 29 from 6-9 p.m.
JCK's Opening Day happy hour will be held in the new "Best of the Best" Lounge, Level 2 on Friday, Aug. 27 from 5-6 p.m.
The Le Vian Fashion Revue, an invite-only event, is scheduled for Sunday, Aug. 29 from 4-6 p.m.
For a full list of events, visit the JCK show
website
.
More on Surveys
Surveys
Dec 30, 2021
Surveys
Dec 16, 2021