Washington Man Finds 2-Carat Rough Diamond to Create His Own Ring
The discovery at Crater of Diamonds comes after Christian Liden spent five years panning for enough gold to make the band.
Murfreesboro, Ark.—After years of gathering material to make his own engagement ring, one Washington man recently found a 2-carat diamond in Arkansas to top it off. 

According to a release from the Crater of Diamonds State Park in Arkansas, 26-year-old Christian Liden of Poulsbo, Washington, started by panning for gold around his home state.

He had gathered enough for the band after five years, and then embarked on a mining excursion to find the stones he'd set in it. 

Liden and a longtime friend left their home state on May 1, taking with them mining equipment they had built themselves. They tested it at a Montana sapphire mine along the way. 


 Related stories will be right here … 
The pair arrived at Crater of Diamonds on May 7, spending an hour in the field that afternoon and returning early the next morning to mine all day, the park said. 
Then, on his third day there, Liden was sifting when he spotted a big rough diamond.
"I was shaking so bad, I asked my buddy to grab it out of the gravel for me," the park quoted Liden as saying.
He put it in a bag and took it to the park's Diamond Discovery Center, where staff confirmed he had found a large yellow diamond.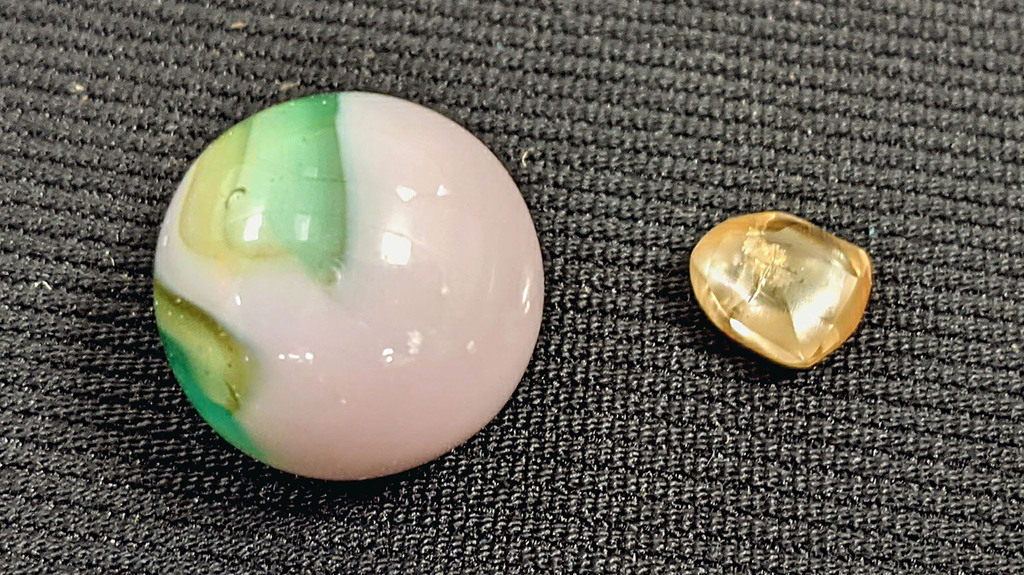 The park described the 2.20-carat diamond as light yellow, triangular, and having a "sparkling, metallic luster." Liden named it the "Washington Sunshine."
He plans to mine for opals in Nevada next before returning to Washington, with the hopes of eventually being able to design an engagement ring for his future wife using the diamond and other gems collected on his cross-country adventure.
The 2.20-carat diamond is the largest to be found at Crater of Diamonds since last October, when a visitor uncovered
a 4.49-carat yellow diamond
. 
Crater said 121 stones have been registered at the state park so far this year.