9 Special Spectrum Entries: Giving Out My Own Awards
Senior Editor Brecken Branstrator highlights interesting stones, designs and even one pair of eyeglasses spotted at AGTA's recent Editors' Day event.
Put hundreds of pieces of jewelry, food and mimosas in a sunlit Manhattan loft for one day and you've got some pretty happy editors.

Last Tuesday, the National Jeweler team headed to the West Village to take part in the AGTA Spectrum Editors' Day event, where we walked through tables and tables of creations.

I don't know if it was just me being more attracted to the deep colors, but it seemed like there were quite a few tanzanite pieces this year. There seemed to be an abundance of blues and pinks, and starburst motifs were also really popular.

And while it was great to get to look through so many different designs, there were a number that stood out to me for various reasons.

You got to see pictures of the first-place winners, according to the Spectrum judges, in my story last week, so I thought I'd go beyond those and show you some other notable creations from Editors' Day through my own fun awards.

Enjoy!

The award for The Piece I'd Want to Wear Every Day
goes to…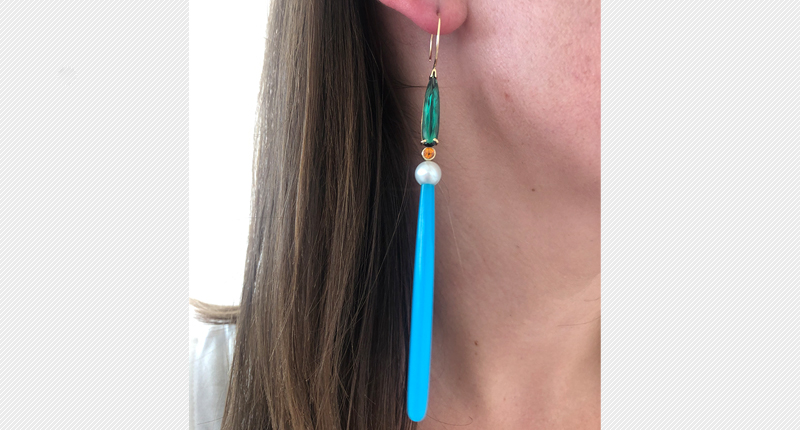 Mark Loren Designs' 14-karat yellow gold "Long" agate and gemstone earrings.
The Laguna agate drops were glowing in the sunlit loft on Editors' Day, calling to me with their vibrancy. I love how sleek and simple they are while still providing amazing color and an interesting pairing of stones—agate (45 carats total), green tourmaline (6.33 carats), akoya cultured pearls and .22 carats of yellow sapphire.
The award for
The Piece Most Interacted With
goes to…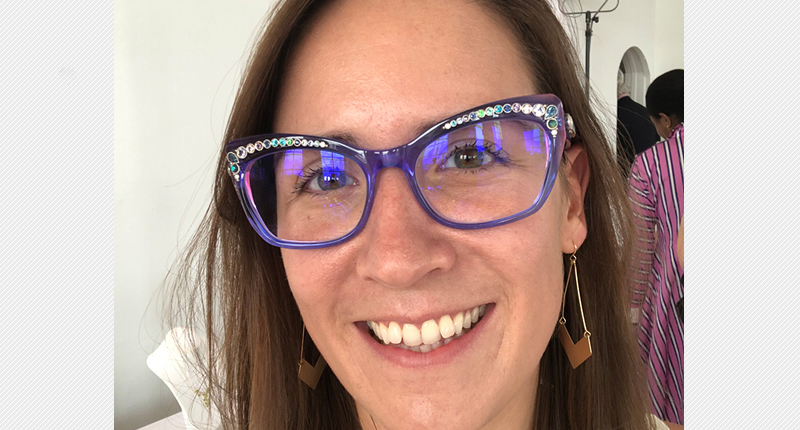 Deirdre Featherstone of Featherstone Designs' eyeglasses with platinum and gemstone "enhancements," featuring spinel, tourmaline, aquamarine, opal, garnet, sapphire, tanzanite and diamonds.
I caught them out of the corner of my eye as soon as we walked into the space and couldn't wait to try them on. And from what I could tell watching others as they neared the glasses on the table, the same could be said for everyone.
They were fun, beautiful, creative and unexpected (for the awards, but for anyone who knows Deirdre, not so much), and I loved watching everyone get so excited to try them on and take pictures. Even I took the rare selfie (and posted it to this blog no less) because I was so tickled with them. Needless to say, I'd wear my own glasses a lot more if they looked more like this.
The award for
Best Bridal Look
goes to…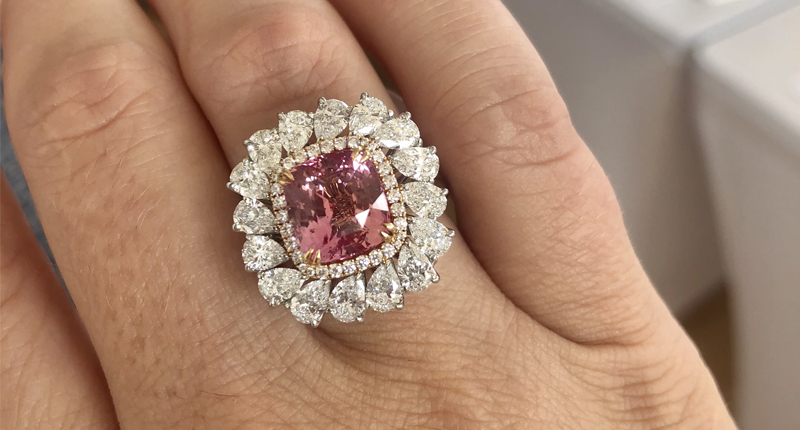 Omi Prive's 18-karat rose gold and platinum ring with a 5.01-carat unheated cushion-cut padparadscha sapphire with 2.69 carats of diamonds and a hidden .01-carat alexandrite.
The chances of an Omi piece being among my favorites was high—their stone selection is always on point, and their jewelry always does the perfect job highlighting the stone while giving it the perfect setting. This padparadscha is, in my opinion, the perfect color, especially for a bride, and accenting it with slightly off-set pear-shaped diamonds is the cherry on top of it all.
I would definitely say yes to this padparadscha, and that has nothing to do with
a royal effect
.
The award for
The Most Interesting Color Combination
goes to…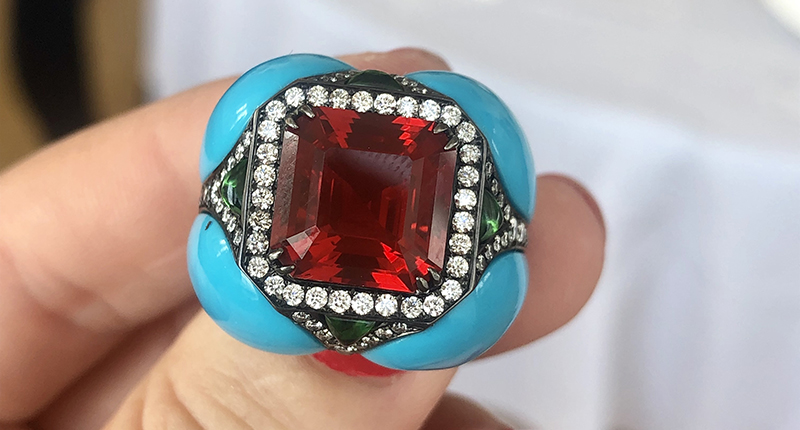 Gaston Jewelry Studio's 18-karat white gold ring featuring a 5.38-carat emerald-cut Mexican fire opal next to turquoise cabochons and set with 0.75 carats of tsavorite garnet and 1.10 carats of diamonds.
Orange and blue are on opposite sides of the color wheel, so putting them together isn't exactly shocking, but there's something about this pairing that is so eye-catching.
Maybe it's the use of the transparent fire opal next to turquoise cabochons on such a large scale that makes it so unexpected, but I clearly wasn't alone in my appreciation of the piece; it won honorable mention and manufacturing honors in the Business/Day Wear category.
The award for
Prettiest Piece from the Best Name
goes to…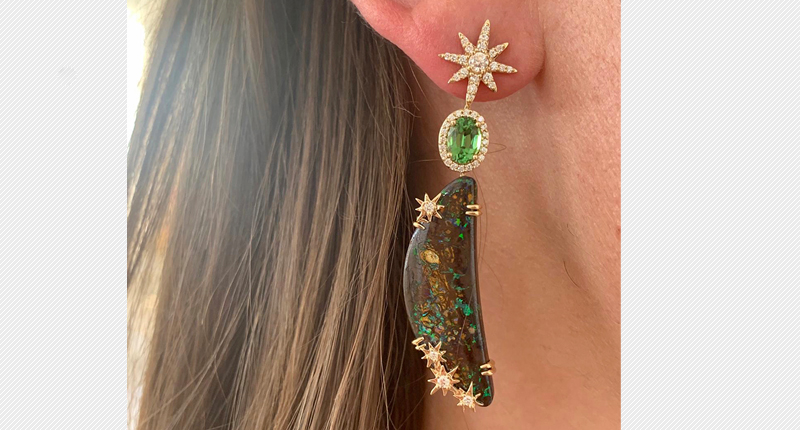 These 14-karat yellow gold earrings featuring 32.78 carats of boulder opals accented with 2.11 carats of tsavorite garnets and 1 carat of diamonds from Brecken Farnsworth.  
I was at the AGS Conclave event in San Diego in 2014 when I discovered there was another Brecken in the jewelry industry. Even better, she was there as well. I had only heard of a handful of other Breckens before, and had definitely never met one, so my mind was a little blown. It's still a little bizarre to me, but I take it as a sign that I've found myself in the right place.
I was so thrilled when I picked up this pair of earrings at the Spectrum press event to admire them and their details only to find out they were from Brecken Farnsworth of Parle Gems. I love the opals and their celestial golden accents topped off with a pop of green, so here's a shout out from one Brecken to another.
The award for
The Coolest Use of a Rare Stone
goes to…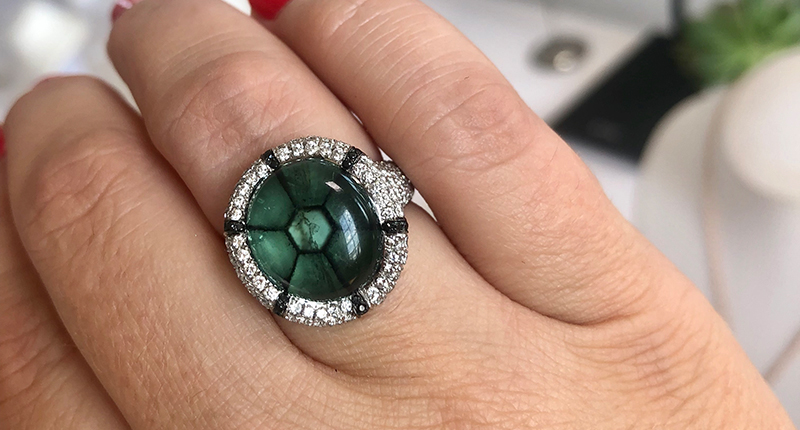 The platinum "Intersection" ring from Ricardo Basta, featuring a 8.70-carat trapiche emerald cabochon accented with 1.66 carats of white diamonds and .12 carats of black diamonds.
I love the way the design of this ring worked with the "spokes" of the trapiche emerald. It's clean and let's the stone speak for itself—trapiche is a sight to see all on its own—with just enough intrigue as the black and white diamonds continue the pattern with faceted, sparkling brilliance.
The award for
The Best Way to Catch Dreams
goes to…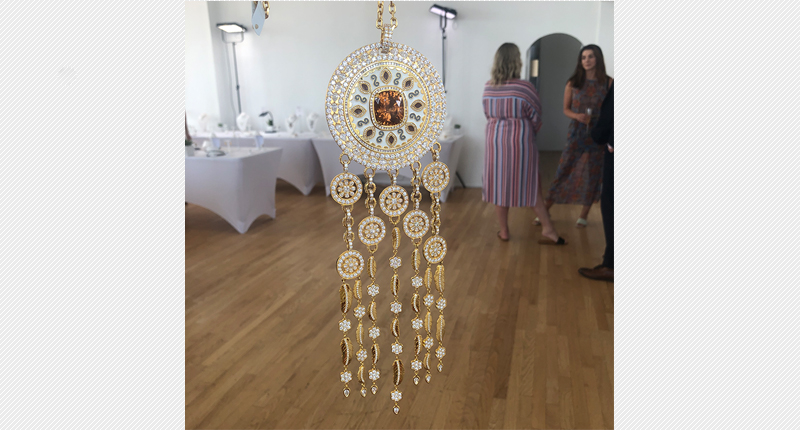 Buddha Mama's 20-karat yellow gold "Dreamcatcher" pendant featuring a 42.52-carat cushion-cut zircon set with white and gray enamel with diamond flowers and pears.
I am not a good sleeper. I need darkness and almost complete silence to fall asleep, and I will wake up at the sound of a pin dropping, all of which makes living in New York City an adventure. How nice then to find what might be my perfect solution at the AGTA Spectrum Awards! I love how much gold is involved in this, I love the zircon in the middle and I love how oversized it is. After all, who wouldn't want to don such a lovely piece, especially if it meant a better night's sleep?
The award for
The Piece With the Best Sense of Humor
goes to…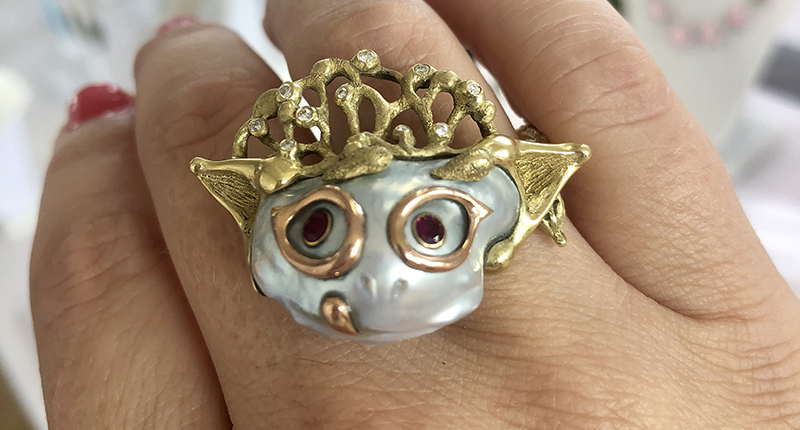 Ionescu Design's ring titled "A Little Gremlin About to Misbehave," featuring a gray baroque South Sea cultured pearl accented with a .07-carat ruby and .13 carats of diamonds.
The gorgeous stones, the thoughtful and innovative design, the stunning manufacturing—those are all the reasons and more why we love the Spectrum Awards. But it's also a piece like this—with a sense of humor behind it—that also provides such a bright spot.
This little guy, with his tongue sticking out, had many of us grinning from ear to ear. I don't know how one looks at a pearl like that and sees a gremlin, but I'm so happy it happened. He made my day.
The award for
The Best Use of My Birthstone
goes to…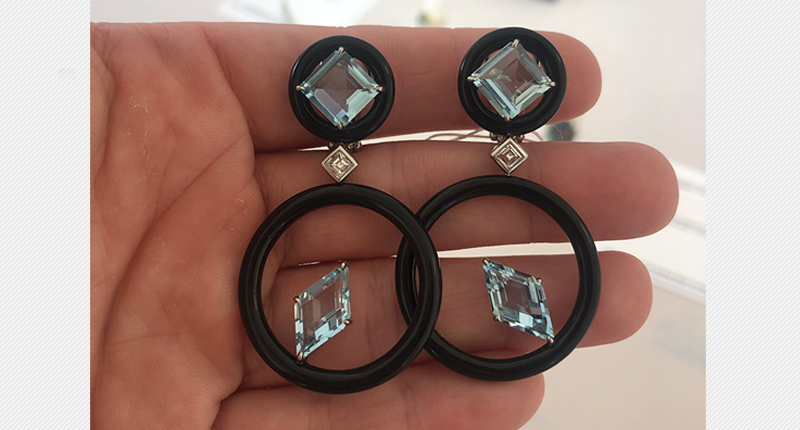 Sean Gilson's platinum earrings featuring onyx toroids accented with 8.78 carats of aquamarine and diamonds (.36 total carats).

I have hot and cold feelings about my March birthstone, if I'm being quite honest, and don't find myself steering toward aquamarine often.

But I like these earrings a lot, especially the way they pair the black onyx—we're seeing a lot of that and black enamel right now—with the light blue, and the way they partner the rounded shape of the onyx starkly against the geometric shapes of the faceted aquamarines, with the added intrigue of the bottom kites appearing to be almost floating. They're modern and sleek, and I'd happily wear these to celebrate my birthstone.
More on Editors