Alrosa's 'Luminous' Collection Leans Into Fluorescence
The diamond miner and seller is marketing the stones for their glow.
New York—Traditionally, fluorescence has been an undesirable diamond quality, negating many a stone from the fine jewelry marketplace.
Alrosa wants to change that.
In late 2020 it launched "Luminous Diamonds," a collection of finished diamond jewelry specifically featuring stones that fluoresce, and marketing them as such. 
Known to few outside the realm of gemology, fluorescence is often a result of human interference. 
According to Gemological Institute of America research scientist Dr. Mike Breeding, "Fluorescence occurs when electromagnetic radiation from an energy source (usually a UV lamp in gemology) knocks an electron (from a carbon atom, in the case of diamond) out of its stable 'ground' state and raises it to an 'excited' state. 
"When the electron returns to its ground state, energy is released, much of it in the form of visible light. This visible light is called fluorescence and it occurs only while the UV lamp is turned on."
The phenomenon is common in the gem world. 
Breeding estimated around 35 percent of natural gem diamonds will fluoresce in longwave UV light, with about 97 percent of those stones fluorescing blue.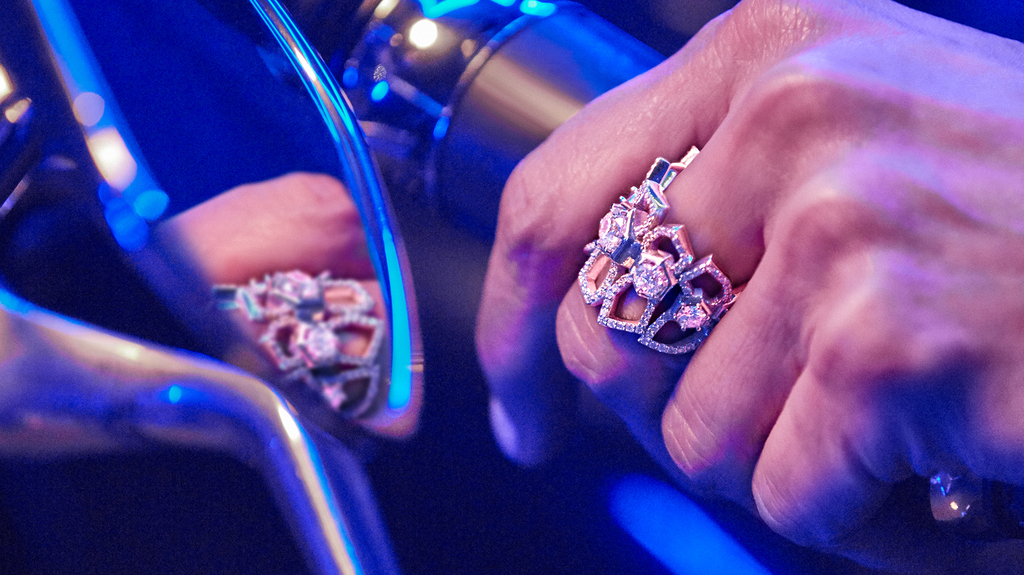 These are the stones that Alrosa is selling in the Luminous Diamonds collection.
"Extensive consumer research shows that most consumers are unaware about the natural mined diamond feature of fluorescence and if they are, their perception is not a negative one," said Alrosa USA Inc. President Rebecca Foerster.
"Our Luminous Diamonds are unique and rare natural mined diamonds that exhibit a most exceptional and beautiful blue light that can be easily seen under UV light, if desired. The symbolism of this inner light of the diamond correlates to the special inner light that every woman has as a unique identifier of who she is and what she stands for."
Luminous Diamonds comprises three sub-collections per design motif. 
There's the "Moonlight" collection, which is graphic and full of sharp edges and arresting negative shapes.
It sells for $2,650 to $42,000, with an average price point around $13,300, Alrosa said.
"Starlight" is geared toward more feminine, traditional taste, featuring a center diamond in pendants, rings and stud earrings surrounded by smaller stones arranged in the shape of a star, or snowflake. 
The average price point is $8,000, and the collection ranges from $2,950 to $16,200.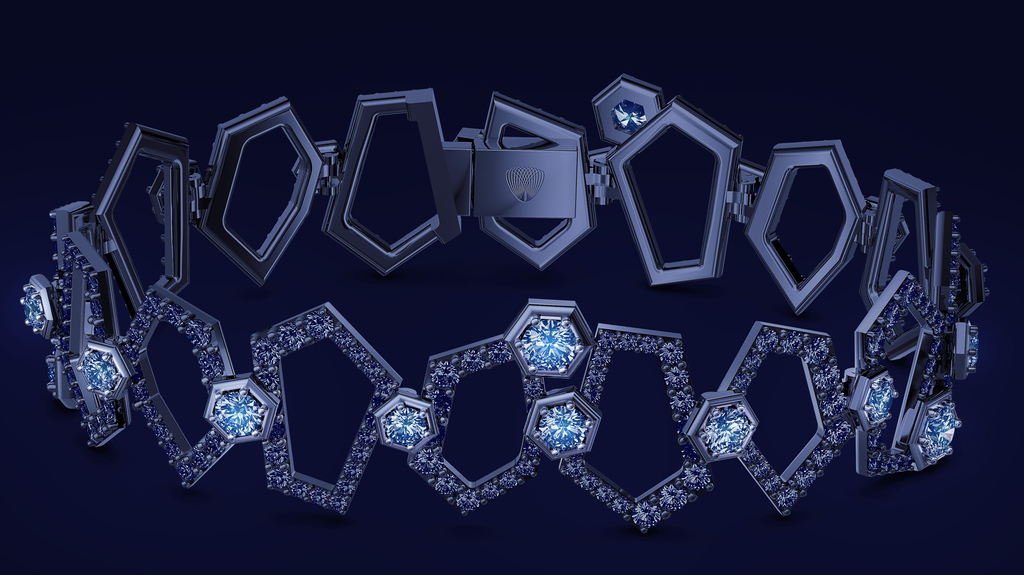 "Lucent" pieces feature the same windmill-like halo as "Starlight," but is sleeker. 
It features styles that showcase metal without pave diamonds, but still around a diamond center stone. The result is sleek and sophisticated, less fussy for a cleaner look. 
Priced from $2,700 to $13,000, the price point for the average item falls around $5,960. 
Just as Foerster explained to National Jeweler, "The concept of symbolic and meaningful diamond jewelry is something that consumers today are searching for and looking to buy, whether for themselves or as a gift," on the
Luminous Diamonds website
, Alrosa flips the traditional diamond narrative, stating, "Every diamond shines. Our diamonds glow."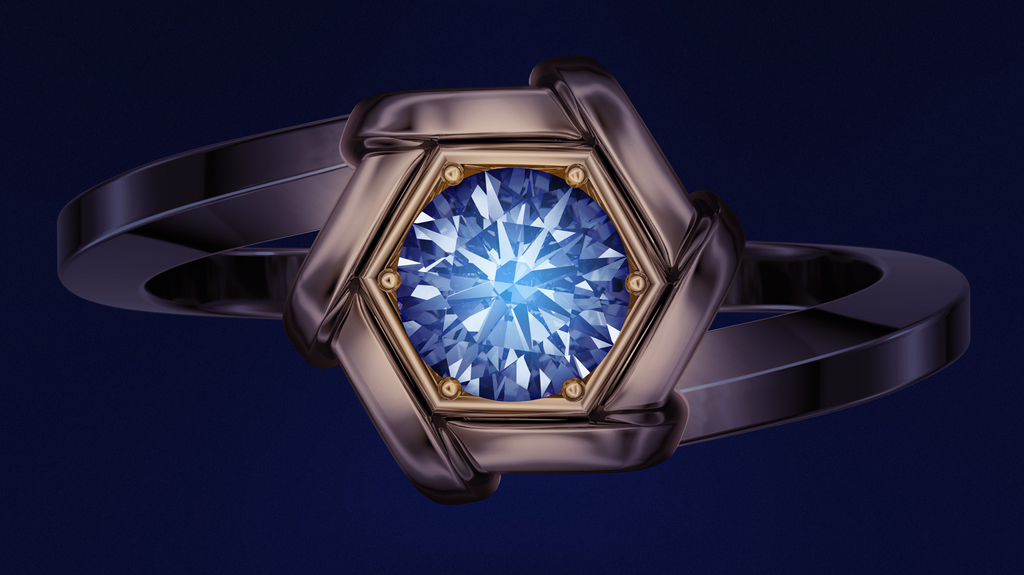 It touts the "wondrous characteristic of fluorescence." The website continues, "Fluorescence is a unique phenomenon that occurs if a diamond is exposed to ultraviolet light," and "See diamonds in a new light."
Through this messaging, a fluorescent diamond is presented as being unique, special and rare. 
While Alrosa is betting it can succeed in selling the stones, several American retailers are too.
Luminous Diamonds is already stocked at a couple of Neiman Marcus locations—including in Plano, Texas and Paramus, New Jersey—Lux Bond & Green, Florida independent Underwood's and Wilson & Son Jewelers in Scarsdale, New York, among others. 
More on Collections