August Birthstone Baubles
Senior Editor Brecken Branstrator highlights jewels featuring the August mainstay, peridot, as well as the newly added birthstone for the month, spinel.
I've been eagerly waiting to write this blog post ever since the news came out that Jewelers of America and the American Gem Trade Association were adding spinel as a birthstone for the month of August, joining peridot.

Just before JA and the AGTA made the announcement, National Jeweler Editor-in-Chief Michelle Graff and I had been having a discussion about why spinel wasn't yet a birthstone. (My first thought was to swap it with April since diamonds get enough attention now and give those birthday people some gemmy love.)

For another, I love spinel, and I'm incredibly jealous of the August babies. (Michelle's birthday is in August and she's very excited about it. In fact, she even was kind enough to drop birthday "hints" on the show floors by pointing out peridot and spinel pieces.)

Spinel comes in so many great colors. Not only are the classic pinks a shade that I would die for, but there are also interesting hues that get even less attention--hello, lavender spinel, anyone? It's amazing. Also, check out gray spinel; not what I was expecting and so subtle and interesting.

And don't forget the blue-purple hues. Black spinel, meanwhile, offers a killer price point. (If it's not already clear, I'm a major gem hound who can't choose because I want all of them.)

I'm so excited about the fact that this lovely stone will get put in front of more consumers. It deserves the attention and I'm hoping that it's new positioning will help invigorate the gem.

Most of the time, when I brought up the fact that spinel now was a birthstone, whomever I was talking to shared in my excitement. Interestingly, though, I was having the discussion with a designer at the JA New York show who wondered how the spinel addition would affect peridot, which was her best-selling stone.

But, I think peridot's pretty set. It's positioning as a birthstone has given it a permanent place in the gemstone world. I don't think it's going anywhere. And for those to whom the green hue might not be the most appealing, spinel will offer them plenty of other great options.

Here are 12 pieces of jewelry showcasing the birthstones for August.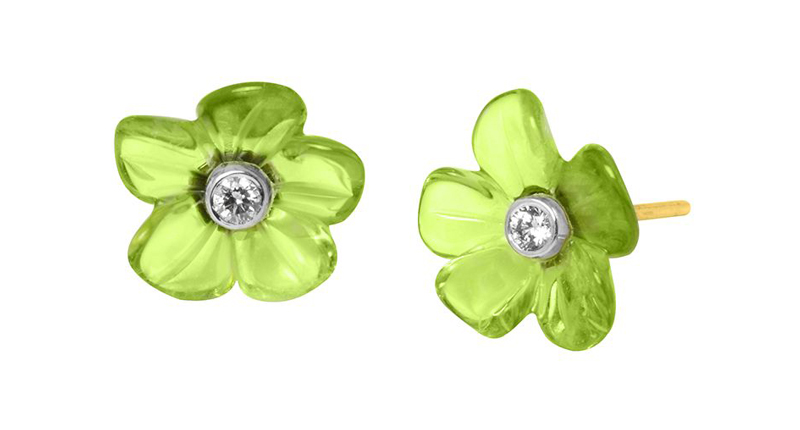 These 18-karat gold studs from Rina Limor feature hand-carved peridot and diamonds ($1,100).
RinaLimor.com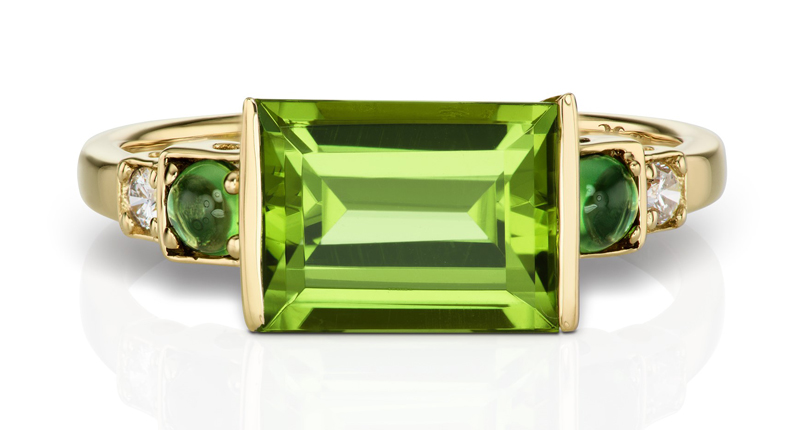 Jane Taylor's vintage-inspired ring features peridot, green tourmaline cabochons and diamond accents set in 14-karat gold ($1,675).
JaneTaylor.com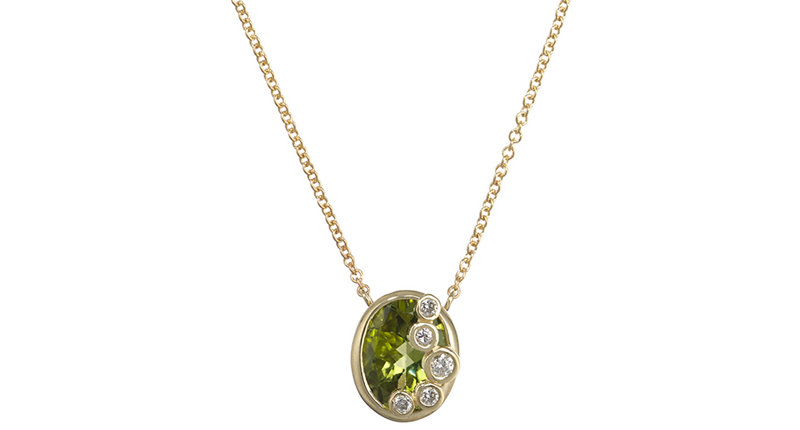 Zaiken
Jewelry's 5 Stone round diamond and peridot necklace in 18-karat gold ($1,815)
ZaikenJewelry.com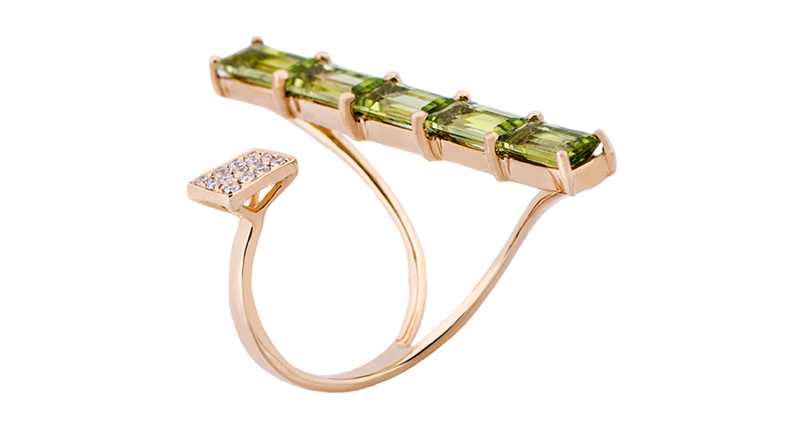 Stefere Jewelry's 18-karat gold peridot "Terri" ring with diamonds ($3,000)
Stefere.com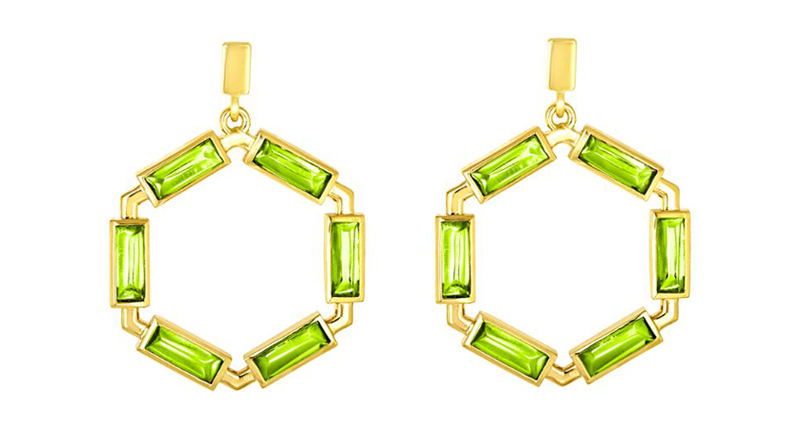 Amy Glaswand's "Ceres Block" hoops are made in 18-karat gold and feature peridot baguettes ($3,970).
AmyGlaswand.com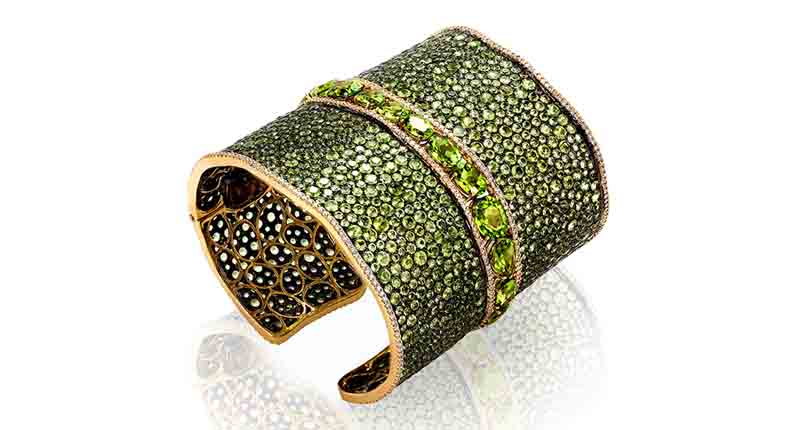 Etho Maria's 18-karat gold cuff features 121.63 carats of peridot accented with diamonds ($37,500).
EthoMaria.com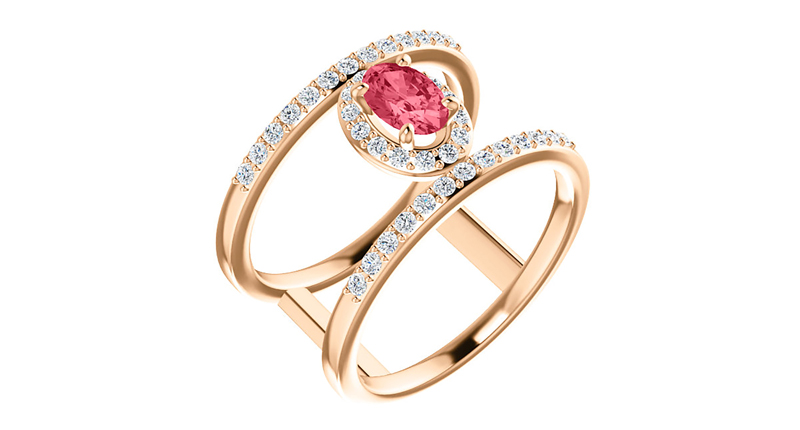 This 14-karat rose gold ring from Stuller features an oval pink spinel center stone ($2,835).
Stuller.com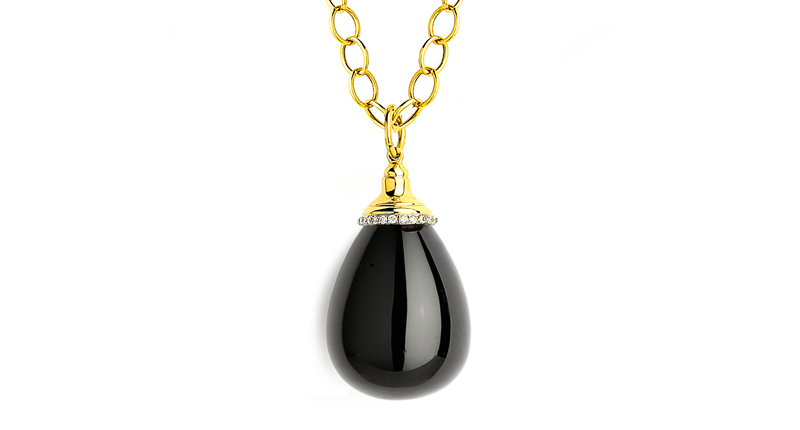 Syna's medium-sized Mogul drop pendant features a black spinel weighing more than 50 carats with diamond accents in 18-karat yellow gold ($2,450 for pendant only; 30-inch 18-karat yellow gold chain sold separately, $1,650)
SynaJewels.com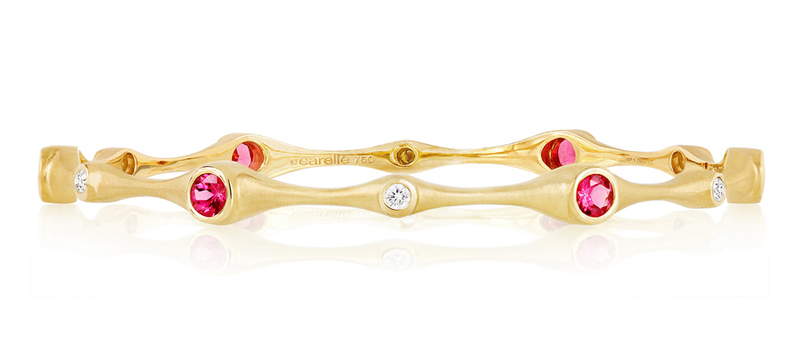 Carelle's spinel and diamond stack bangle in 18-karat yellow gold ($5,200)
Carelle.com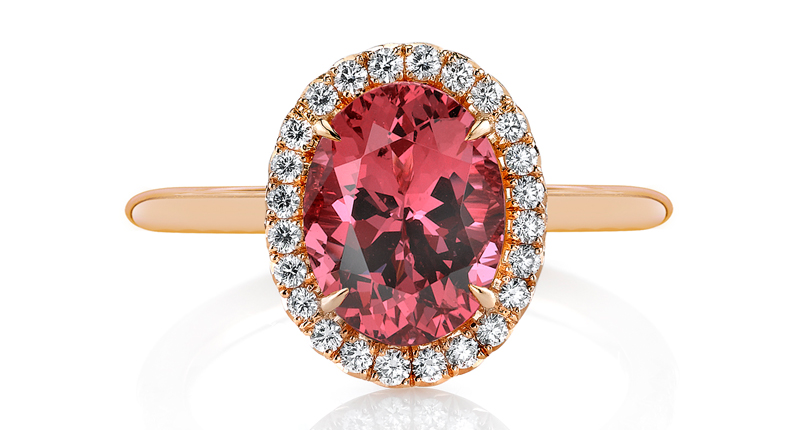 This ring from Omi Privé is handcrafted with a 2.16-carat oval spinel center stone accented with brilliant diamond rounds set in 18-karat rose gold ($9,750). (Photo credit: Omi Privé)
OmiPrive.com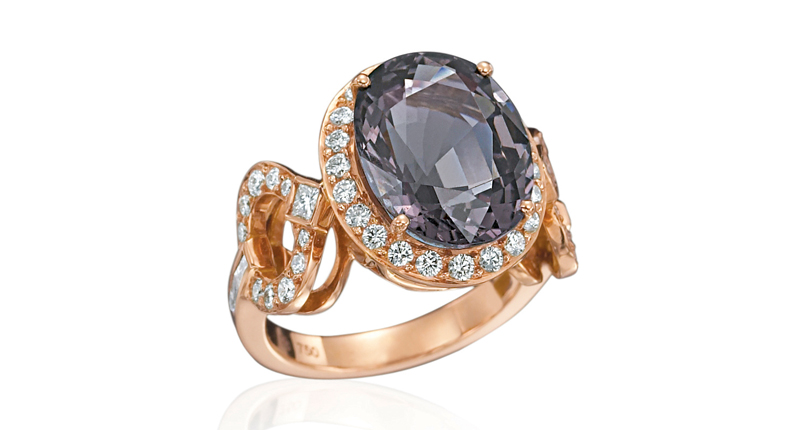 The "Gallop" ring from Gumuchian boasts a 7.53-carat titanium spinel with diamond surrounds set in 18-karat gold ($10,000).
Gumuchian.com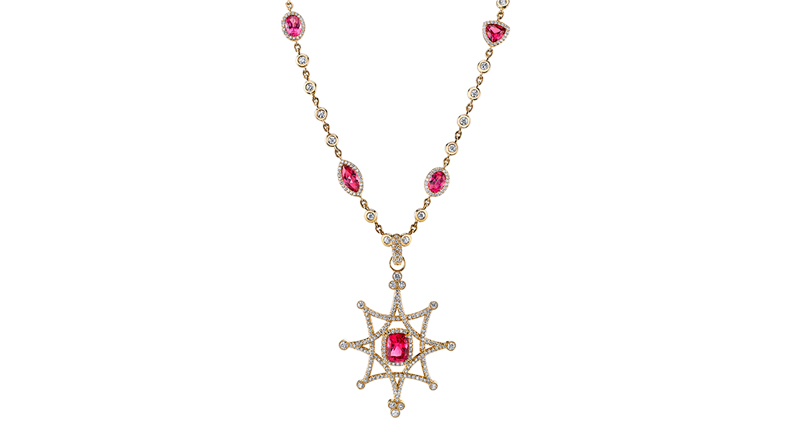 Erica Courtney's 18-karat yellow gold "Jennifer" pendant features a 3.60-carat Mahenge spinel accented with diamonds ($56,400). It hangs on an 18-karat yellow gold gemstone station necklace with 11.62 total carats of Mahenge spinel and 4 carats of diamonds ($58,000).
EricaCourtney.com
More on Editors
Editors
May 24, 2023