Five finds at Spectrum
A few days after the AGTA revealed the winners of its annual Spectrum Awards design contest, Associate Editor Brecken Branstrator highlights a few of her own favorites from the contest.
Attending the editor's event that follows judging in the AGTA's Spectrum Awards is hands-down one of my favorite things to do every year.

The event space and the wonderful company alone would be enough, but then there are hundreds of pieces of amazing jewelry dedicated to colored stones put in front of us. I'm in heaven.

On Monday, National Jeweler's editorial team hung out at the event for nearly two hours, enjoying the pieces and noting our favorites. And without fail, when it comes times to place our own votes, it's always a struggle to pick.

There are pieces where design is kept simple because the stone is so stunning it needs no pizazz, and then there are pieces that find unique ways to complement the stone with innovative design. I appreciate both.

Here are five pieces from the Spectrum awards that caught my eye Monday afternoon. (Shout-out to my NJ team for being my models for most of these while I took the shots.)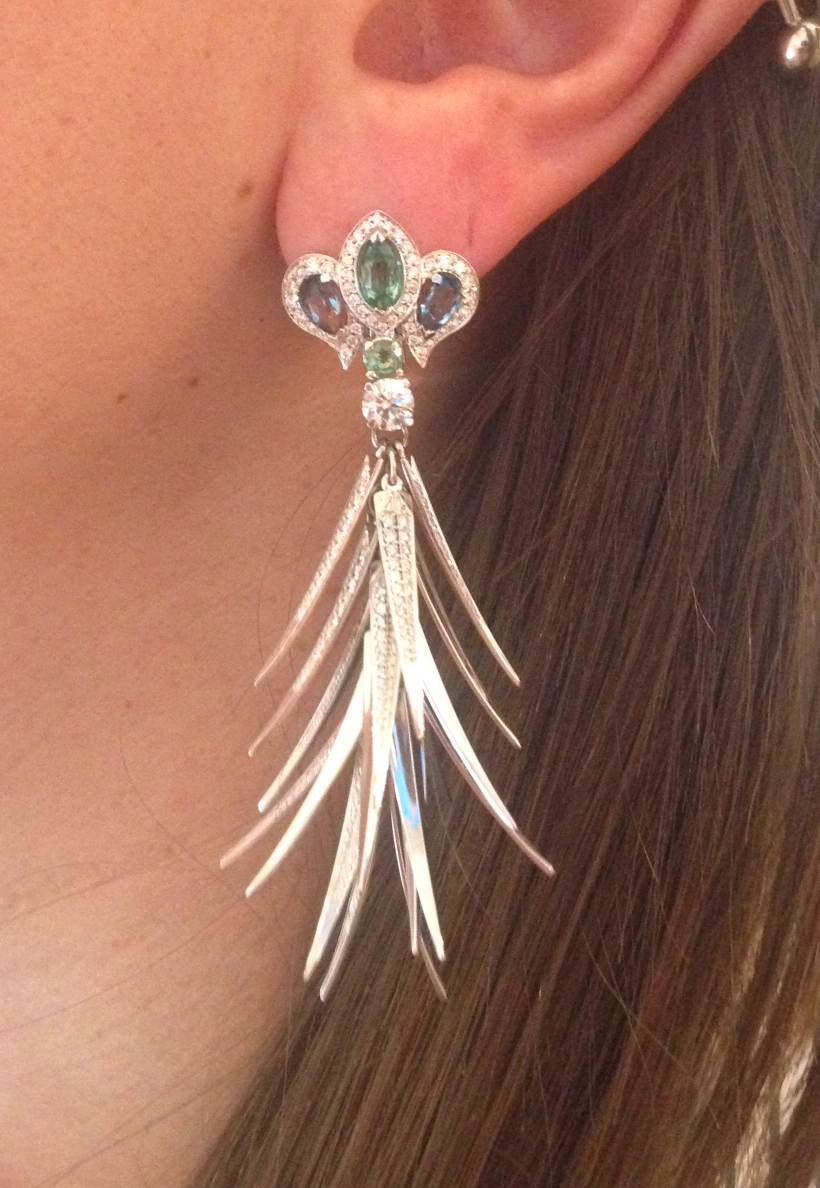 These 18-karat white gold earrings with mint tourmaline, blue topaz and diamonds from Laurence Bruyninckx were in the bridal category and I love them. I can picture a modern, edgy bride rocking them on her big day, but I also love how versatile they are. I can see these being earrings worn out on any evening, and, with an interchangeable dangle, they can transition to just studs for daytime.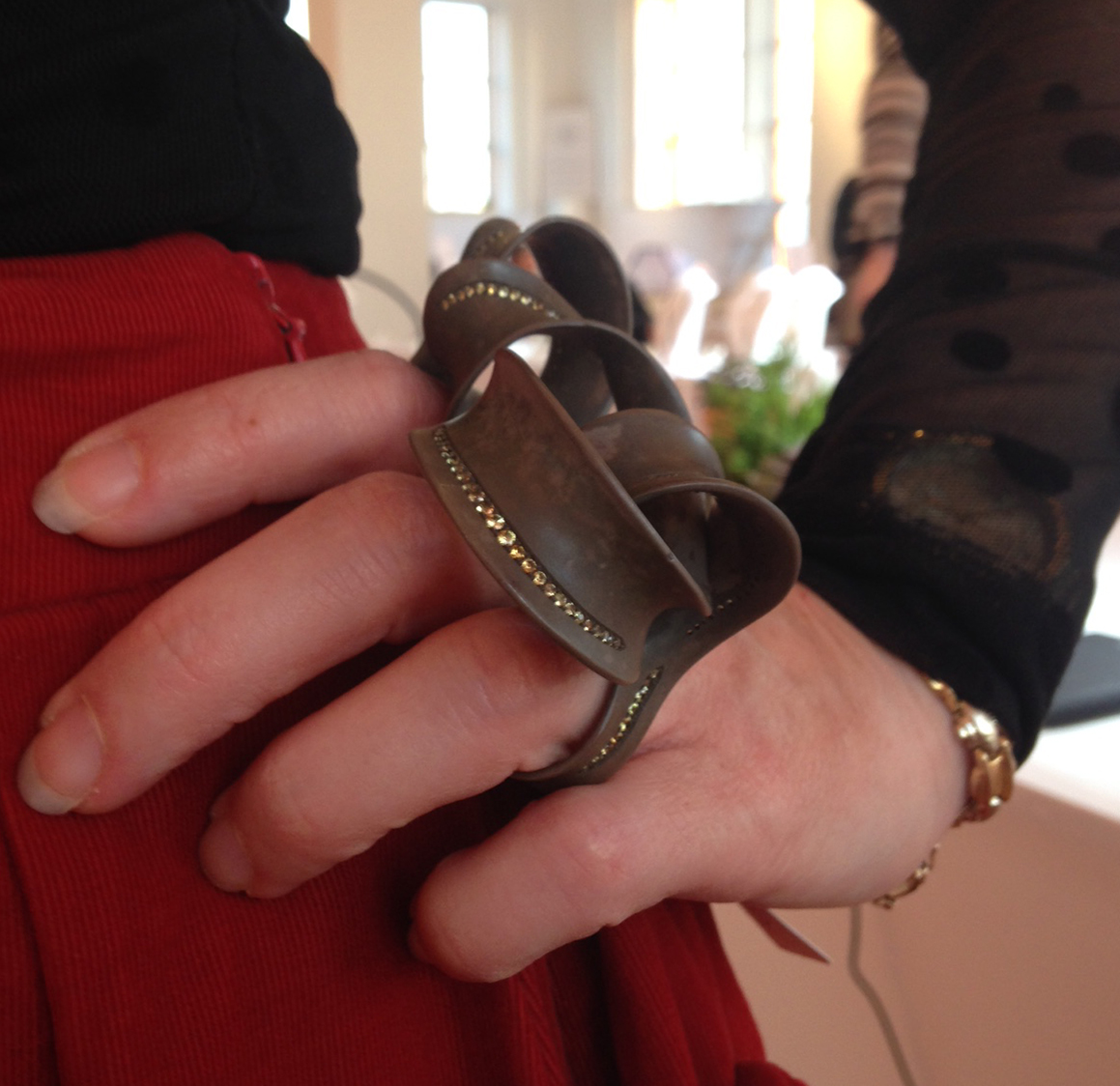 I know I'm not the only one at the event who loved this ring; I overheard a lot of enthusiasm for it from both my team and many other people at the AGTA's editor's event. And Jen Heebner over at JCK also included it in her ring roundup from the event. Lisa Linhardt of Linhardt Design's Tempest sculptural duster ring in oxidized sterling silver with yellow sapphires won the Evening Wear Gem Diva Award.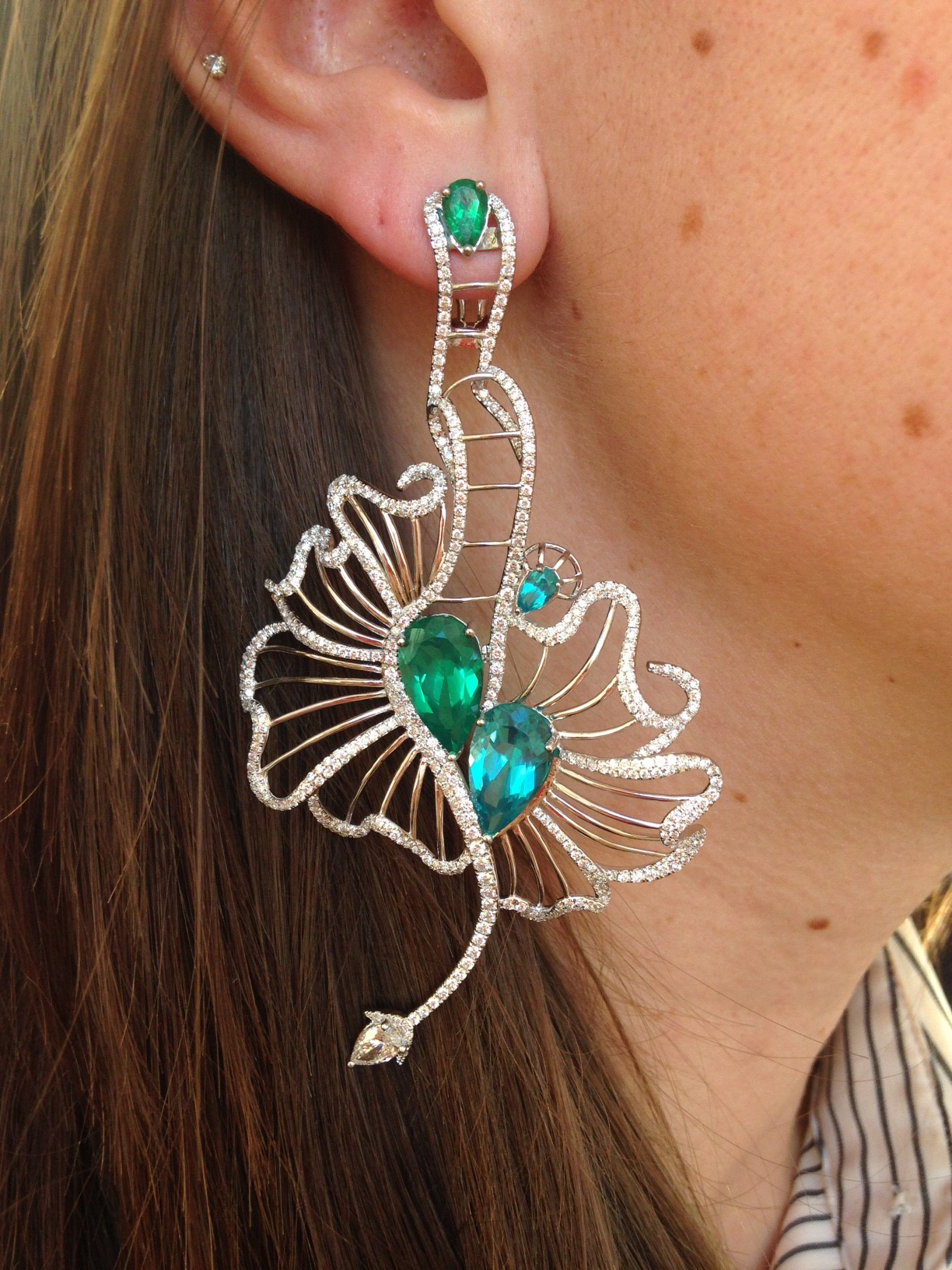 The stones. The design. The overall look. I love everything about these 18-karat white gold Paraiba tourmaline, emerald and diamond earrings from Caroline Chartouni.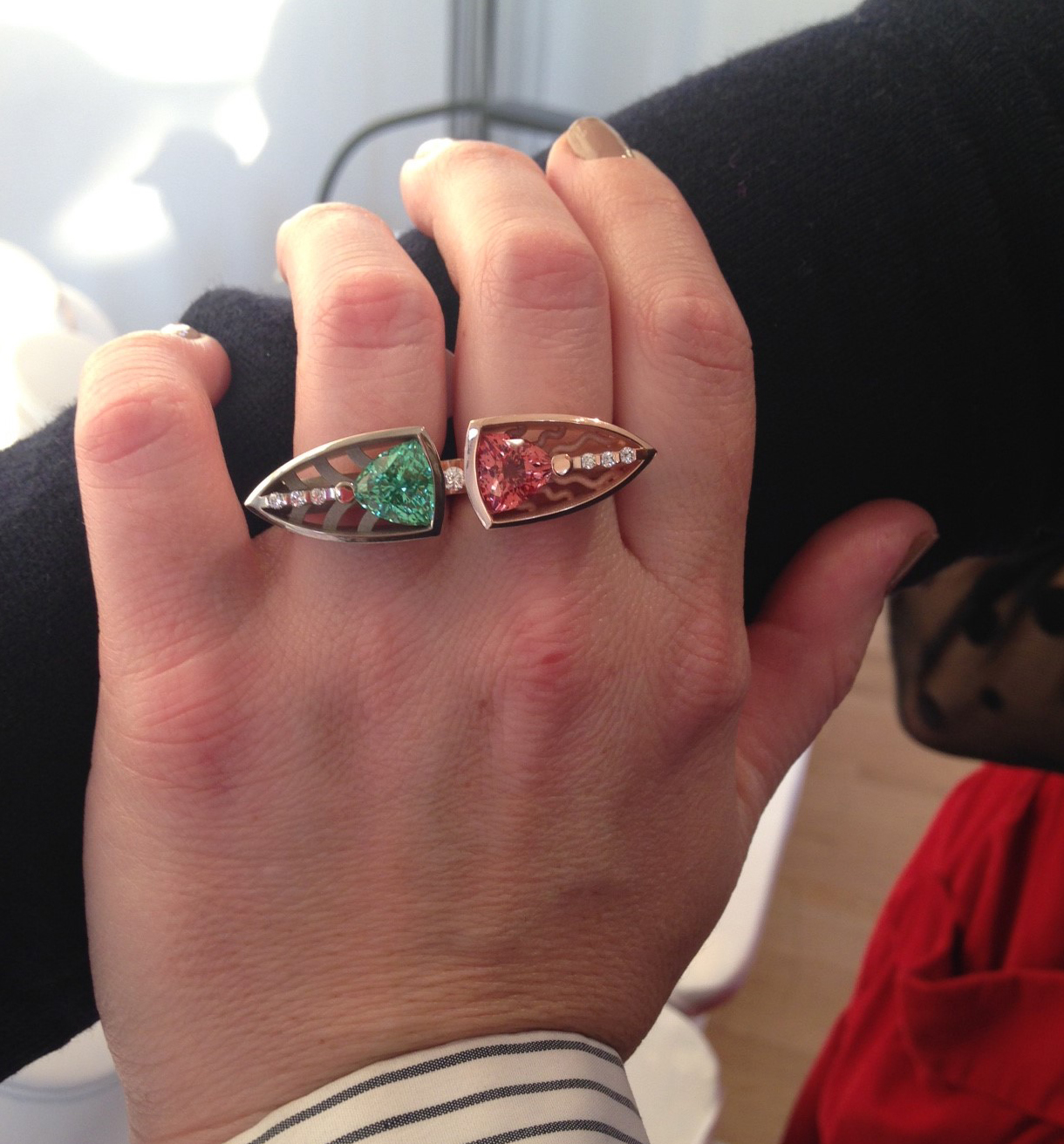 Patrick King of Jewelsmith created this double-finger ring, which I think is the perfect combination of being trendy and being subtle. Made in 14-karat rose and white gold, the two-finger features a 2.10-carat trillion sunstone and a 2.90-carat trillion tourmaline accented with diamonds.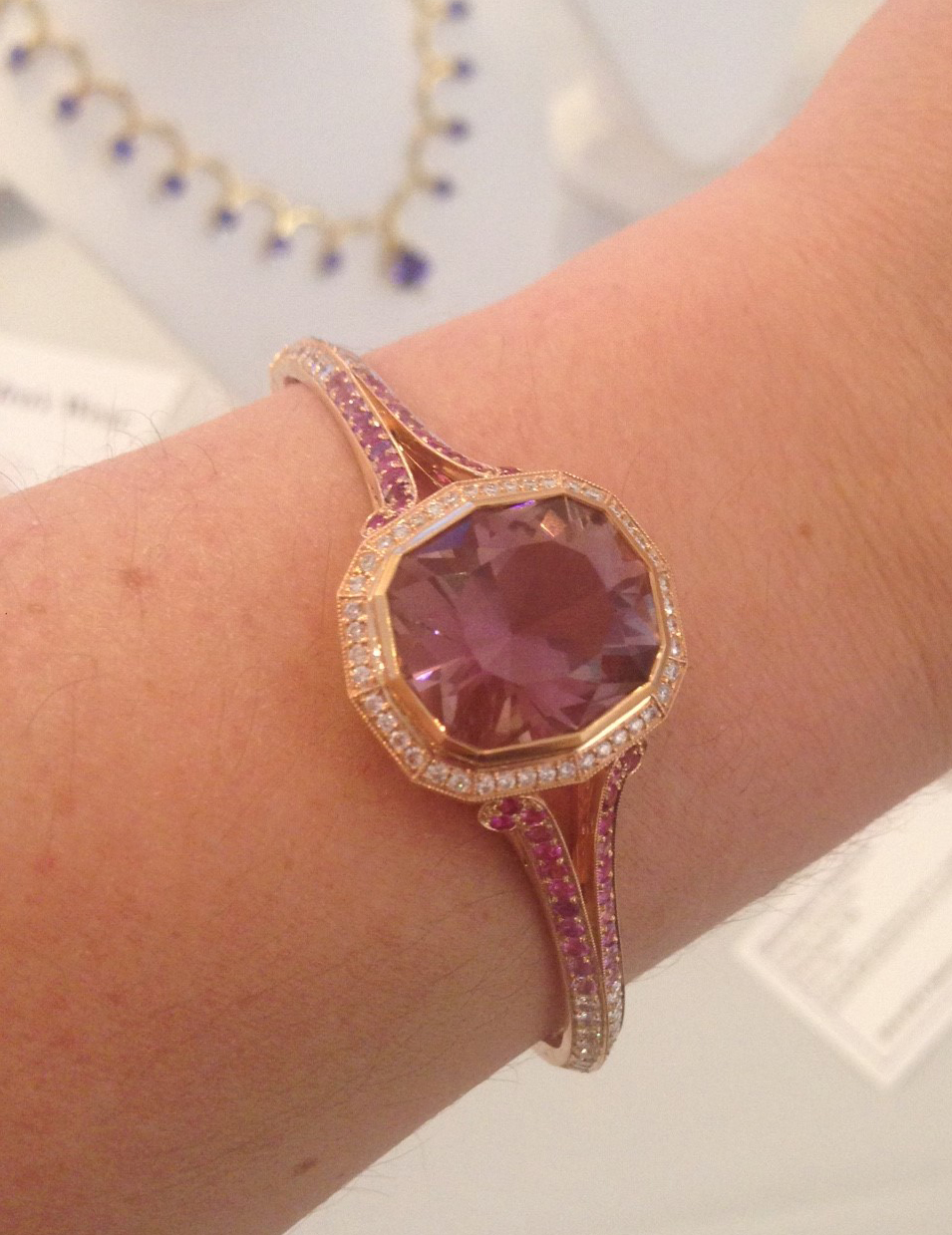 A great tourmaline will always stop me in my tracks. This 18-karat rose gold "Victoria" bracelet from Alexia Connellan won honorable mention in the Evening Wear
category, and boasts a 16.06-carat purple-pink tourmaline accented with diamonds and purple tourmalines.
More on Editors