Boston MFA to Release Book on Oscar Heyman
The publishing arm of the Museum of Fine Arts will debut "Oscar Heyman: The Jewelers' Jeweler" on April 1.
Boston--The story of 105-year-old design house Oscar Heyman & Brothers finally is being told in illustrated form. 

On April 1, Boston's Museum of Fine Arts will release "Oscar Heyman: The Jewelers' Jeweler," a book detailing the firm's history and role in American high jewelry. 

Yvonne J. Markowitz, the Rita J. Kaplan and Susan B. Kaplan curator emerita of jewelry at the MFA, and Elizabeth Hamilton, an independent writer and researcher, penned the book. 

Started by brothers Oscar and Nathan Heyman in 1912, the company now is in its third generation and continues to make its jewelry in its New York City facility. 

The book telling the company's story is complete with photos of vintage and contemporary pieces as well as design drawings from the Oscar Heyman archives, highlighting almost 70 pieces in total that help demonstrate how the business has adapted its aesthetics and design to changing consumer demands over time. 

One of the major milestones detailed in the book is the company's participation in two World's Fairs held in New York. 

In 1939, Oscar Heyman & Brothers produced ornaments for four well-known retailers to display at the House of Jewels, one of the fair's most extravagant exhibition pavilions.

Although the firm was relatively unknown to the public at the time, its involvement in the event cemented its reputation among its clients, with many retailers recognizing the company's signature floral designs, craftsmanship and high-quality gems. 

Though the following New York World's Fair, held in 1964, didn't have a dedicated jewelry pavilion, Oscar Heyman & Brothers designed the official commemorative necklace in partnership with the Linde Star Company.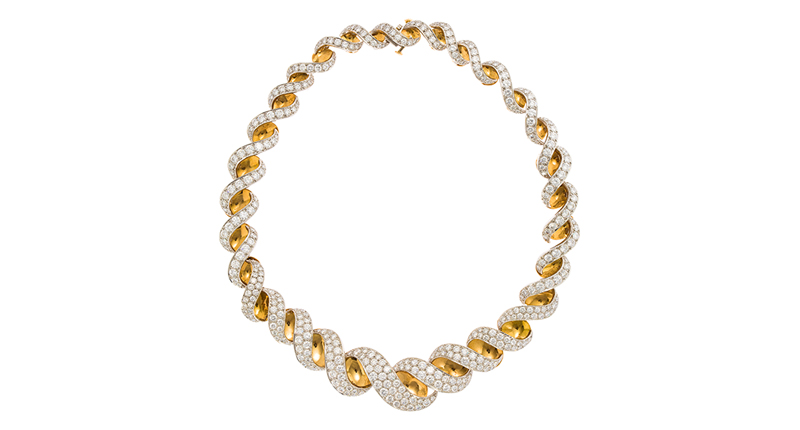 There also are 15 design drawings from the company's archives including designs for patriotic World War II ornaments and a diamond and emerald necklace made in 1956, gifted decades later by singer Michael Jackson to Hollywood icon Elizabeth Taylor.
"For more than a century, Oscar Heyman & Brothers, known as 'the jewelers' jeweler,' has maintained a national reputation for outstanding ornaments set with superior gemstones," said Markowitz.
"Until recently, the Oscar Heyman name was unknown outside the jewelry world, as the company preferred anonymity and discretion, but today the brand is synonymous with dazzling, high-style jewels. I'm pleased to highlight its prosperous history with the release of this new publication."
"Oscar Heyman: The Jewelers' Jeweler" is the latest in a number of jewelry books produced by MFA Publications in recent years, joining titles such as "Jewels of Ancient Nubia," "Artful Adornments: Jewelry from the Museum of Fine Arts, Boston," "The Jewels of Trabert & Hoeffer-Mauboussin," "Jewelry by Artists: In the Studio 1940-2000" and "Imperishable Beauty: Art Nouveau Jewelry."

It will be available in the MFA shop, retail bookstores and online.


More on Trends
Trends
Nov 22, 2023