One to Watch: Bario Neal
National Jeweler is introducing One to Watch, its new monthly feature on emerging designers and brands, with a Q&A highlighting Philadelphia-based Bario Neal.
New York--Committed to traceable diamonds, Fairmined gold and environmental responsibility, the team behind Bario Neal places great importance on its sourcing and manufacturing, offering pieces with an organic aesthetic that give ethics-minded consumers peace of mind.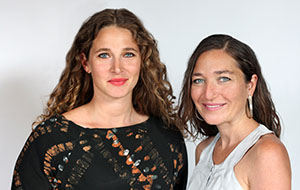 "Our goal is to make work that we feel like we ourselves would buy," Page Neal (right) said of Bario Neal's jewelry.The brand is the subject of the first monthly installment of National Jeweler's new "One to Watch" feature, which will introduce retailers to up-and-coming jewelry brands and designers who are looking to expand their reach.

Below, Anna Bario and Page Neal, the designers behind Bario Neal, answer the questions that retailers need to know about their company.

National Jeweler: What was the inspiration for your collection?
Page Neal: Originally, I think Anna and I came to making the jewelry from a place of more of a sculptural background and experimentation, and really seeing what resonates with us and what we would want, and what's lacking out there (in the market.) It's a nice place to approach design--what do you not see, what do you want to see?

But now it's changed, and our design process is much slower in a good way. We can be careful about what we're doing and thinking about what we're playing off of … and conscious of trying to create our own voice and stand apart from a lot of our competitors.

NJ: Where is your jewelry made?
PN: Our jewelry is handmade in our Philadelphia workshop and in collaboration with many skilled artisans on Philadelphia's historic Jeweler's Row.

NJ: What should retailers focus on, or what story should they tell, when showing your line to customers?
PN: Everything is handmade ... and I think that there's a very big difference when you look at our jewelry of how delicate it is, and the details, compared to a lot of jewelry that's out there, that's manufactured at higher numbers.

I do think we do a lot more sourcing work than most of our competitors. I think that we really try very hard to make sure that we know where everything is coming from, and if we don't, we're establishing that relationship with the suppliers. I know it's something that's trendy right now, but it's at the core of our business, and we don't release anything unless we feel good about its sourcing.

NJ:
How much inventory must a retailer invest in to carry your brand?
PN:
We have a 10-piece minimum order.
NJ:
What retailers currently are carrying your line?
PN:
(We're) in about four or five retailers in the Northeast. It's always been our goal to have our different lines represented by different markets.

NJ:
What are your plans for upcoming collections?
PN:
We have some fantastic projects in the works, including the addition of several new colored gemstone rings, a line of unisex engagement rings, a jewelry collaboration with an African clothing designer and a new line of fine jewelry necklaces and earrings.
NJ:
Are you exhibiting at any trade shows in the next 12 months?
PN:
We haven't exhibited (at any trade shows) yet.
NJ:
Complete this sentence: "People would be surprised to learn that I …"
Anna Bario
: I don't wear my engagement ring often, which is a neon-green rope ring that my husband won at a carnival.
PN:
When I was 16, I wore 16 necklaces for an entire year.
Retailers interested in contacting Bario Neal may do so through the brand's website.


More on Trends
Trends
Nov 22, 2023