Martin Katz is Being Sold Online for the First Time
A selection of 30 pieces from the high-end jeweler will be available beginning today as part of a dedicated online trunk show on luxury e-tailer Moda Operandi.
Los Angeles—Martin Katz is taking his brand in a digital direction, albeit for a limited time only.

The high-end jewelry designer, who specializes in one-of-a-kind and red carpet pieces, sells directly to clients at his Beverly Hills salon and wholesales exclusively at the Bergdorf Goodman department store in New York. 

But starting today, 30 select pieces of Martin Katz jewelry will be available for purchase on luxury web retailer ModaOperandi.com for one of its limited-time online "trunk shows." 

"The online space has been growing and becoming more appealing for the luxury consumer over the years," Katz said. "I have had my eye on it, but nothing really made sense or felt right for my brand until I was approached by Moda Operandi. Their brand, vision and consumer were the perfect match, so it is really exciting for me."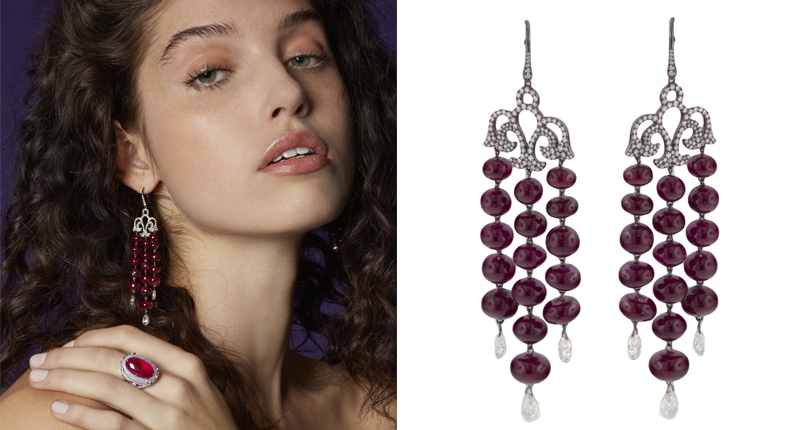 Each Martin Katz piece for sale on the site is one-of-a-kind, signed and numbered. The jewels start at $16,000 retail and top off at $796,000 for a pair of kite-shaped 10.62-carat emerald drop earrings that Katz recently finished.
"I cut the stones to match," Katz explained. "They are something very special and not to be seen again."
The designer wanted to offer customers a diverse array of pieces in his first digital fore, as he gauges the tastes of the Moda Operandi client.
"I decided to include some pieces that speak to my whimsical artistry and use of rare stones," Katz said. "Also included are some stylized basics, like diamond earrings, some with added accent colors. I have a few very important pieces to show the depth of what we do in jewels."
Moda Operandi CEO Deborah Nicodemus stated, "(Katz) has an extraordinary talent to unlock the beauty of precious gems through his designs. Martin Katz's collection will resonate with our client as she truly values creativity and designers with an eye for perfection."
The Martin Katz trunk show will be available for purchase on
ModaOperandi.com
through May 26.


Despite Katz's relative exclusivity, the designer says he is keeping an open mind when it comes to future digital retail options.

"I am always open to exploring opportunities that are new and exciting," he said. "For me, it really comes down to if it is a fit for the brand and if it makes sense for an independent jeweler like myself."

In addition to digital trunk shows, Moda Operandi allows consumers to pre-order apparel and accessories directly after debuting on runways, and also stocks certain items for immediate purchase via its online "boutiques."

Officially, Katz made his online debut last Friday via one of these boutiques, when 10 of the designer's jewels, separate from the 30-piece trunk show, premiered on Moda Operandi as part of a regional edit geared toward Eid, the Islamic holiday beginning June 25 this year and concluding June 28. 


More on Technology