Retailer Hall of Fame 2017 Inductee: Sissy Jones
A woman of deep faith, vision and purpose, her business acumen and passion for jewelry has built Sissy's Log Cabin into Arkansas' largest independent jeweler.
Sissy Jones's story, at least as far as jewelry is concerned, started in 1970, when she began renting a small log cabin she discovered randomly for about $50 a month.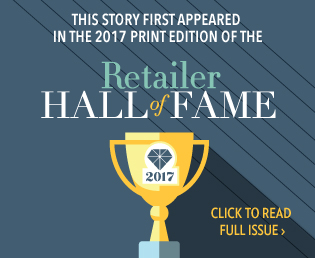 After renovating and updating that tiny wooden structure and gaining a solid reputation as a seller of fine antique goods, a chance encounter with a customer who brought by a lock box full of jewelry eventually led Jones to change her store's focus to primarily selling jewelry.

When she did she went all in, studying at the Gemological Institute of America and the Trenton Jewelry/Goldsmith School in Memphis, Tennessee, among others.

Anytime Jones heard about a jewelry course, she took it.

"I had to keep learning, as long as I could," she says.

A woman of deep faith, vision, and purpose, her business acumen and passion for jewelry has built Sissy's Log Cabin into the largest independent fine jeweler in Arkansas, with three locations--Pine Bluff, where the original log cabin was located; Little Rock; and Jonesboro--as well as a store in Memphis.

But the story of Jones's journey to success is not complete without taking into account all of her hard work and dedication throughout the years--factors everyone around her admires, yet about which she remains humble.

"I was very blessed to have the help I did," she tells National Jeweler about the early days of the store. "All my friends helped. I was a very blessed person."

Extended Family
One person who was particularly instrumental in getting the store off the ground was Jones's mother, Mary, who pushed her to take classes and watched her kids while she was working, never allowing an "I can't" mentality to survive in their house.

This reinforced in Jones her already great love for family, a sentiment that now extends not only to those who are blood relatives, but also to her customers, her community, and her store.


 Jones's family is still an integral part of the business, with her husband Murphy--who
died on April 25
at the age of 81--son Bill, daughter-in-law Sharri, and grandsons all involved in the store. 
"It's been a wonderful journey and a real pleasure to be here working alongside her," Bill says. "Sissy is so deserving of everything she's gotten."
Michel Gutman, the manager of the Pine Bluff store, says that if the Joneses know his daughter has a softball game, not only will they let him leave in time to attend, but they will expect him to do so.
"They'll kick me out of the store and say, 'Go to the game.' Most companies wouldn't do that. That's the heart of the company."

Jones's close ties extend to vendors, too, as she has had long-term relationships with some of the industry's biggest names.

Steven Lagos, of the designer brand Lagos, has known Jones for more than two decades, after the two met at a jewelry show in Orlando. It kicked off a business relationship and friendship that has lasted through many changes.


"It's been a wonderful journey and a real pleasure to be here working alongside her. Sissy is so deserving of everything she's gotten." — Bill Jones on Sissy Jones
"Sissy came from a small, tight-knit community where everyone took care of each other as a family," Lagos told National Jeweler via email. "This has influenced how she runs her business, treating her employees and vendors like family. Sissy is a pro and knows her stuff--she has a laser focus on the customer and knows how to make the sale. In addition, Sissy has always invested in her people and places real value on human resources."
Steps to Success
Jones also has long been seen as a trailblazer for and a mentor to women, not only because she started a business in a male-dominated industry, but she did it well. And a divorce from her husband, Murphy, in 1975 (whom she eventually remarried) meant that as a woman raising her kids as a single mother for a time, she had to do it on her own.
"She didn't have any choice but to succeed," Bill Jones says.
And here's why she did succeed: an intense focus on customer service, a well-run operation, and a warm personality that attracts everyone to her like bees to sweet tea.
"The thing about Sissy is, she's been there," says Millie Ward, president of Stone Ward, the ad agency of record for Sissy's Log Cabin. "She's been there in that store. She's been there to pick the lines. She's been there to make sure that the service is what it is. She's been there selling."
Though Stone Ward has been the store's ad agency for only about a year, Ward has known Jones personally since the 1980s. She met her at a Junior League of Little Rock event where Jones convinced Ward, a young entrepreneur at the time, to buy a Lagos bracelet she could wear to nice events, establishing a connection that would make Ward a customer for life.
What has kept her, and so many other people, coming back to Sissy's Log Cabin is the customer service that can't be matched, Ward says.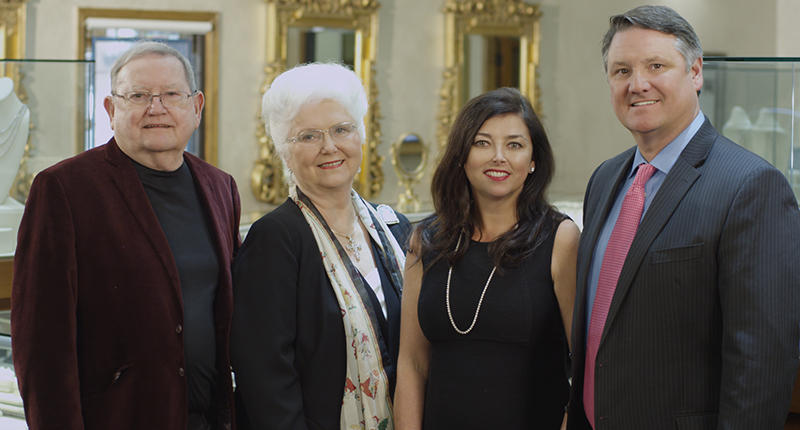 In fact, when Ward went to the jeweler for a wedding ring and told them about a very specific issue she has--that she somehow manages to bend every ring she wears--Sissy, Bill, and the rest of the team worked with her to created three different versions of a ring until they found one that would work for her.
"They make every customer, first of all, feel like you're the most important person in the world when you're there shopping with them. And then secondly, they stand behind what they do," she says.
A great experience for the client is one of the foundational beliefs that Sissy's Log Cabin is built on, and the stores are committed to establishing a relationship with the customer in a way that builds lifelong relationships.
Of course, that's not hard with a person like Jones at the helm. She has a warm demeanor infused with a genuine interest in finding exactly the right piece for each client, say those who work with her.
Jones has the kind of personality that when she enters a space, "she takes the whole room over," Bill Jones says of his mother.
"Sissy loves everybody," Pine Bluff store manager Gutman says. "She doesn't know how not to."
It's her ability to form relationships, coupled with her desire to help customers, which leads Gutman to call her "the best salesperson I have ever met."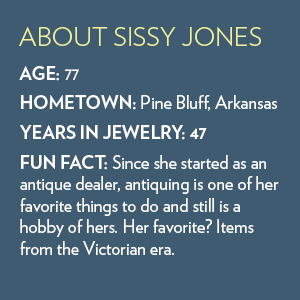 "I've been doing this for 30 years," he says. "I've learned more from her in the last three years than I've ever learned before."
Jones also never fails to go that extra mile for her customers.
Once, while she was in the hospital, she received a call from a man to whom she had sold a necklace, Ward says. He wanted a pair of earrings to match and asked for Jones's help picking them out. Despite the fact that she was hospitalized, she spent the next 24 hours tracking down the perfect pair for him.
"It's extraordinary, but it's also how you separate yourself from all the mediocrity," Ward says.
In fact, when asked about her favorite part of being in the jewelry business, Jones will say it is: "having relationships with my customers and having the opportunity to meet so many beautiful, different people who have enriched my life so much."
And she, it would seem, has enriched theirs as well.
"I'm so willing to share with anyone. If you help enough people get where they're going to get, you'll get there too." — Sissy Jones

Her generosity has reached so many that everyone seems to have a "Sissy story," showing just how many people have been touched by her, either as a customer or in their personal lives, Ward says.

And each one of her stores commits to giving back to the community it's in without reservation. "Things that matter to their communities matter to them, and they will invest in that with their presence, with their name, and with their merchandise," she says.

It's no surprise Jones has been honored time and again, both by the industry and her community.

According to everyone National Jeweler interviewed, she's always willing to share her knowledge and is living proof that you get what you give.

"I believe in sharing anything I know," Jones says. "I'm so willing to share with anyone. If you help enough people get where they're going to get, you'll get there too." 


More on Independents