Neil Lane's Latest Collection Uses Lab-Grown Diamonds
The designer just launched a new bridal range at Kay Jewelers.
Akron, Ohio—Neil Lane is hopping on the lab-grown diamond bandwagon.  
Customers who have shopped Neil Lane designs at Kay Jewelers can now find an entire collection of the designer's wares at the Signet-owned jewelry store chain that exclusively feature lab-grown diamonds.  
The collection is called "Neil Lane Artistry." 
"For the past 13 years, I've had the pleasure of working with Kay to design collections that are inspired but also accessible to jewelry lovers across the country, not just Hollywood," Lane said. 
"With my new Artistry collection at Kay, we now offer an even larger variety for consumers to find something they'll love and cherish for a lifetime." 
Neil Lane Artistry launched Sept. 20 with eight engagement rings and four wedding bands, per a statement from Kay Jewelers.  
As of press time, 21 Neil Lane Artistry styles were featured on the
Kay Jewelers website
, with six traditional engagement ring styles and 15 bands. 
The center stones in the engagement rings are independently certified, Kay said, and, just like the natural diamonds in other Neil Lane for Kay designs, all the lab-grown diamonds in the Artistry collection are also responsibly sourced and conflict-free. 
Each online product prominently features the term "Lab-Created Diamond" in the product title.  
 Related stories will be right here … 
Prices range from $799.99 to $18,499.99.  
At the lower end, a $799.99 band might feature anywhere from 0.16 carats to 0.25 carats of lab-grown diamonds.  
Diamond engagement rings currently feature center stones weighing between 1 carat and 3 carats.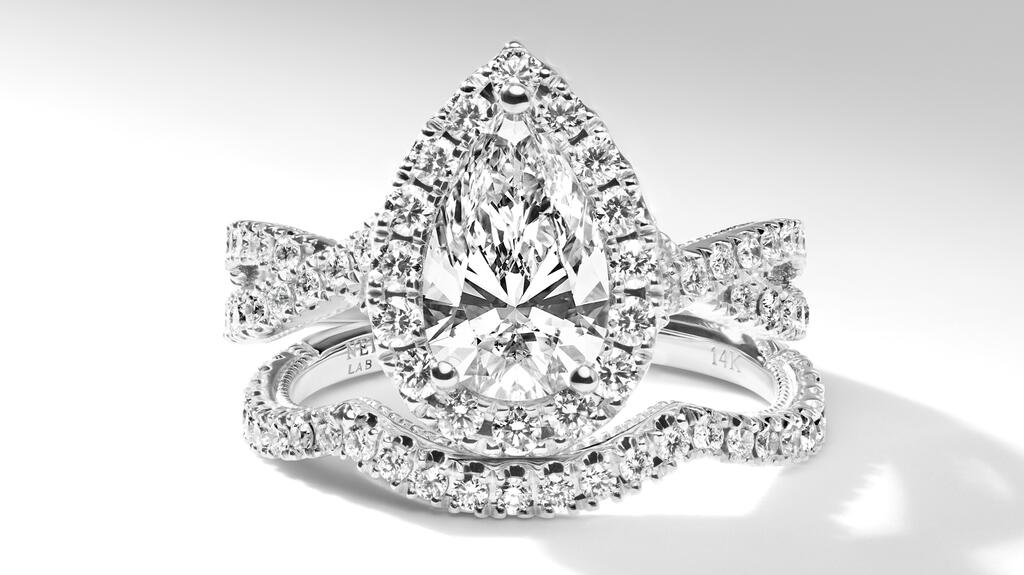 The highest-priced item currently available online is an engagement ring with 3-carat oval-cut lab-grown diamond center stone and an additional 1 carat total of lab-grown diamond pavé. It's priced at $18,299.99.  
All pieces are crafted in 14-karat white or yellow gold.  
Of tossing his hat into the lab-grown diamond ring Lane said, "As an artist, I find inspiration all over, and nothing gives me greater joy than innovating and trying something new." 
Kay Jewelers President Bill Brace added, "Expanding the Neil Lane collection to include lab-created diamonds is a natural evolution of the brand to offer consumers another meaningful option to choose from that is also on-trend and responsibly sourced.  
"This collection allows us to further cement Kay as the leader in the jewelry industry—meeting consumers' needs ahead of the curve."   

(Editor's Note: Details on planned additions to the Neil Lane Artistry collection, which Kay Jewelers shared in a press release, were removed from this story per the company's request.)
More on Collections
Collections
Nov 27, 2023