A Locket Bogie Gave Bacall Is Up for Auction
Inscribed with the words "Baby/heres my heart/Bogie," the gold heart-shaped locket is estimated to sell for as much as $20,000.
Los Angeles—A heart-shaped locket symbolic of one of the greatest romances in Hollywood history is going up for auction early next month.
As part of the "Hollywood Legends & Royalty" sale from Julien's Auctions, the auction house is offering a gold locket Humphrey Bogart gave to Lauren Bacall.
Bogart and Bacall met on the set of "To Have and Have Not" in 1945 and were married the following year. He was 45 and she was 20.
They remained married until his death in 1957.
According to
The New York Times' obituary
on the actress, who died in 2014 at age 89, Bacall had conflicting feelings about the legendary status of their romance.
She acknowledged her 12-year marriage to Bogart as the happiest time in her life, but also felt it overshadowed her as an individual and her second marriage to actor Jason Robards Jr.
Offered for auction by Bogart's estate, the locket is set with a simulated garnet on one side and has two apertures for pictures inside.
Bogart had it inscribed with the words "Baby/heres my heart/Bogie."
Julien's estimates the locket will sell for between $10,000 and $20,000. As of Monday evening, the
top bid was $12,500
.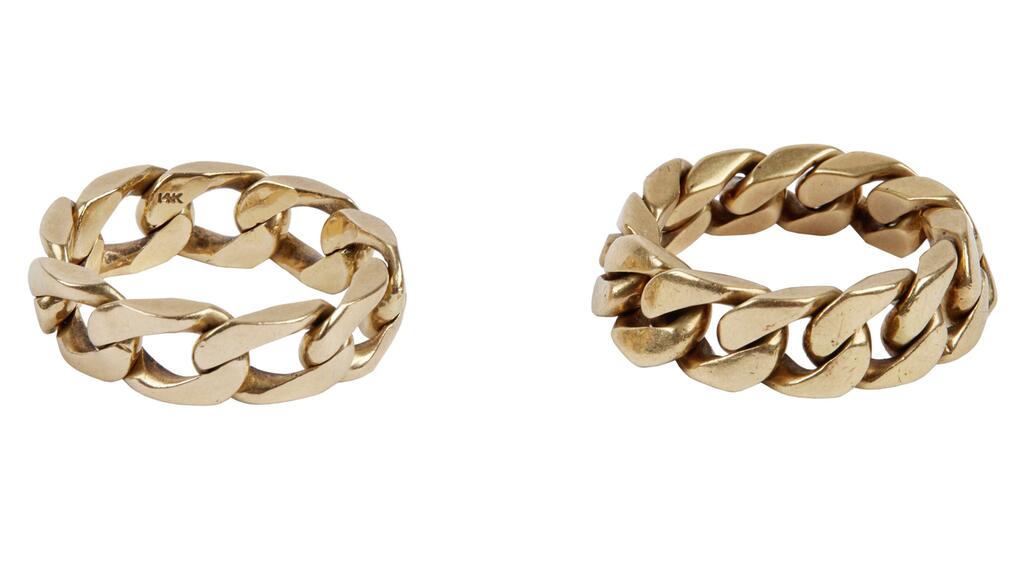 The locket is one of a number of items belonging to the famous couple that are going up for auction for the first time, including their 14-karat gold wedding bands, pictured above.
The bands are being offered as a single lot.
As of Monday night, the top bid for the pair
stood at $17,500
. The auction house estimates the rings could go for as much as $200,000. 
 Related stories will be right here … 
Julien's Auctions is holding the Hollywood: Legends & Royalty sale in partnership with Turner Classic Movies. The auction celebrates the 100th anniversary of the Warner Bros. studio.
More than 1,400 items are up for sale, including three dresses worn by Princess Diana and memorabilia from film franchises like "Star Wars" and "Star Trek."
It will take place live in Beverly Hills on Sept. 6, 7, and 8. Bids also can be
placed online
. 
More on Auctions
Auctions
Sep 27, 2023