See David Yurman's High Jewelry Garden
"Genesis" is a botanical fantasy.
Paris—Nature's intricate shapes are crystallized in David Yurman's high jewelry jungle.
Presented last week alongside the Parisian haute joaillerie and haute couture presentations, the American jeweler debuted the "Genesis" collection at its Paris flagship location.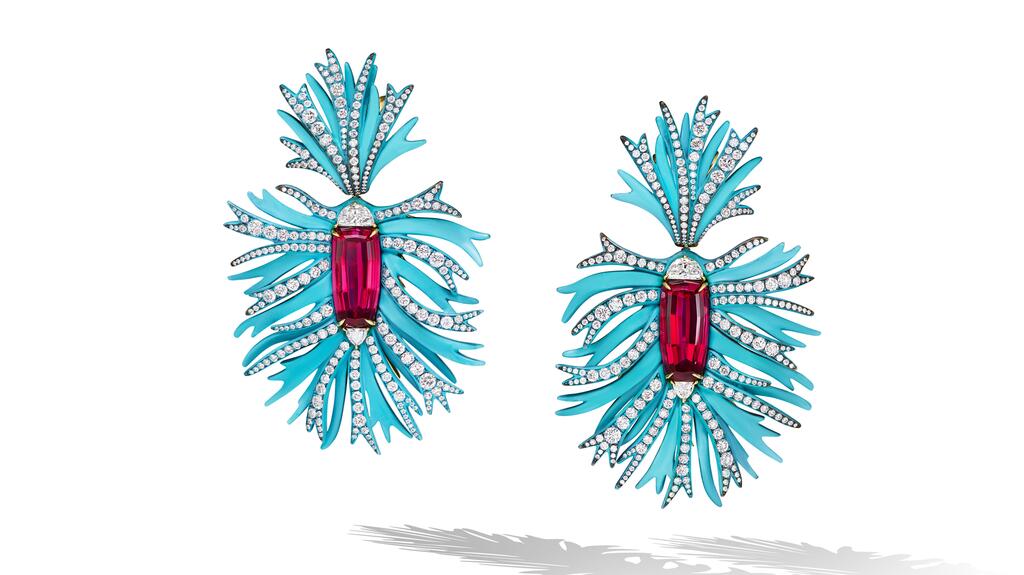 While the company has found success with that have mass appeal, its high jewelry offerings represent its most creative, elaborate, and expensive pieces. 
Fantastic colors and dynamic shapes are inspired by forms found in nature, from flowers to supernovae.
Various oceanic plants and coral, palm fronds, and spiky dianthus flowers were primary inspirations, expressed in earrings that constitute the majority of the 25-piece collection.  
In coming months, the company will be add five additional pieces to the assortment, a representative for David Yurman confirmed. 
Alongside precious metals, aluminum and titanium create compelling color stories when paired with rare, high-quality gemstones especially reserved for the house's most unique designs. 
Like miniature sculptures, Genesis excels in its finely wrought details.
SEE: David Yurman's 2023 High Jewelry Collection
President and Chief Creative Officer Evan Yurman, son of founders David and Sybil Yurman, designs the high jewelry collection, which is executed by the company's most skilled master jewelers. 
"The DY Genesis high jewelry collection represents the apex of innovation in design at David Yurman," Evan said. 
"Through the use of materials like aluminum, titanium and precious metals to highlight our most exceptional and rare gemstones, we're evolving the brand codes of artistry and innovation while staying true to our heritage."
David Yurman
opened its Paris boutique
—the company's first international flagship location—at 245 rue Saint Honoré in spring 2022. 
 Related stories will be right here …
More on Collections