A Medallion With Locks of Hair from King George III, Queen Charlotte Is Going to Auction
Queen Charlotte originally commissioned the piece on occasion of the king's recovery from illness.
London—This week, amid an auction of silver and gold boxes, a jewel with royal provenance stands out.
Part of Christie's London's "Bayreuth: A Connoisseur's Collection of English Silver and Gold Boxes" collection is a pendant incorporating a medallion Queen Charlotte (1744-1818) commissioned on occasion of King George III's (1738-1820) recovery from illness in 1789.
Queen Charlotte presented the medallions to close friends who were loyal during the king's illness. 
George III became king in 1760 at age 22, succeeding his grandfather, George II, upon his death
George III's father died in 1751, never having held the throne. 
George III married Charlotte in 1761. They had 15 children, 13 of whom reached adulthood. 
Best remembered as the king during the American Revolutionary War, George III's legacy surrounding his mental health is foggy. 
 Related stories will be right here … 
He suffered from bouts of mental illness from 1788-1789 and in 1801. In the last decade of his life, he was said to have completely lost his mental faculties, and from 1811-1829, his eldest son, who would eventually become King George IV, took over royal duties as Prince Regent.  
Experts have theorized the king's mental issues were a result of the hereditary disorder porphyria, which may have caused mania, or bipolar disorder. 
After the king's first significant period of mental illness, the British Parliament officially congratulated King George on his return to royal duties on March 10, 1789. The date is commemorated on the medallion's enamel face.
The medallion was later converted into a locket pendant featuring an enamel crown, diamonds, rubies, and emeralds circa 1820, the year the king died. Queen Charlotte died in 1818.
On the reverse, a compartment holds a lock of the king and queen's hair.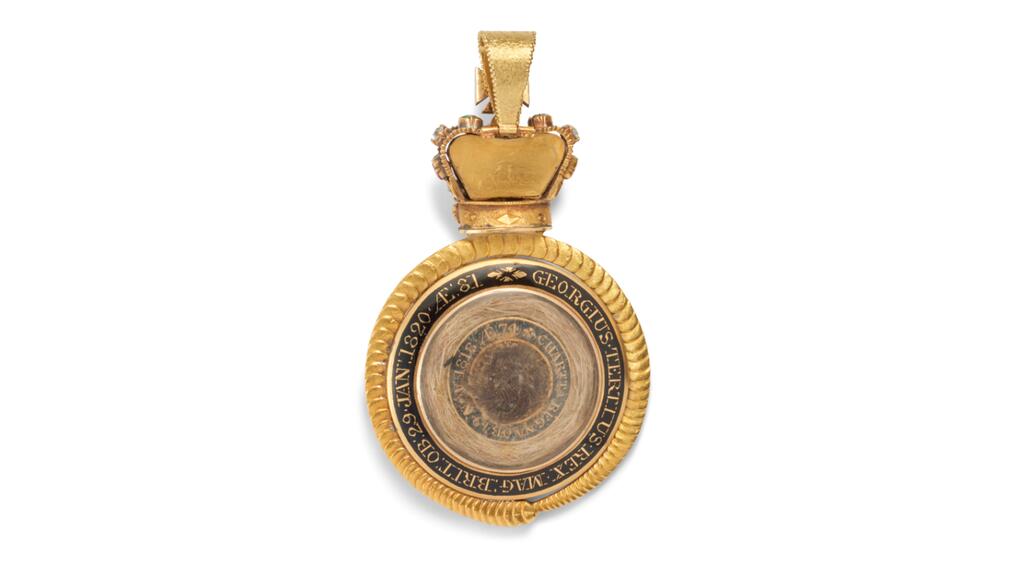 The locket pendant's pre-sale estimate is a modest
£3,000-£5,000
, or approximately $3,807-$6,345 per current exchange rates.
It's on offer alongside more than 200 decorative objects such as tableware and snuff boxes amassed over 40 years comprising the Bayreuth collection. 
The sale is happening as part of Christie's "Classic Week," which includes several auctions in London and online offering art from antiquity to the 20th century. 
The pendant is on view through July 6 and will hit the auction block on July 7. 
More on Auctions