From Mine to Met: Event Co-Chair Gives Platform to Responsibly Sourced Gold
Actress Michaela Coel was "dripping in gold" at the Met Gala, wearing jewelry handmade by fellow British-Ghanian artist Emefa Cole.
New York—London-based jewelry artist
Emefa Cole
, together with Single Mine Origin (SMO), created gold jewelry for award-winning actress Michaela Coel to wear as co-chair of the Met Gala. 
Coel was the star, writer and co-director of the 2020 BBC One and HBO limited series "I May Destroy You." In 2021, she won the Emmy for Outstanding Writing for a Limited Anthology Series or Movie, the first Black woman to do so.
Arriving at the Met on Monday night, Coel wore a handmade coral-esque headpiece clipped into her hair near the nape of her neck, a pair of bold gold statement earrings and two cocktail rings, hand textured to look like silky liquid gold.
When the actress approached Cole to inquire about styling her for the event, her wish was to be "dripping in gold."
The pieces couldn't be just any gold, though; it had to be SMO gold responsibly sourced from West Africa, the land of both their parents' birth.
Because the two share a British-Ghanaian heritage, Cole said sourcing the gold from Endeavor Mining's Ity mine on the Ivory Coast in West Africa, "really ties [Coel and I] together completely."
As a designer, Cole's process always has included recycled metals and stones sourced from Africa, inspired by her homeland.
After being connected with SMO in 2020, she said she made the decision to pivot from using recycled gold to using only SMO gold from West Africa.
According to
Single Mine Origin
, their gold is the first transparent and traceable gold that has full chain of custody and is fully audited.  All jewelry made with SMO gold comes with a QR code that shows its journey from mine to market.
The company wants to assure consumers their gold was mined responsibly and is free of mercury, which is harmful to miners and the environment, as well as confirming that miners are paid fairly.
"I switched to SMO gold because of 100 percent traceability," Cole said. "Also, the fact that it's from a region I come from, and the benefits for the people within that region, the miners. The ethics of the company I found in line with my own values and that's, for me, quite important."
The
pieces Coel wore
at the gala contain a unique QR code that allows viewers to follow the gold from Mine to Met by witnessing the journey of the gold, from the mine, the miners, and the community and environmental projects they support, to meeting Emefa Cole in her studio and, finally, seeing Michaela Coel on the red carpet at the Met Gala.
"It was so beautiful for [Coel] to make that connection and to have such a conscious mind about where the jewelry comes from, the entire chain from mine to maker to wearer," Cole said.
Following the Met, the pieces will become part of "Worth Their Weight," a collection by the designer inspired by her partnership with Coel and released the day after the Met Gala.
Cole designed and made every piece in Worth Their Weight, except for Coel's hairpiece. For that, she collaborated with 28-year-old jeweler Benjamin Hawkins, with whom she shares a space at
The Goldsmiths' Centre
, a creative community founded by The Goldsmiths' Company. The piece has both their hallmarks on it.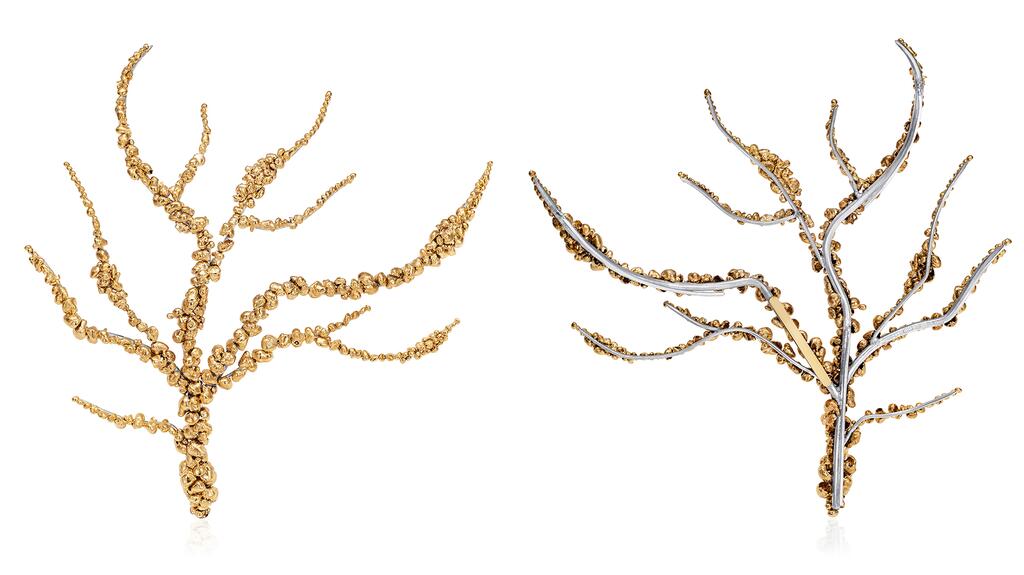 "He's already a master with his own apprentice, and that in itself is rare," Cole said of Hawkins. "When I met Michaela, Ben was there with me, so she got a sense of the both of us because we were working together. He was incredibly supportive and sort of had the confidence to say, 'We can do this.'"
The Worth Their Weight collection also includes two large cuffs, a bangle and a brooch. The collection's name is a play on the sheer weight of traceable gold and the traditional Akan brass weights used by West African people as measuring tools, according to SMO's website.
"I don't just make a whole collection and push it all out there at once. It develops as time goes on," Cole said. "I like to work in a very methodical and patient matter. I add to the pieces as time goes on, which why my 'Erosion' series and my 'Vulcan' series are continuing, because I have too much inspiration for these pieces. I can't just do it and then just let it go."
Coel was familiar with the designer's Vulcan series when she reached out about the Met Gala. 
"She recently wore my jewelry
for a shoot
, which was a collaboration between her, the British Film Institute, and BMW, and the pictures were so powerful," Cole said. "She looked absolutely amazing. She was wearing the
'Caldera' rings
. That's how she became aware of my pieces."
The Vulcan series rings have opened other doors for Cole in her career, as they were acquired by both the
The Goldsmiths' Company's collection
, and the
Victoria & Albert Museum (V&A)
in London.
Cole first moved to London when she was 12 with a fascination for jewelry, precious metals, stones and the geological process of the Earth, such as volcanoes, already instilled in her. 
She graduated from London Metropolitan University's Cass School of Art, Media and Design with a bachelor's degree in Silversmithing and Jewelry in 2011. 
She also has completed an apprenticeship with the personal Goldsmiths of the Asantehene (The King of the Ashanti) in Ghana, "facilitating a thorough exploration of the ancient lost-wax casting method, which the Ashanti have perfected," according to her website.
In November 2019, Cole was exhibiting her jewelry at a contemporary craft fair when V&A curator of jewelry Clare Phillips approached her and bought a custom oxidized silver ring with pyrite and gold leaf for her personal collection. 
Phillips later emailed Cole saying the V&A wanted to acquire one of the rings for their permanent collection. In January 2020, the museum chose an "Untitled" ring, which resembles a Caldera ring but, Cole's website confirms, is not officially named.
 Related stories will be right here … 
In August of last year, Cole was appointed inaugural curator for diaspora jewelry at V&A, having responded to a call for applications by the museum, which had created four new curatorial positions to grow its African and African diaspora collections.
Director of the V&A Tristram Hunt also attended the Met Gala wearing Emefa Cole jewelry, she said. He donned a handmade brooch created from the same batch of gold used to make Coel's pieces. It is also a part of the Worth Their Weight collection.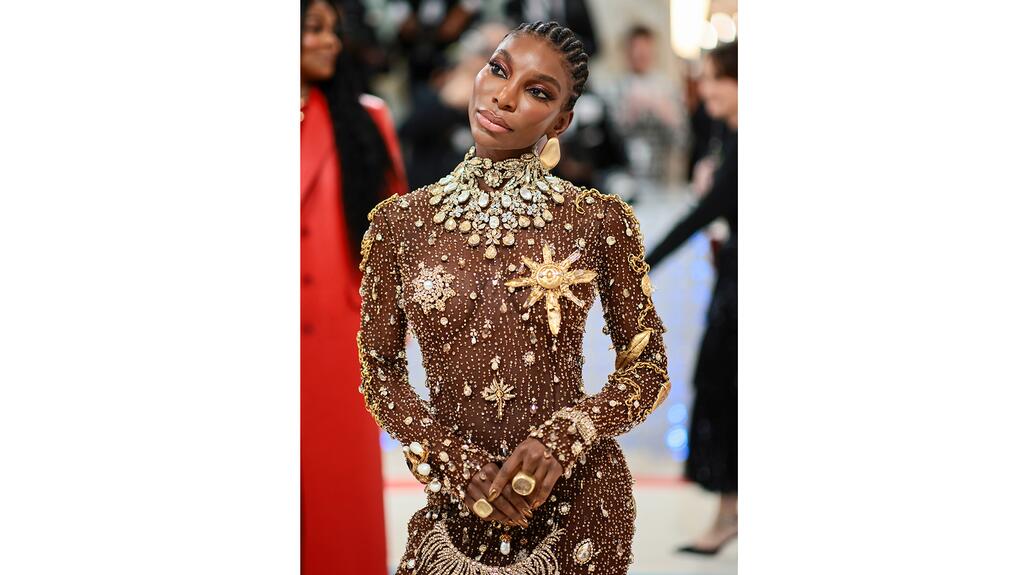 Inspired by the theme for the gala, Cole said the brooch, comprised of solid gold from the pin to the hook, is "really a line of beauty."
"It's a really beautiful story for us, for the V&A as well, to have Tristram wearing the brooch. It really does align with our values as a museum and being more mindful of where materials are coming from and supporting sustainable companies and mining regions around the world," Cole said. "For the director to be wearing this is truly special."
As for Michaela Coel, Cole said, "I was really touched that she only wanted to wear my jewelry."
A deliberate choice by all, Cole's jewelry allowed responsibly sourced, traceable gold to be front and center at what is considered fashion's biggest night worldwide. 
More on Policies & Issues