Kim Kardashian Bought Princess Diana's Amethyst Cross
The businesswoman and reality TV star paid nearly $200,000 for the "Attallah Cross."
London—Auction houses aren't always at liberty to say who's purchased their most high-profile pieces but it certainly can be interesting when they do. 
On Wednesday, Sotheby's revealed the name of the person who bought the large amethyst cross pendant created by Garrard and worn by Princess Diana on several occasions—Kim Kardashian.
Sotheby's offered the pendant as part of its online "Royal & Noble" sale, a mix of jewelry, furniture, ceramics and decorative objects with aristocratic ties. 
The "Attallah Cross," as it was known, features square-cut amethysts and 5.25 total carats of circular-cut diamonds. It is a substantial piece, measuring 136 x 95 mm, or about 5 inches long by 4 inches wide.
Sotheby's said Wednesday four bidders were competing for the piece in the last five minutes of the online-only auction, with a representative for Kardashian ultimately winning out.

The businesswoman and reality TV star paid £163,800 ($197,453) for the pendant, topping its highest pre-sale estimate by more than $50,000.
"This is a bold piece of jewelry by its size, color and style that cannot fail to make a vibrant statement, whether it be of faith or fashion—or indeed both," said Kristian Spofforth, head of jewelry for Sotheby's London. 
"We are delighted that this piece has found a new lease of life within the hands of another globally famous name."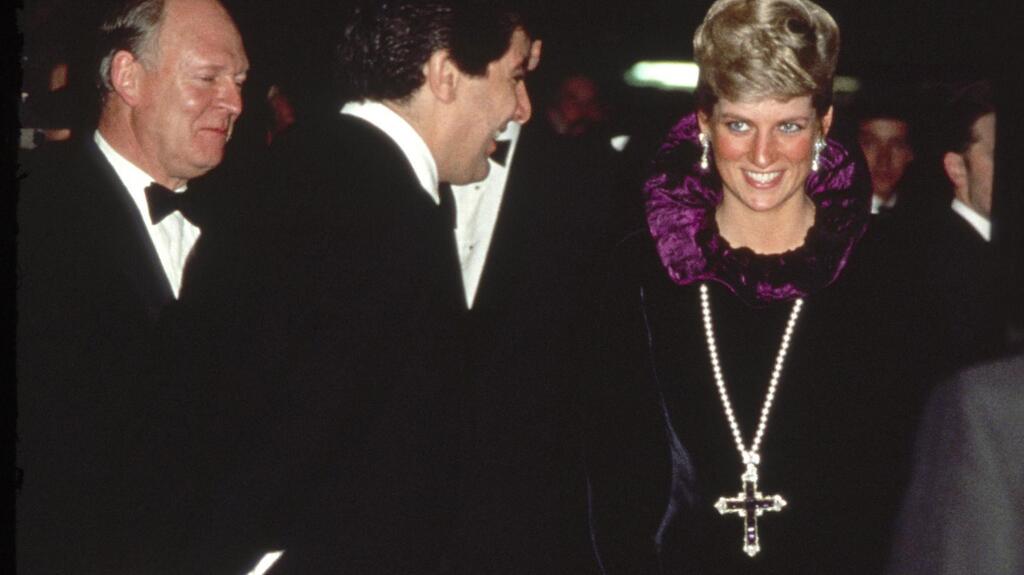 Once upon a time, Garrard was the British court jeweler, preparing the crown jewels for the coronations of every monarch from King Edward VII to Queen Elizabeth II. Princess Diana's famed sapphire and diamond engagement ring—which now belongs to Catherine, Princess of Wales—came from Garrard. 
The jewelry house made the fleurée-style amethyst cross pendant around 1920. It is believed to have been a one-off private commission for a regular client.
The late Naim Attallah, a Garrard executive, bought the cross from the jewelry house in the 1980s and loaned it to Princess Diana many times. 
His son, Ramsay Attallah, told Sotheby's, "Princess Diana and my father were friends and I remember that she often came to see him at the historic Garrard store on Regent Street, where his office was, and she would ask to borrow the pendant on several occasions—she really loved the piece." 
One of her most notable outings came in 1987 when she paired the cross with a baroque-style purple and black velvet Catherine Walker & Co. dress for a charity event, two bold choices that symbolized the young princess' growing self-assurance in her fashion and jewelry. 
Naim passed the pendant down to his son.

 After Princess Diana's death in 1997, the Attallah Cross was put away. 
It had not been on public view since, until it was displayed in London this month ahead of the Sotheby's sale. 
 Related stories will be right here … 
More on Auctions