4 Suspects Arrested in TN After Attempted Smash-and-Grab Jewelry Robbery
Franklin police believe they could be connected to five other similar robberies.
Franklin, Tenn.—Four suspects have been arrested in Tennessee after attempting to steal jewelry from a JCPenney and could also be connected to several other robberies.
According to the Franklin Police Department, Quintaurus Harris (33), Dunterious Taylor (29), Keisean Elliott (35), and Marcanzo Banks (29) have been charged with aggravated robbery, felony vandalism, and evading arrest after a violent smash-and-grab jewelry robbery.  
Taylor faces an additional charge of assault on a first responder.
Just before 8 p.m. on Dec. 3, a suspect went into a Jared Jewelers store in the Thoroughbred Village Shop Center, police said.
He was wearing a hat, hoodie, surgical mask, and sunglasses, even though it was dark out, so a Jared employee called the police.
Nearby undercover cops spotted the suspect and followed him after he left the area in a van occupied by others.
A few minutes later the van pulled into the fire lane in front of JCPenney at the CoolSprings Galleria.
Four masked suspects jumped out of the van and ran into the store; the Franklin Police Officers quickly followed them.
The getaway driver was arrested as he waited in the van for the other suspects, who immediately started using sledgehammers to smash glass cases and steal diamond jewelry.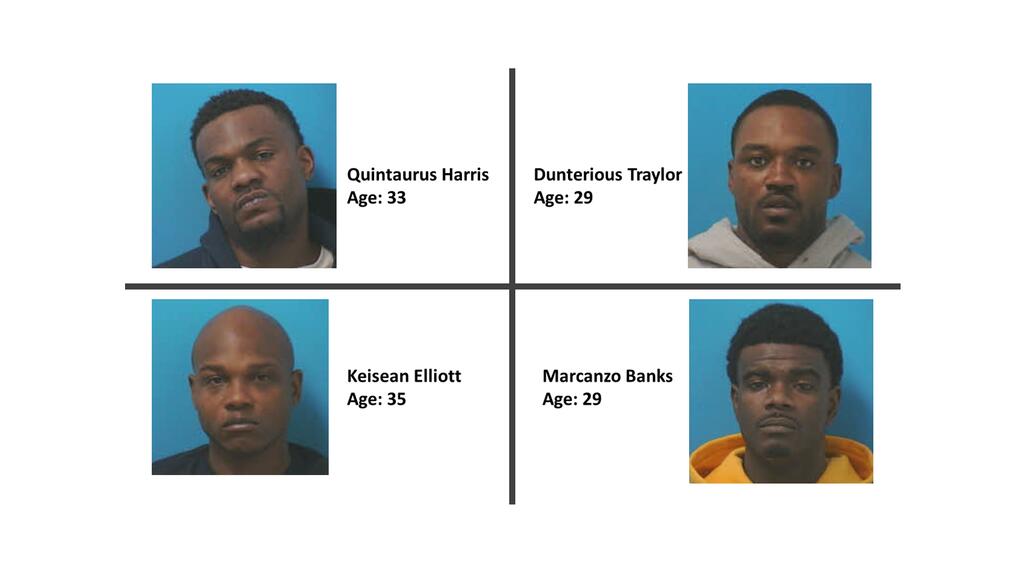 One suspect pepper-sprayed an employee during the attempted robbery. Another fought one of the police officers and tried to grab his gun.
The driver and the suspect who fought an officer were both arrested immediately, but the other three suspects fled.
Additional officers were quickly in the vicinity, though, and located and arrested two of them in nearby parking lots.
Detectives are currently trying to identify the one remaining suspect who got away.
A video of the robbery can be seen
here
. 
The police department said it's working with detectives from other agencies to figure out if these suspects were involved in five similar recent smash-and-grab robberies in Tennessee and Arkansas, resulting in losses totaling $1.5 million. 
 Related stories will be right here …
More on Crime