Vahan Collabs With Wolf on a Jewelry Box
It's the first time in 50 years the brand has made something other than jewelry.
New York—Vahan has designed the perfect storage for its jewelry.
The brand, which specializes in 14-karat gold and silver designs, has partnered with Wolf, a manufacturer of hand-crafted, luxurious jewelry boxes.
The limited-edition style is rendered in Vahan's signature color palette—white, gold, and purple.
The white exterior opens to reveal a deep-purple interior crafted in Wolf's trademarked LusterLoc ultra-suede that the company says prevents tarnishing for up to 35 years.
A mirrored door opens to allow for necklace storage, while the box is also equipped with removable trays for rings and earrings, plus custom pillows for bracelets.
Vahan's crown logo was incorporated into the box's front closure.
Boxes arrive in custom packaging.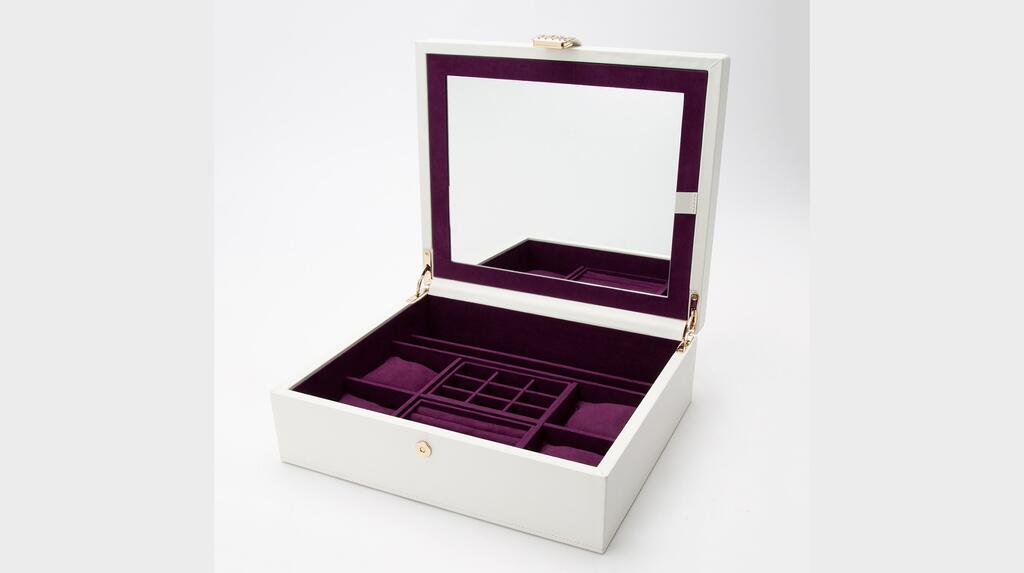 "We always stay true to what makes us unique and what we know people love, but evolution in design is always at the forefront of what we do," said Vahan Vice President of Design Greg Der Calousdian.
"That's why we knew it was the perfect time to launch our first-ever product outside of jewelry. We wanted to create a product that would feel as luxurious and special as your finest, most prized piece of Vahan."
Wolf has partnered with jewelry brands on customized boxes in the past, such as
Bea Bongiasca
.
Cedric Der Calousdian, Vahan's director of business development, said, "The most natural partnership for us was Wolf. We knew we would get a best-in-class product that our customers would adore and would last them a lifetime."  
The Vahan jewelry box is priced at $590 and available for pre-order on the Vahan website as well as through Vahan retailers. 
Vahan was founded in 1968 by French designer Sacha Der Calousdian. The third-generation designer learned his craft in Paris at the Chambre Syndicale de la Bijouterie.
He launched the American-made brand in New York City. 
 Related stories will be right here …
More on Trends