Piece of the Week: Emily Weld Collins' Amulet
Inspired by antique coins, it depicts a "hippocamp" from Greek mythology.
Emily Weld Collins delivers a new spin on ancient jewelry motifs that is a nod to the past but unique to her brand.
A rarely revisited aspect of Greek mythology? The hippocamp, a sea creature with a horse's body and fish's tail, like a larger version of a seahorse.
This "Piece of the Week" pendant features a spinning medallion that is inspired by the engravings of an ancient Phoenician coin.
The front (pictured at top) depicts three Greek soldiers holding shields, sailing on a war ship with a lion's head at the prow, and a hippocamp swimming below.
The back of the medallion (seen below) showcases a more common scene depicted on ancient coins—a lion attacking a bull, symbolizing strength.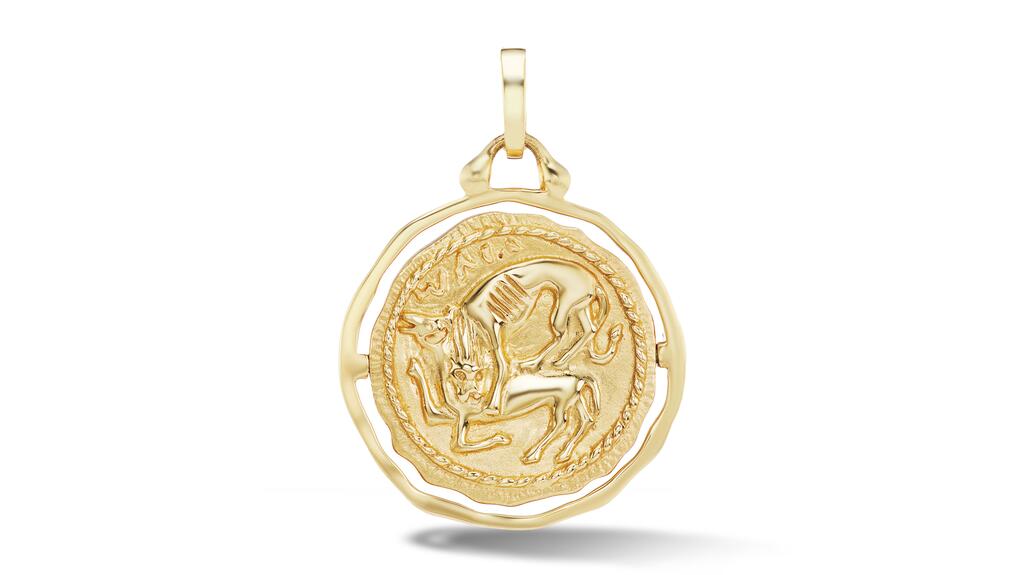 Crafted in recycled 18-karat yellow gold, the "Hippocamp Amulet Charm" features pops of color thanks to custom-cut lapis, turquoise cabochons, and round diamonds.
Priced at $2,950, it's available on the Emily Weld Collins
website
. 
 Related stories will be right here … 
More on Collections