4 Things Seen and Heard at the 2022 HardRock Summit
Gemstones Editor Brecken Branstrator dishes on the latest color to trend, the show floor buzz, and more from Denver.
I think anyone who went to this year's HardRock Summit would agree—the event was a great one.
For the first time, the fine gems, jewelry, minerals, and specimens were
all under one roof
at the Colorado Convention Center and it created the perfect amount of synergy and excitement.
People seemed thrilled to be back or happy to be trying it out for the first time, and the timing was great for jewelers looking to restock for the holiday season.
I spent two days walking around the show floor, chatting with exhibitors about the show and the market in general. Here are some takeaways from those conversations.
1. The colored stone crowd wants Tucson and Denver.

Feedback about the strength of buying activity at the show was mixed depending on who you talked to, as can be the case with any show.
Even so, there was a strong overall positive feel about the HardRock Summit.
While some of the days were quieter for a few exhibitors, it seemed like everyone I spoke with was invested in the summit in the long term and helping build it into an important buying event for the market.
Some said they could see it eventually replacing—or that it had already replaced—the Las Vegas shows in their annual trade show lineups, while others noted it likely will become the third important U.S. show for them every year (in addition to Vegas and Tucson, of course).
After all, who doesn't want to be in Denver in September?
The timing is also great for restocking for the holidays.
I think all of this is evidenced by the fact that the show had many more exhibitors and attendees this year.
There were 25 countries represented between sellers and buyers at the shows, according to show organizers.
I saw several members of the international trade there to check it out, and one dealer even mentioned that some of his buyers from Asia, whom he usually sees in Tucson, came to Denver to see what he had.
It seems like the word is out, and I only expect the HardRock Summit to continue to grow.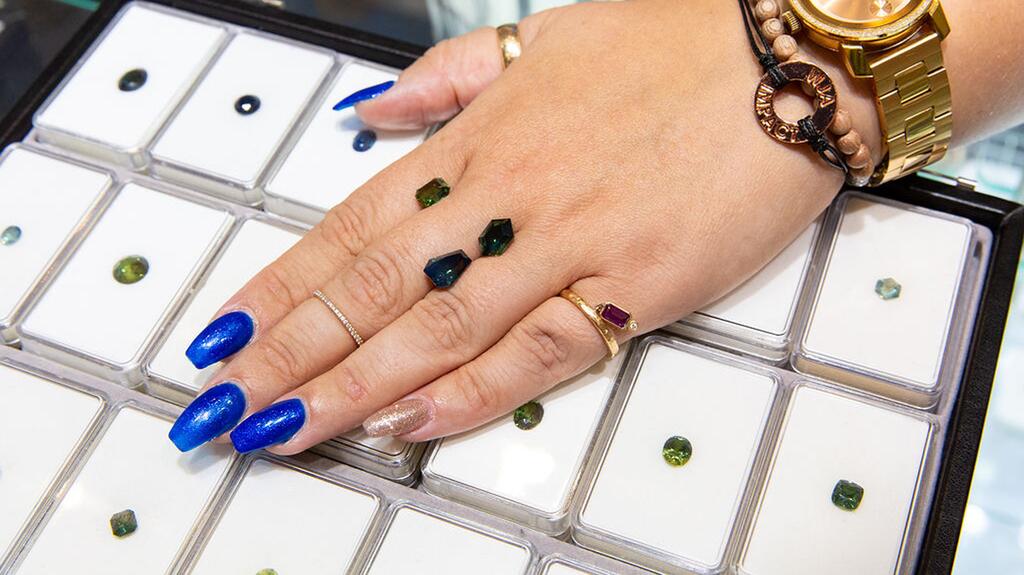 2. Get ready for greens.

Here's something I started hearing around the time we were at the Las Vegas trade shows that has been repeated several times since then: demand for green gems is picking up.
After so many years talking about pinks/purples and especially teals (side note: teal is still very hot) it's nice to have a change of pace.
The increase in demand for greens was mentioned not only in reference to green sapphires, including those from Nigeria, but also gemstones like mint and other green garnets and even peridot.
In tandem with the mint garnet conversation, there have been a few mentions in the last few months that pastels are starting to see a comeback.
Lately we've been talking about the vivid pops of color we're seeing in jewelry lately,
especially in Las Vegas
, but I wonder if this pivot to lighter tones will pick up steam and how long it might be before we start really noticing it in finished goods.
3. Buyers want bi-color.

I also heard many people in Denver talk about interest in their bi-color stones, whether that's sapphires, tourmalines, or other stones.
I think this aligns with an overarching trend that I've been hearing for the past few years: people, especially now, are looking for gems that are unique and interesting, whether that's through their story, their color(s), or unusual and different cuts.
4. There's still optimism about the holiday season.

Amid stubborn inflation and rising interest rates ahead of the holiday season, it's easy to wonder how the industry will fare.
Some predictions have started trickling for
retail in general
, but it seems even this year the industry has had a strong performance up to now overall—as we know, affluent consumers have not felt the squeeze as much. 
In colored stones, people are generally buying across the board and pricing is firm. 
For most of those I spoke with in Denver, they weren't expecting much to change, predicting a fair to good holiday season still for 2022. 
Tucson will really be the first tell of how they holidays went as it will be a gauge of how much buyers need to replenish after the season. 
Let's see how that turns out. 
 Related stories will be right here …
More on Editors
Editors
May 24, 2023