Tiffany Introduces CryptoPunk NFT Pendants
The limited-edition pendants, available in digital and physical form, retail for $50,000 and are exclusive to holders of CryptoPunks NFTs.
New York—Just months after
its April Fools' foray into cryptocurrency
, Tiffany & Co. is actually entering the world of NFTs.
An NFT, or a non-fungible token, is a financial security comprised of digital data stored on a blockchain.
Tiffany's NFT, called NFTiff, will be powered by blockchain provider
Chain
and be available exclusively to CryptoPunks holders.
CryptoPunks
is an NFT digital art collection of 10,000 different pixelated punk rock characters on the Ethereum blockchain.
Ownership of an NFT is recorded on the blockchain and is able to be transferred to a new owner as NFTs are sold and traded.
CryptoPunks holders who purchase an NFTiff will receive access to create an exclusive, custom Tiffany & Co. pendant inspired by their own Cryptopunk character.
Holders will also receive a digital rendering of the pendant as an NFT and a certificate of authenticity.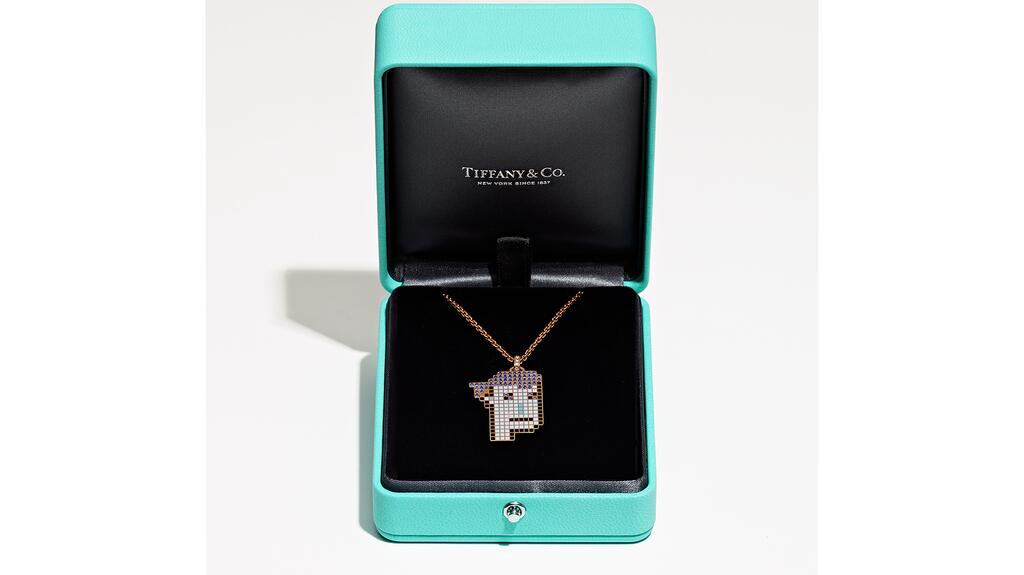 "We are incredibly excited to announce the debut of NFTiff, bringing our clients the rare opportunity to turn CryptoPunks into custom Tiffany & Co. jewelry designs through a fully digital experience," said Alexandre Arnault, Tiffany's executive vice president of product and communication. 
Arnault owns CryptoPunk #3167 and created his own custom Tiffany pendant of the character, sharing it on social media. 
He also uses the character as his avatar, a common way for holders to show off their CryptoPunk character.

April 29, 2022


 
Chain CEO Deepak Thapliyal shared his own CryptoPunk pendant last month.
The two were inspired to bring the opportunity to others in the CryptoPunks community, working together to create the NFTiff pass and the online gateway,
NFT.Tiffany.com
.
"As a CryptoPunks holder, I saw a partnership with Tiffany as a way to make NFTs accessible to new collectors as well as strengthen the existing community that has embraced the art," said Thapliyal. 
"Tiffany's vision and Chain's technologies are the perfect combination to produce a beautiful product and a secure online experience."



30 ETH ⛓💎 pic.twitter.com/WHKb25quex

— Deepak.eth ⛓ (@dt_chain) July 31, 2022


 
The technology will come from Chain, but the design process is all Tiffany.

Tiffany's designers will craft the pendants using the 87 attributes and 159 colors that appear across the collection of 10,000 CryptoPunk NFTs, matching them with the most similar gemstone or enamel color.

Each pendant will include at least 30 diamonds and/or colored gemstones, or both, set in 18-karat rose or yellow gold on an 18- to 22-inch chain.

While there are more than 10,000 CryptoPunks NFTs, only 250 pendants will be created, each engraved with its CryptoPunks edition number on the back.

There will be a limit of three NFTiff passes available for purchase per individual.

The pendants will be available worldwide via Tiffany's NFT website on Aug. 5.

The price is 30 ETH, which is the equivalent to about $50,300 as of press time.

The NFT delivery is scheduled for December while the physical pendant delivery is expected in February 2023.


 Related stories will be right here … 
More on Technology