For Sorellina, the Empress Card Inspired an Entire Collection
The myriad motifs of the "L'Imperatrice" tarot informed the designs of rings, bracelets, earrings, and necklaces.
New York—After eight years developing the Sorellina brand, sisters Nicole and Kim Carosella struck creative gold with the bold new direction of the Tarot collection
launched in 2020
.
Its artistic success turned out to be commercial, too, and the collection has grown from five original tarot cards to many more, plus lots of more attainable accoutrements in the form of smaller pendants, earrings, rings, and bracelets.
Now, the sister duo has launched their newest card and a dedicated collection to go with it.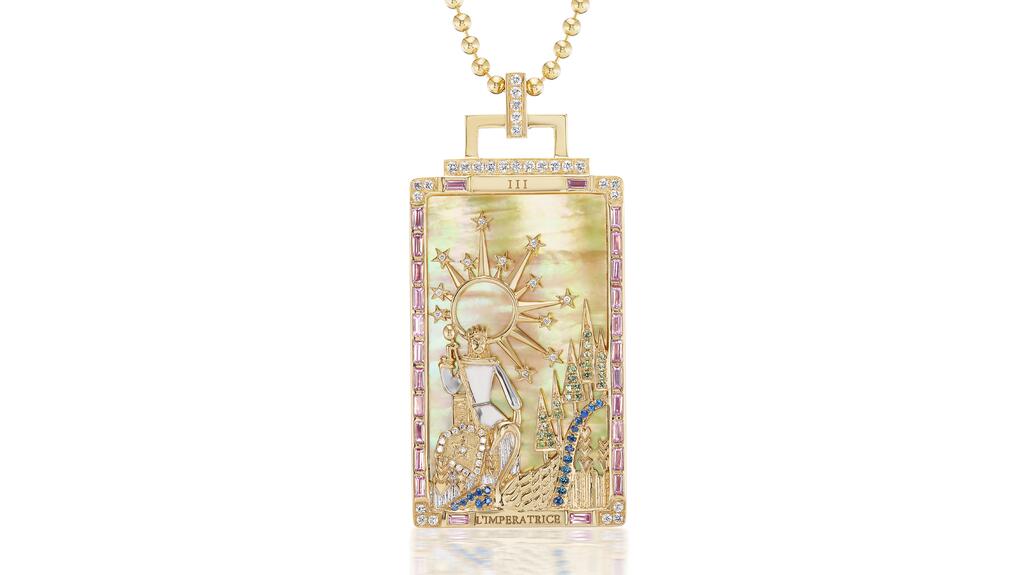 In the world of tarot, The Empress card represents creation and femininity. 
It can symbolize new life and new beginnings, romance, and beauty. It's associated with the planet Venus, known as the planet of love. 
In some tarot decks, the Empress is depicted wearing a crown and orbited by stars. She is often pictured with a swan, another symbol that represents love, beauty, nurturing, and fierce protection of the home. 
In the "Empress" collection, these elements make their way from the hero pendant's ornate scene onto other pendant necklaces, bracelets, rings, and earrings.
Stars, for example, adorn the profiles of domed cuffs and rings. They also are translated into statement earrings, delicious tennis necklaces, and delicate pendants and studs. 
The swan, meanwhile, is depicted in low relief on the side of a one-of-a-kind opal ring, as well as painted in enamel on an elaborately detailed pendant. 
 Related stories will be right here … 
The Empress' shield translates easily to smaller pendants and stud earrings casual enough for daily wear.
Presented at the Couture jewelry trade show in Las Vegas alongside core collection pieces, Sorellina's Empress collection delivered a dreamy, softer mood, contrasting with the deeper saturated shades the brand often turns to with the use of gemstones like lapis lazuli, onyx, and malachite.
Priced between $1,300 for diamond studs and $26,000 for a diamond tennis necklace, the collection is available for pre-order on Moda Operandi.
Inquiries may be directed to the
Sorellina website
. 
More on Collections