Diamond Manufacturing: The Long-Term India Story Remains Intact
Investment in infrastructure, technology and talent help India consolidate its leadership in the global diamond industry.
The Indian diamond industry's transformation from a low-cost producer of star melee diamonds to an innovative, hi-tech global leader in 25 years has been phenomenal. Use of automated polishers, imaging machines, 3D digital printers, AI and cloud-based big data analytical tools have increased transparency, efficiency and productivity.
"Our investment in technology paid off during the pandemic. Buyers could access our online inventory and place orders. We in turn could buy rough from the miners by looking at their 3D scans", says Rahul Jauhari, Sr. VP Global Sales & Marketing, Star Rays and core committee member of young Diamantaires.
"Understanding buyers' needs helped us launch our own ISO certified diamond grading system. Our 360-degree HD video patented feature, Digiplot helps buyers determine a diamond's depth and map out inclusions. The footprints that trace their diamonds' journey from mine to market are also made available on an excel sheet," says Shreyans Dholakia, Brand Custodian at SRK Exports.
The Indian diamond industry scores high on the Employee Experience Index as compared to the fast fashion industry. Unlike the dilapidated sweat shops of Thailand and Bangladesh with utter disregard to human lives, the diamond factories in Surat are built to last. In the closely knit diamond industry, good business practices are emulated and become accepted norms. 

"Providing free wholesome healthy food during lunch to our 5,000 employees has resulted in increased morale and productivity. Technology is an enabler that has provided a level playing field. Motivated and committed workforce is our strength in this competitive industry," he adds.
More and more manufacturing companies are becoming environmentally conscious, responsible corporate citizens. Kinjal Shah, Regional Director (India & Middle East), Responsible Jewelry Council (RJC) shares that the RJC membership in India has increased by 20% during the last two years. Out of its 160 members, 60% are diamond manufacturers and 30% are jewelers. 
SRK Empire was inaugurated in 2011 (long before sustainability became a buzzword), achieved the LEED Gold rating in 2015, and then got enhanced to Platinum Certification status from US Green Building Council (USGBC) in 2018 – making it the "first manufacturing facility in India and the Asia region," and also the first in the gem and jewelry sector across the world to be awarded the Platinum rating by USGBC.


SRK's second 225,000 sq. ft. diamond crafting facility SRK House was also awarded the LEED Platinum certification by USGBC in 2020.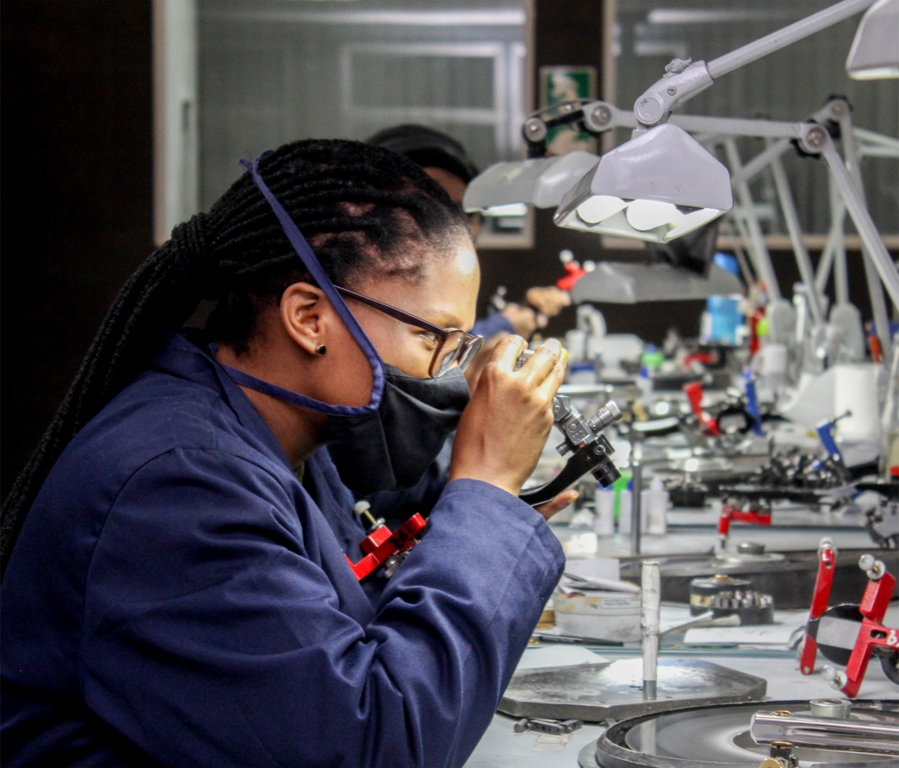 Star Rays is working towards becoming India's first carbon-neutral diamond company, highlighting its commitment to sustainable business practices. The company is participating in the World Jewellery Confederation's (CIBJO)
Greenhouse Gas (GHG) Measuring and Offsetting Initiative
to ensure that its carbon emissions and removals are measured in accordance with international standards. 
The company is spreading its wings and has set up a state-of-the-art factory in Gaborone, Botswana, hiring female employees at all possible levels to promote women empowerment.
The top two trends prevailing in the diamond industry are:

1. Manufacturing of small diamonds (star melee) is being consolidated into the hands of a few large players due to the disruption caused by undisclosed mixing of LGDs by unethical traders. It has now become imperative for manufacturers to install synthetic detecting machines and get their goods certified. This has imposed additional costs and increased their woes as every diamond needs to be checked. The production of star melees therefore is no longer lucrative. Shreyans feels that the I1 I2 segment that is huge in the US in all probability will be replaced by the LGDs. Rather than buying diamonds of inferior clarity and color, customers would prefer to buy cleaner goods. 


Rahul however, is of the opinion that smaller, natural diamonds would retain their appeal to first-time buyers due to emotional reasons. The demand for diamond studded luxury watches is also on the rise.  The fact that prices of small diamonds have witnessed the highest rise indicates their growing demand.
There is also a growing demand for diamonds with fancy shapes. Rahul says that the pear and oval shapes are moving fast. Shreyans opines that the first-time buyers prefer a round diamond. However, for their subsequent purchases, they are inclined towards fancy shapes due to the novelty factor. The fact that they can buy a larger diamond at the same price adds to its allure.
2. With demand at an all-time high, diamond manufacturers are on a roll. Whatever is being produced today is being sold. There is a shortage of polished diamonds and the prices of rough are up by 20%. 


With economies and travel opening up, consumers now have new avenues to spend money, this may reduce diamonds' wallet share. Consumer backlash against Russia may also prove a dampener as Alrosa's contribution in the diamond pipeline is 30%.  


Manufacturers therefore are cautiously optimistic and hope the geopolitical tensions ease soon as war is not in anyone's interest.

Note: This story was completed for publication in the special India Diamond Report newsletter prior to Russia's invasion of Ukraine and the U.S.'s subsequent ban on Russian diamonds on March 11.
More on Sourcing