Gene Moore's Tiffany & Co. Circus Figurines Top $200K at Auction
Moore was the window display designer for the jeweler's Fifth Avenue flagship from the mid-1950s to the 1990s.
Lambertville, N.J.—Auction house Rago/Wright sent in the clowns for its most recent auction.
As part of its "Jewels XOXO" auction, the company presented a selection of circus figurines crafted by Tiffany & Co. and designed by Gene Moore, a former window display designer for the jeweler.
From the mid-1950s to the late 1990s, Moore was the man behind the window scenes at Tiffany's Fifth Avenue flagship. A master of his craft, he went so far as to incorporate contemporary art by famed artists like Andy Warhol, Robert Rauschenberg, and Jasper Johns.
Moore dreamed up the circus collection in the 1980s, picturing a miniature circus crafted in Tiffany's iconic silver and bright enamel.
Tiffany designers took his idea and ran with it, creating acrobats, clowns, circus animals, and even dinosaurs fitted with saddles.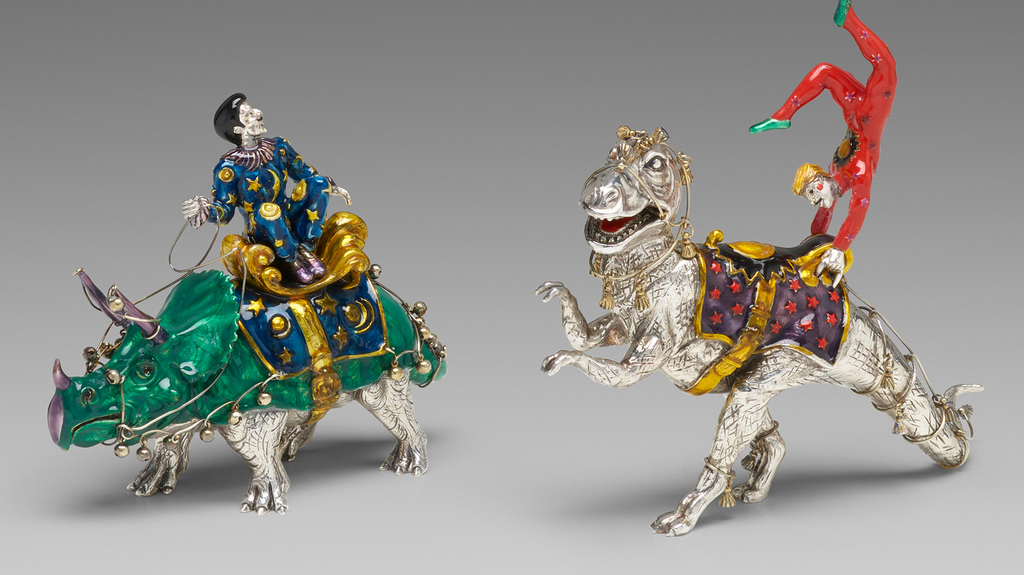 Producer Robert Boyett, whose work includes the hit sitcoms "Full House" and "Family Matters" and Broadway shows "To Kill a Mockingbird" and "Dear Evan Hansen," collected more than 60 original pieces over decades, and those were the pieces up for auction Wednesday.
"As a predecessor of uniquely American entertainment, the circus and its mythos continue to fascinate today—it is no surprise that Boyett was drawn to Moore's exquisite homage," said the auction house in a press release about the auction.
The collection was divided into 12 lots.
The auction's top lot was a silver gilt and enamel Ferris wheel, featuring six figures and animals sitting inside nine swinging carriages.
Crafted in Italy, the figures include an older woman with two cats and a cowboy sitting beside a necklace-wearing pig. The Ferris wheel moves when pushed manually.
The Ferris wheel lot included a copy of
"My Time at Tiffany's"
by Moore and Jay Hymans, a book that chronicles Moore's career at Tiffany.
The Ferris wheel sold for $52,500, just above its $30,000 to $50,000 estimate.
The Tiffany & Co. circus also included a carousel featuring horses, a zebra, a tiger, a camel, a giraffe, and a rabbit, crafted in sterling silver and brightly colored enamel.
When plugged in, the carousel turns and plays music.
The carousel sold for $40,000, within its $30,000 to $50,000 estimate.
In addition, there were several groups of silver and enamel figurines up for auction, including a set of five elephants, seen at the top of the story.
The elephant set features the pachyderms, including four with acrobats on top, and a ringmaster to guide them. It also comes with a copy of Moore's book.
This set sold for $21,250, well above its $10,000 to $15,000 estimate.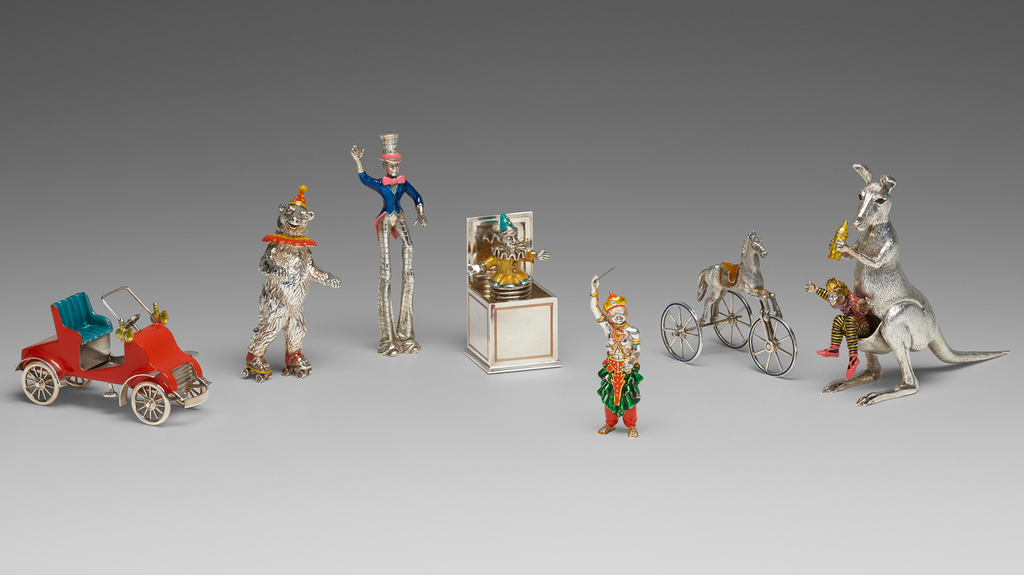 Another set consisted of a kangaroo with a clown in its pouch, a jack-in-the-box, a tall man, a bear on roller skates, a costumed trainer, a toy horse on wheels, and a red clown car. 
It sold for $16,250, well above its $8,000 to $12,000 estimate.
All 12 lots sold for within or above auction estimates, bringing in a total of $227,075.
The figures were on display at Rago Auction House in Lambertville, New Jersey from Feb. 6-9. There was also a special preview Jan. 28 at 1 Hotel Central Park in New York City.
 Related stories will be right here … 
More on Auctions