See Boucheron's 'New Maharajahs' High Jewelry Collection
The French jeweler's illustrious archives inspired the collection.
New York—This week, Tiffany & Co.
has been criticized
for allegedly copying the design of two Mughal-era bejeweled spectacles that
failed to sell at auction
last year without referencing their historical inspiration. (You
take a look
and be the judge.)
One fine jewelry house, however, debuted a collection that is rich in historical context.
Boucheron's latest high jewelry collection, "New Maharajahs" references a magical moment in the jeweler's history nearly a century ago.
According to the Kering-owned French jewelry house, Bhupinder Singh, the Maharajah of Patiala, arrived in Paris in 1928, where 35 rooms at the Ritz Paris at Place Vendôme awaited him and his 40 servants.
The Maharajah was known for his love of jewelry, and Place Vendôme jewelers could only guess if the 6-foot-7 royal and cricket player would visit their stores.
On Aug. 2, accompanied by bodyguards carrying iron safes, the Maharajah arrived at Boucheron, where he would commission the largest special order in the history of Place Vendôme.
As the story goes, Louis Boucheron, son of Frédéric Boucheron, examined the Maharajah's safes, filled with thousands of diamonds, rubies, emeralds, and pearls. From there he imagined 149 creations—emerald and diamond collars, multi-strand pearl necklaces, and even belts adorned with gemstones.
Boucheron Creative Director Claire Choisne said, "This commission by the Maharajah of Patiala seemed like a fairytale; it is the stuff of dreams."
With all 149 designs housed in the Boucheron archives, Choisne mined this fertile inspiration to create the "New Maharajahs" high jewelry collection.
Elements like lotus flowers, turban ornaments, and wedding bracelets reference ancestral India, Boucheron said. A technique common to India—glyptics, or the art of engraving stones—is also represented.
But while the Maharajah's treasures featured many colors, Choisne chose to use color sparingly, focusing more on white and transparent shades via diamonds and rock crystal, with a pop of green courtesy of emeralds in select designs.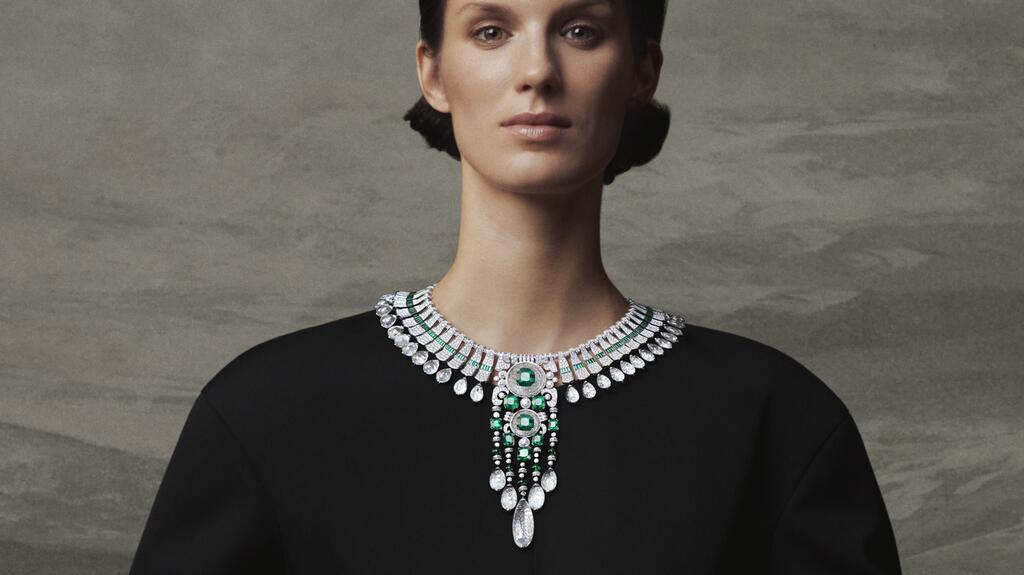 Above is the single emerald set, featuring platinum, diamonds, emeralds, and rock crystal.
Choisne said, "This is the only colorful parure of the collection. It tells the story of the Maharajah of Patiala's commission, but without the weight of history."
Like much of Boucheron's high jewelry, the necklace is convertible, with the center component detaching to be worn as a brooch, with the collar worn separately.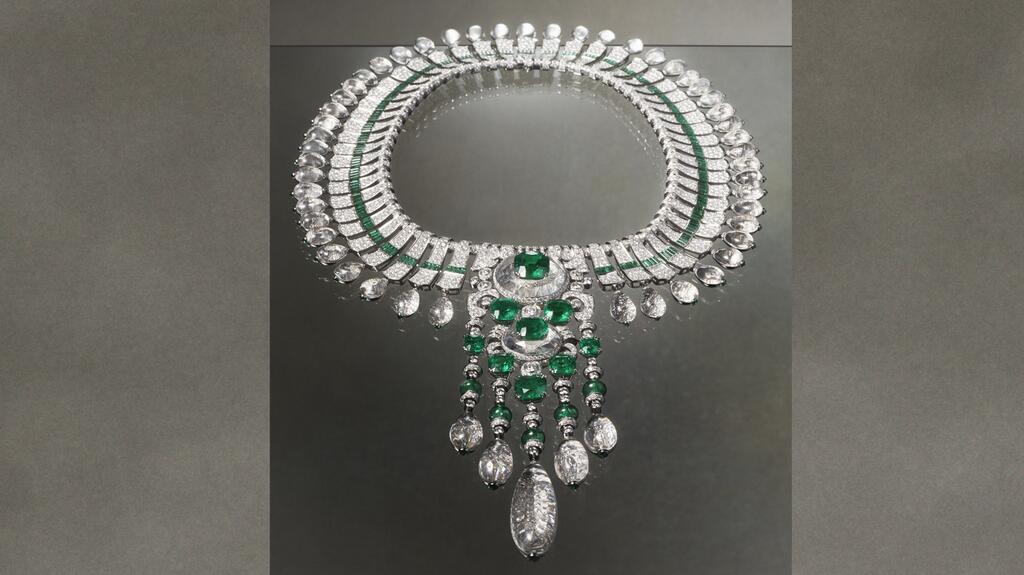 The bottom dangling gems aren't emeralds as they were in the original 1928 designs; instead, they are diamonds overlaid with rock crystal for a unique glow.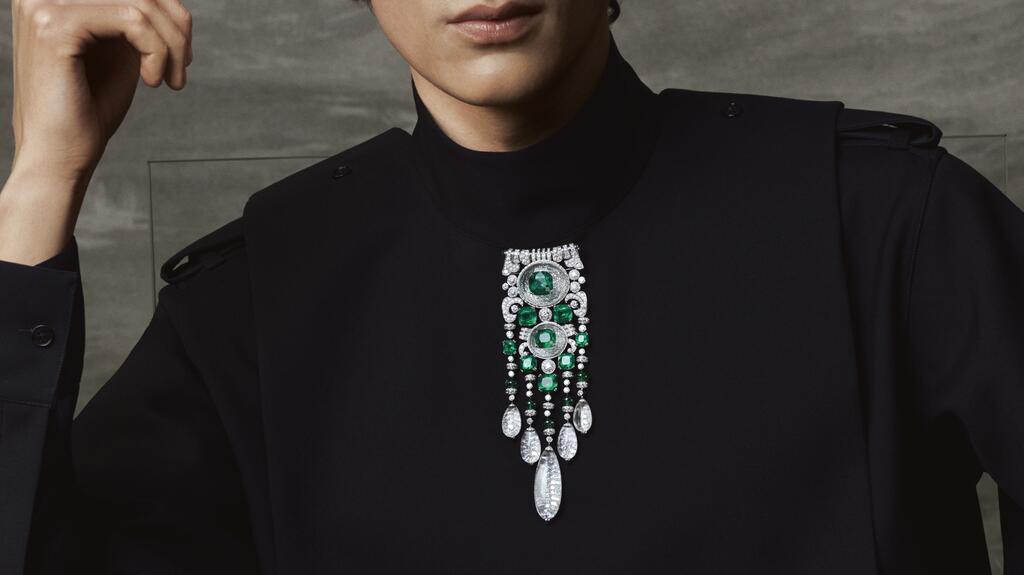 There are 38.73 carats of Colombian emeralds in the center brooch component.
A necklace from the Maharajah's 1928 commission inspired the set's earrings (below). Scaled down to earring size, the hoops are sun-shaped and mounted with a total 35.93 carats of emeralds.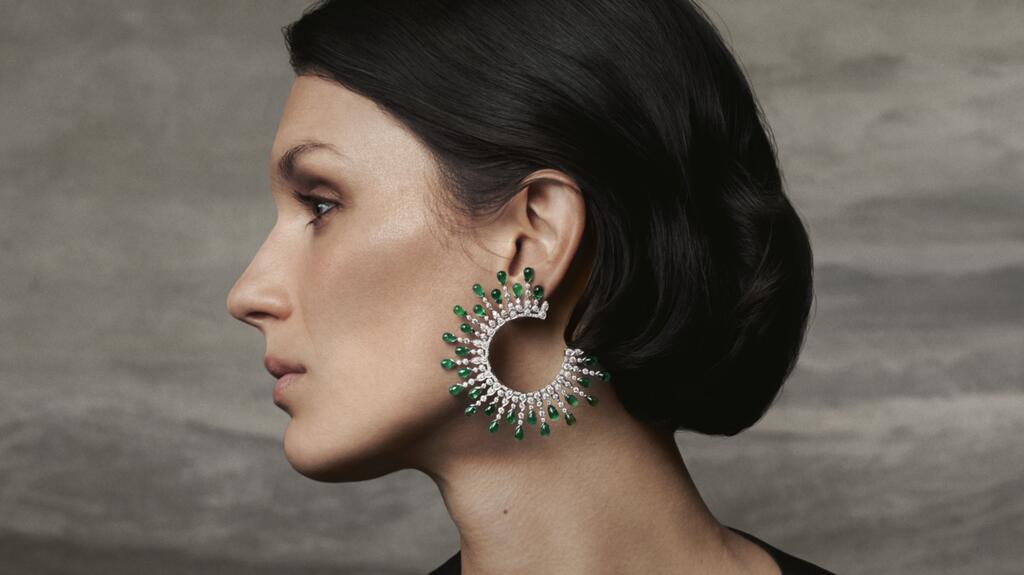 The elaborate set pictured below is called the "New Maharani" set. It features three separate necklaces.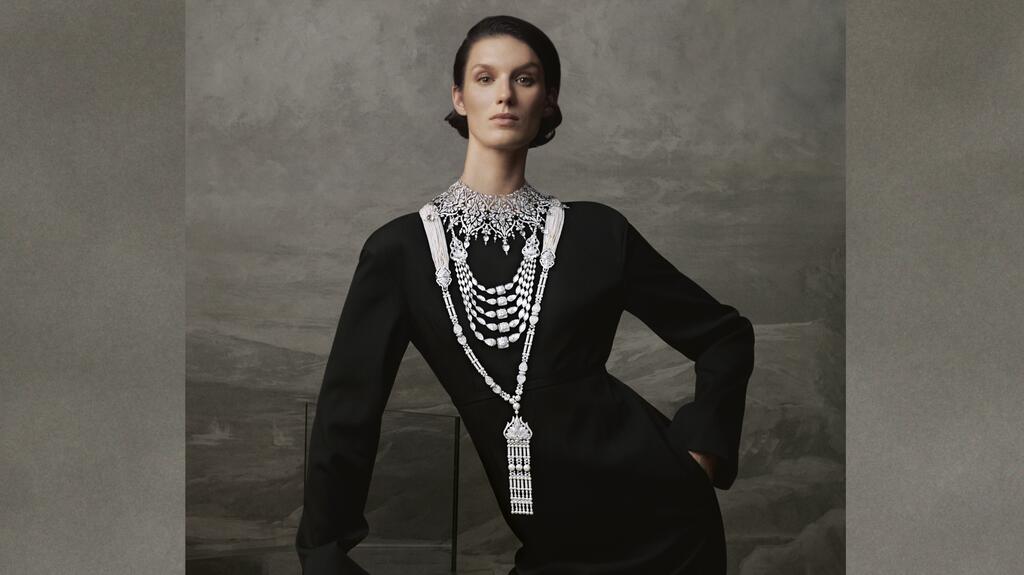 Among them is a lotus-inspired collar, below. At its center is a 4.08-carat cushion-cut diamond surrounded by diamonds, rock crystal, and white gold.
Choisne said, "We have chiseled the proportions of this piece from its empty parts and have associated diamonds to it, to give even more lightness to the final result."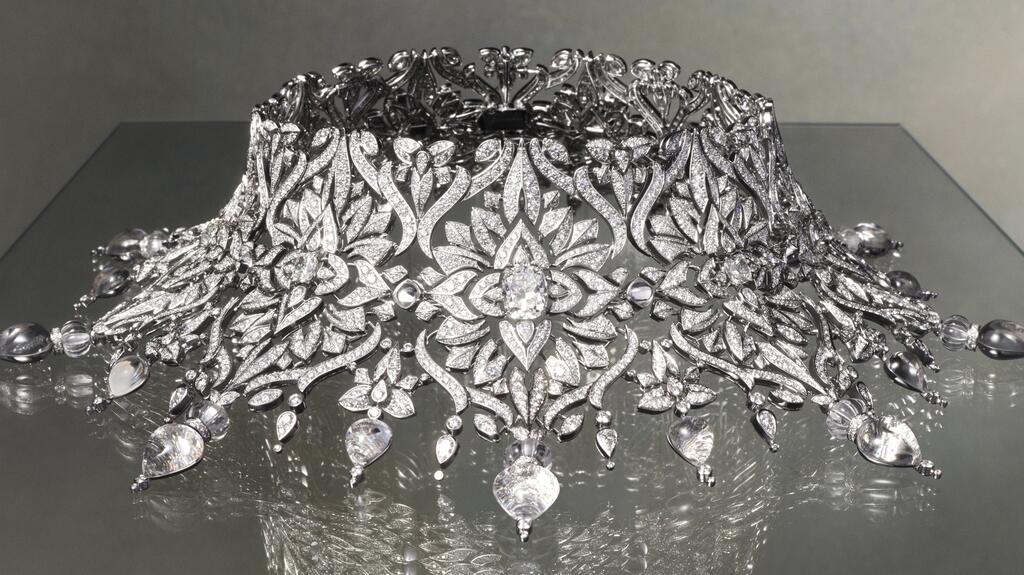 The longest "New Maharani" necklace, set with a 0.71-carat diamond, additional diamonds, rock crystal, mother-of-pearl, and cultured pearls in 18-karat white gold, converts into seven different looks.
It transforms into necklaces of varying lengths, as well as two pearl bracelets. The main design element can also be worn as a brooch, seen below.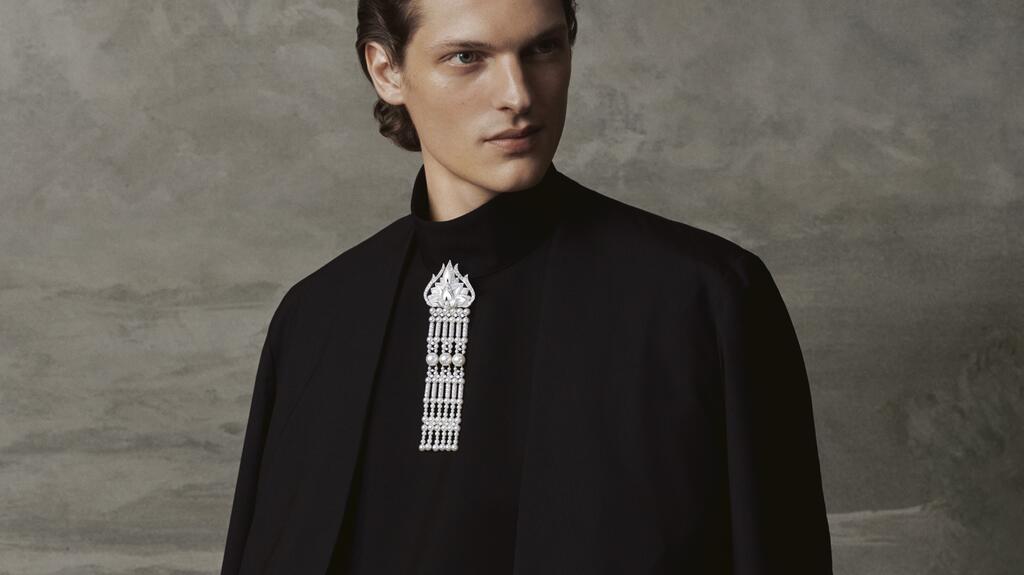 The "New Padma Nacre Earrings" are also a tribute to the lotus flower, with the word "Padma" translating to "lotus."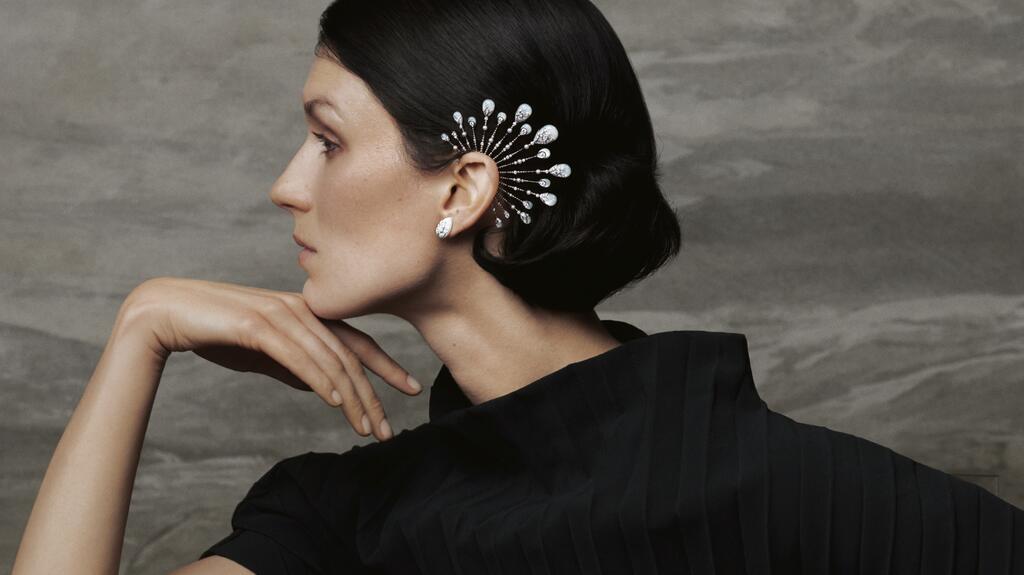 Boucheron compared the New Padma to a "reversed miniature necklace." The piece features diamonds and engraved mother-of-pearl drops that reference glyptics, and it is meant to sit atop the ear.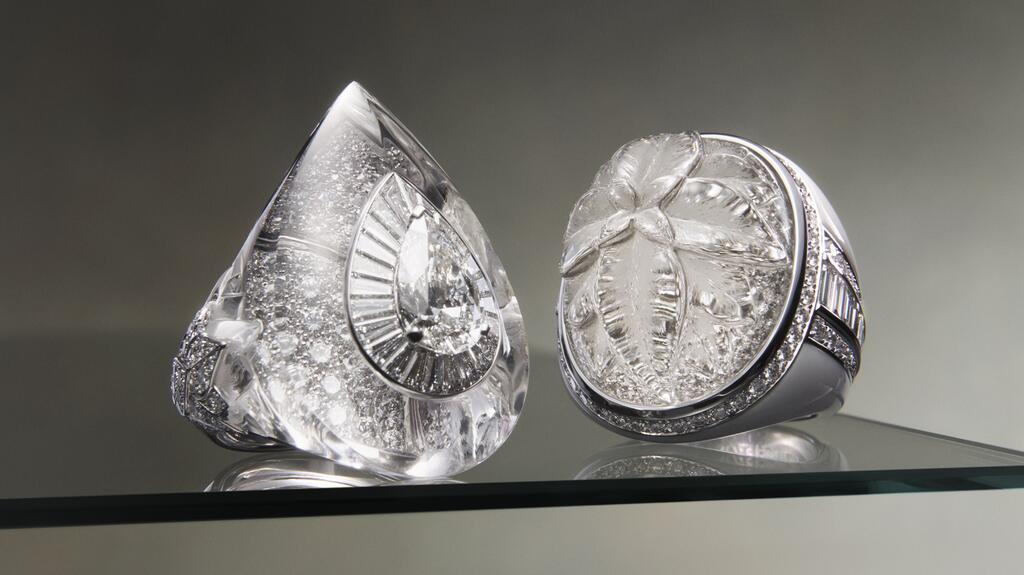 Elaborate carved rings (above) also make an appearance in "New Maharajahs."
Featuring diamond, rock crystal and white gold, the ring at left has a 2.01-carat pear-shaped diamond center stone, while the ring at right incorporates opaque cacholong opal in its shank.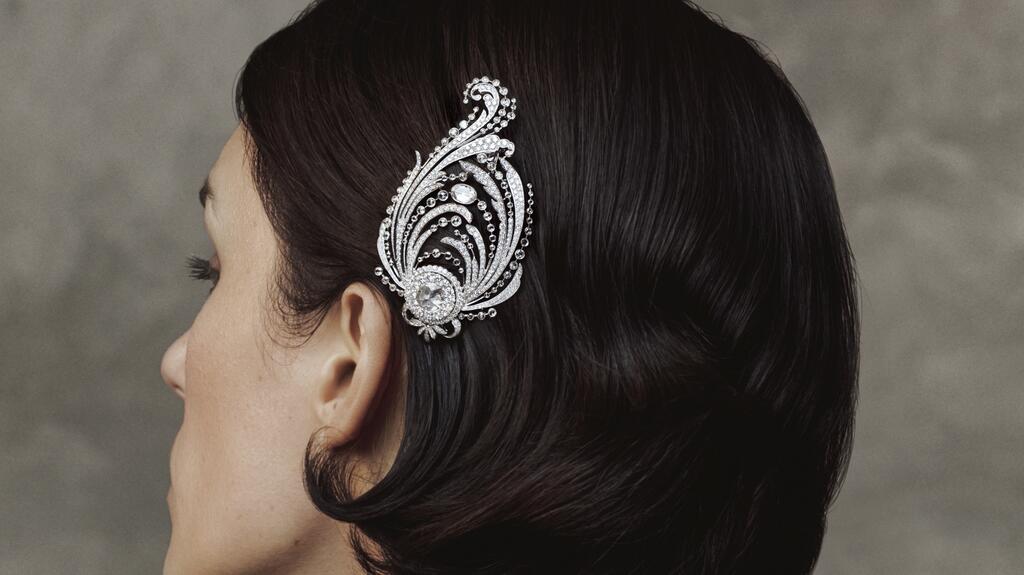 Choisne interpreted a turban pendant, or sarpech, as a hair jewel (seen above) that can also be worn as a brooch.  
Meant to resemble a feather, it is set with full-cut and rose-cut diamonds in white gold. 
 Related stories will be right here …
More on Collections
Collections
Nov 27, 2023