See the CPAA Design Competition's Winning Jewels
Tariq Riaz took home the President's Trophy at the Cultured Pearl Association of America's International Pearl Design Competition.
New York—Earlier this month, judges crowned the winners of the Cultured Pearl Association of America's
International Pearl Design Competition
.
Taking home the competition's top prize, the President's Trophy, was Tariq Riaz's "DNA Interchangeable Earrings," below.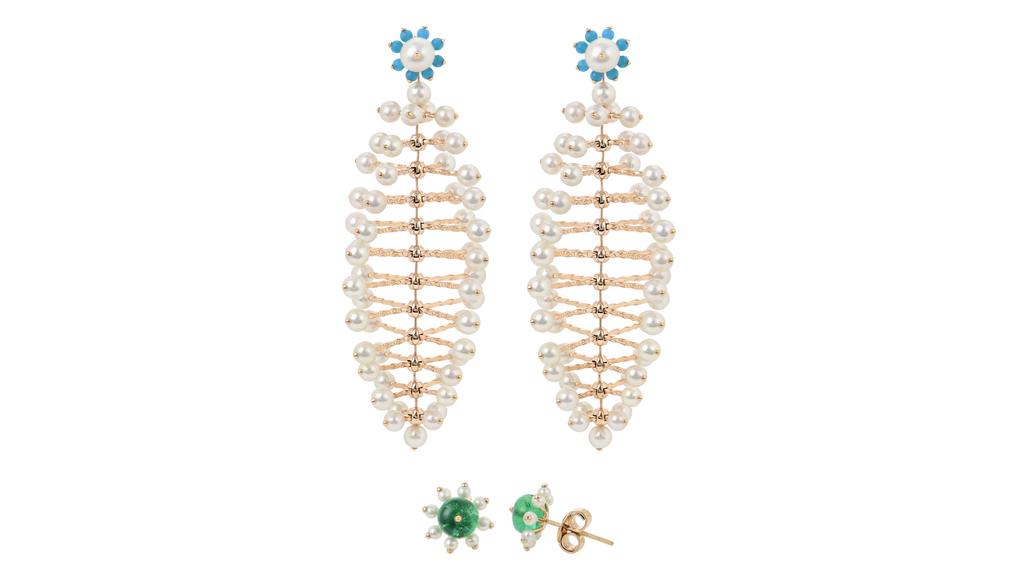 Judged to be the most beautiful and original design entry, the earrings are crafted in 18-karat rose gold and inspired by the shape of DNA.
The earrings' removable drop has 96 hand-twisted wires set in 24 turntable bases that allow them to move and change patterns. The wires feature roughly 100 Akoya pearls measuring 4-4.5 mm. 
One pair of stud earrings has 3.33-carat total weight emerald beads and 16 keshi pearls measuring 2-5 mm. A second pair of studs has 1.15 carats total weight of turquoise beads and 6 mm Akoya pearls.
There was a tie for the Luster Award, awarded to jewelry with wide marketplace appeal.
The "Nest Earrings" by Barbara Heinrich and the "Loie Ring" by Anne Baker share the honor. The former is crafted in 18-karat yellow gold with keshi pearls and diamonds.
The latter ring is crafted in 18-karat gold with a white South Sea pearl, Tahitian pearl, and diamonds. 

The Orient Award, given to a jewel that appeals to an emerging pearl jewelry collector, also resulted in a tie.

The "Coin Pearl Amazon Ring" by Eve Streicker of Original Eve was one winner. The ring is crafted in 18-karat recycled yellow gold and features a coin-shaped freshwater pearl. 

The other winner was "The Pearl Blossom Ring" by Anne Baker, made in 20-karat rose gold and featuring a pink freshwater pearl and pink sapphires. 


The "Corner Pearl Nacre Ring" by Melanie Georgacopoulos earned the Visionary Award for Classic Styles, which honors a jewel that changes pearls' dated perception.
Made in 18-karat rose gold, it features a lavender freshwater pearl and custom-cut lavender mother-of-pearl.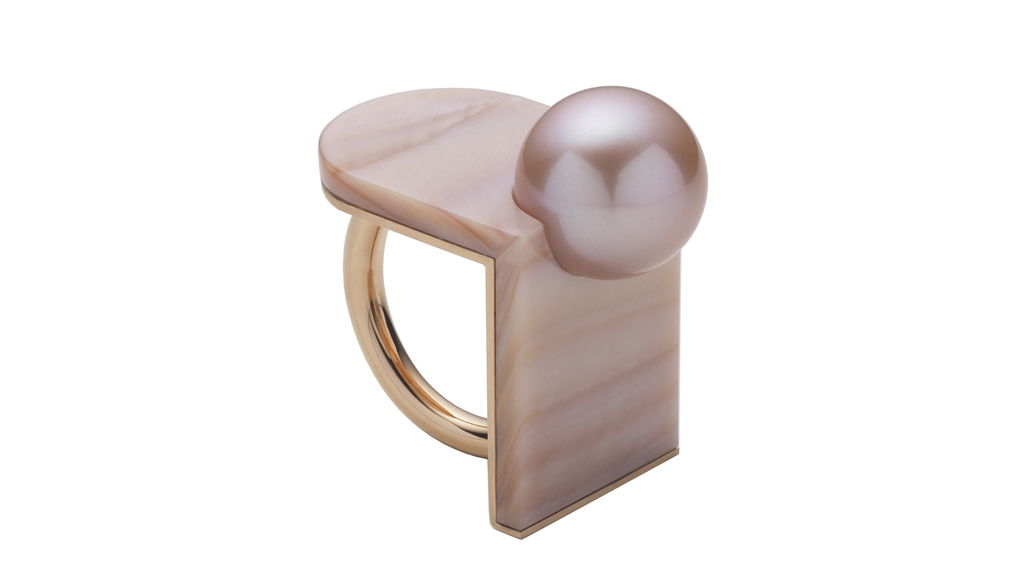 The Wedding Day Pearls category had two winners.
One was the "Exposed Pearl Nacre Bangle" by Melanie Georgacopoulos in 18-karat white gold with white mother-of-pearl and a white South Sea pearl. 
The other was the "Celine 3.0 Tahitian Pearl Dagger Earrings" by Rosa van Parys. The hoops and removable drops are made in 18-karat white and black gold with diamonds and silver-blue Tahitian pearls. 
The Fashion Award, honoring a youthful, high-fashion design went to the "Pearl Swag Bracelet" by Imperial Pearl.
Made in 14-karat yellow gold, it features Akoya pearls in varying sizes and diamonds.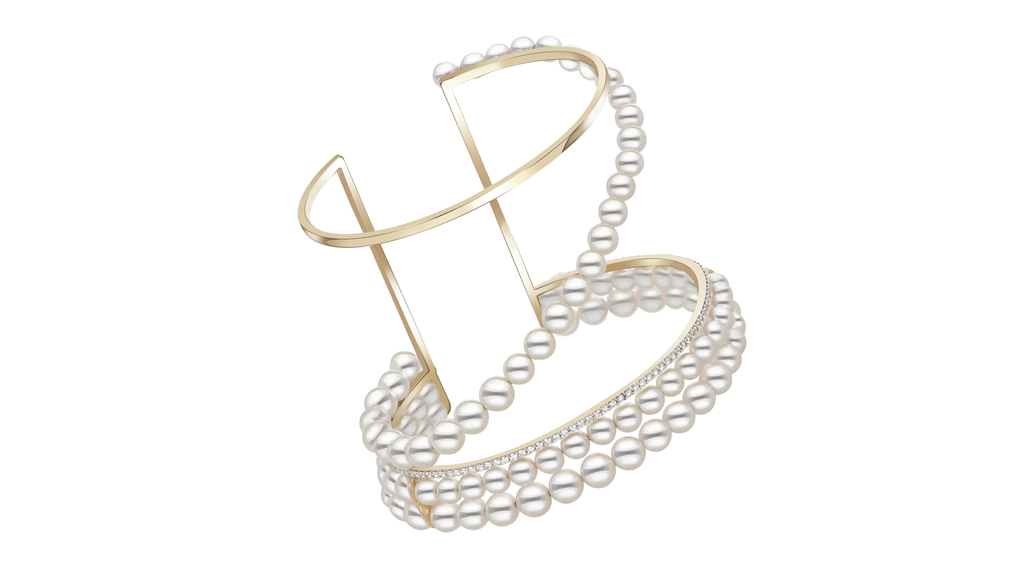 The competition's annual Spotlight Award highlights a particular pearl variety that changes each year. In 2021 designers were tasked with presenting a design featuring natural-color blue Akoya pearls. 
The winning design was, again, a tie. 
One winner was the "Blue Wave Ring" by Paul Klecka, made in sterling silver and platinum with a baroque natural-color blue Akoya pearl and diamonds.
The other was Lauren Chisholm's "Blue Akoya Pearl Necklace with Pendants." It was crafted in 14-karat and 18-karat yellow gold, with knotted silk, blue Akoyas, a cream Akoya, and white South Sea pearls. 
The CPAA also held a Popularity Award in which Instagram users could vote for their favorite design on the social media platform.
The winner was the "Bijoo Convertible Pearl Ring" by Marie Fauvel Lebourgeois of Lebourgeois.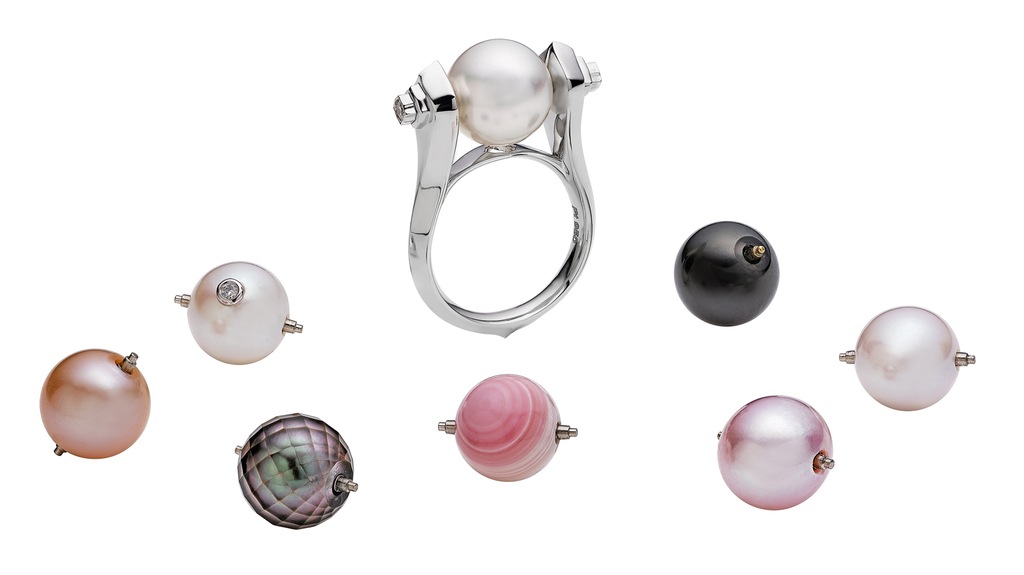 This year's judges were Jean Francois Bibet, workshop and production director at Cartier; and Patricia Faber, co-owner of Aaron Faber Gallery. 
Winning designs, as well as several honorable mentions, are now for sale at the Aaron Faber Gallery. 
 Related stories will be right here … 
More on Events & Awards