I Tried Out Rocksbox's Jewelry Rental Service
Associate Editor Lenore Fedow tested out the jewelry rental platform's subscription service. Here's what she thought.
One of the most amazing perks of my job is all the beautiful jewelry I get to wear, if only for a moment. I often daydream about some of the gorgeous gems that have graced my wrists and fingers.
The worst part of my job is handing the jewelry back, knowing I could sell everything I own and still not have enough to make some of these pieces mine.
I have a beautiful personal jewelry collection, consisting of pieces that are priceless to me, but I like to switch up my look now and then. My bank account likes that a little less.
Jewelry rental was an intriguing option, especially after I hosted a webinar with Gina Gorman, the vice president of marketing at jewelry rental service Rocksbox, which Signet Jewelers acquired this past spring.
Following our discussion, Gorman kindly sent me a code to test out Rocksbox for free for three months.
Sensing the start of a great opinion piece, I accepted and signed up for the service. Here's how it went.
Signing Up
Rocksbox allows subscribers to rent different pieces of jewelry every month, swapping out their picks for something new the following month or buying the pieces.
For $21 per month, subscribers can rent up to three pieces for as long as they like and choose to purchase them at a discounted price any time during the rental period. The $21 can be used as a credit toward the purchase.
The sign-up process was straightforward.
After sharing my basic details and credit card information, I took a quiz to set up my style profile, answering questions about the type of jewelry I wear, metal preferences, the styles I like, and my ring size.
I particularly appreciated getting asked about the type of jewelry I wear, since I save bracelets for special occasions only. The tap of them against my desk as I type drives me up the wall, not to mention the scratches.
Based on my answers, Rocksbox selected the three pieces pictured below for me.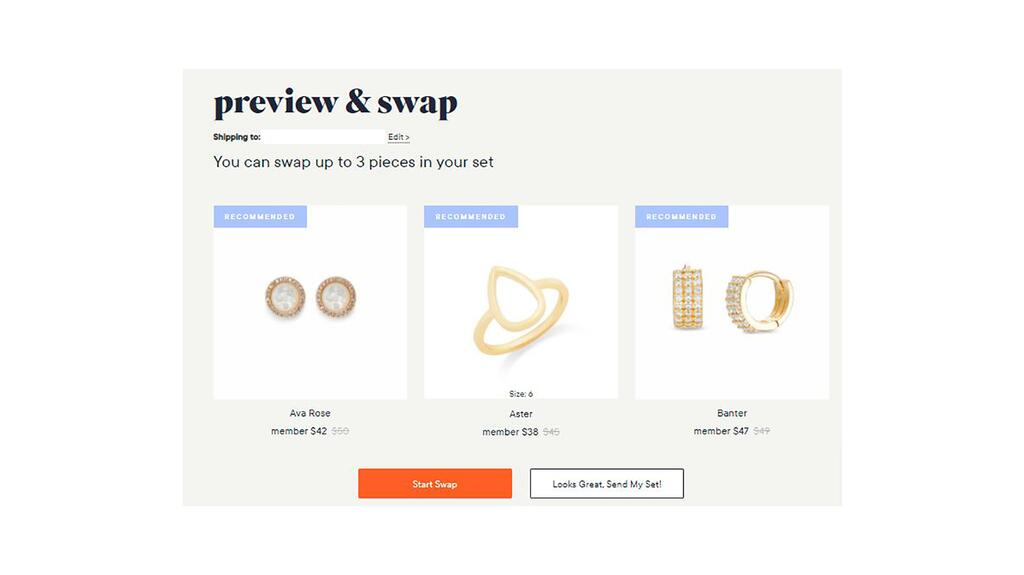 The choices didn't quite fit my style, save for the minimalist ring in the center. I'm not a huge fan of pavé and I'm
too superstitious for opal earrings
.
However, you can preview your set and swap out pieces you don't like.
Rocksbox tells you how long you have to make new choices and sends an email reminder as well.
So, I browsed Rocksbox's collection, adding pieces to my wishlist, which is a collection of your favorites.
There are a lot of filters available when you're searching, including by jewelry type and designer, or by category, like "celestial and spiritual" and "gender fluid."
I also received a $5 permanent credit for adding 30 pieces to my wishlist.
I picked out my first pieces and waited for my box.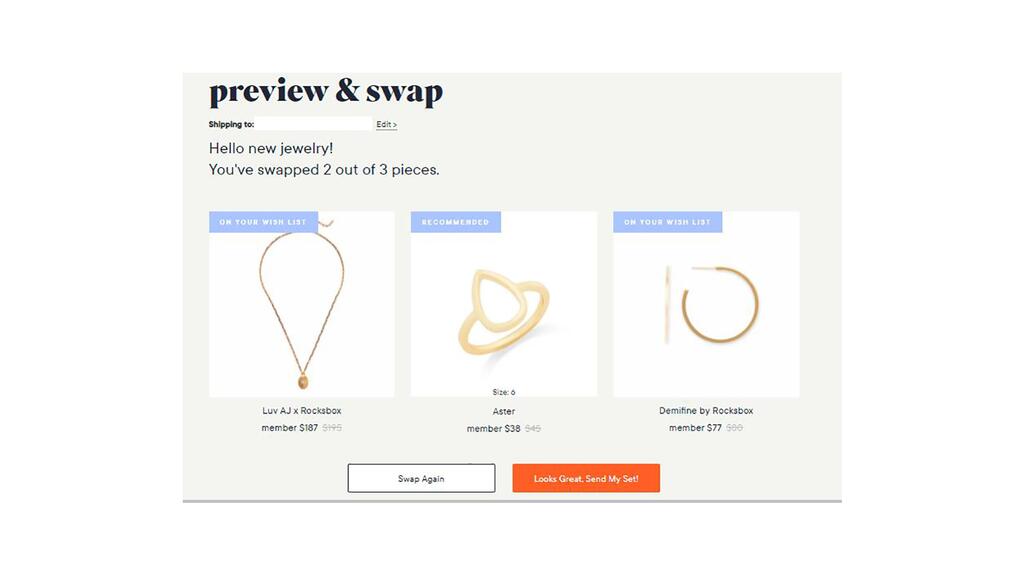 As I impatiently monitored my tracking number, I saw I only had a handful of days left to use my monthly credit, which seemed odd since I had just signed up.
I will share a word to the wise here—sign up and pick your pieces at the beginning of the month, not the end like I did. The Rocksbox rental cycle ends at the end of the calendar month, regardless of when you sign up.
I signed up and placed my order on Sept. 23. Following a delay with USPS, I received my first box the night of Sept. 30.
I hadn't even tried any of the pieces on yet and my credit was set to expire the next day.
During my complimentary trial membership, I returned all of the jewelry and did not use any of the credit gifted to me, but for a regular customer, I imagine this would be frustrating.
On to the jewelry!
My First Box
One of modern life's simple pleasures is having a package waiting for you when you get home.
My Rocksbox order came in a cute box, with my jewelry picks wrapped up neatly inside individual drawstring bags.
I chose an 18-karat gold-plated over silver pendant necklace by Luv AJ x Rocksbox, a pair of 18-karat gold-plated over silver hoops from Rocksbox's
demi-fine collection
, and the "Ainsley" ring in gold over brass by Aster.
The necklace was one of the priciest options available, but it wasn't my favorite. The look of it, perhaps because of the crystal in the center, struck me as costume jewelry, despite it technically being demi-fine.
I enjoyed wearing the ring and the simple gold hoops. As someone with sensitive ears, or "snob's ear" as my mother lovingly called them, the earrings didn't bother me at all.
All in all, I was happy with my jewelry choices.
The Return Process
An easy returns process is sometimes the deciding factor in my purchase-making decisions, especially when it comes to online shopping.
Rocksbox includes a pre-paid return label in your box and its shipping envelope is reusable.
This is a very minor thing, but the original labels on the envelope are so easy to remove. There was no need to scrape them off with my fingernails or pick them off in tiny, annoying pieces.
 Related stories will be right here … 

The only downside is that Rocksbox uses USPS, which I find to be the least user-friendly and slowest of all the shipping options.

As much as I appreciate our postal workers, I don't enjoy having to go to the post office, even if it's just once a month. (This may be more my problem than Rocksbox's problem.)
A Hiccup

A day or so after returning my first box, with all the jewelry inside, I received an invoice for the Aster ring.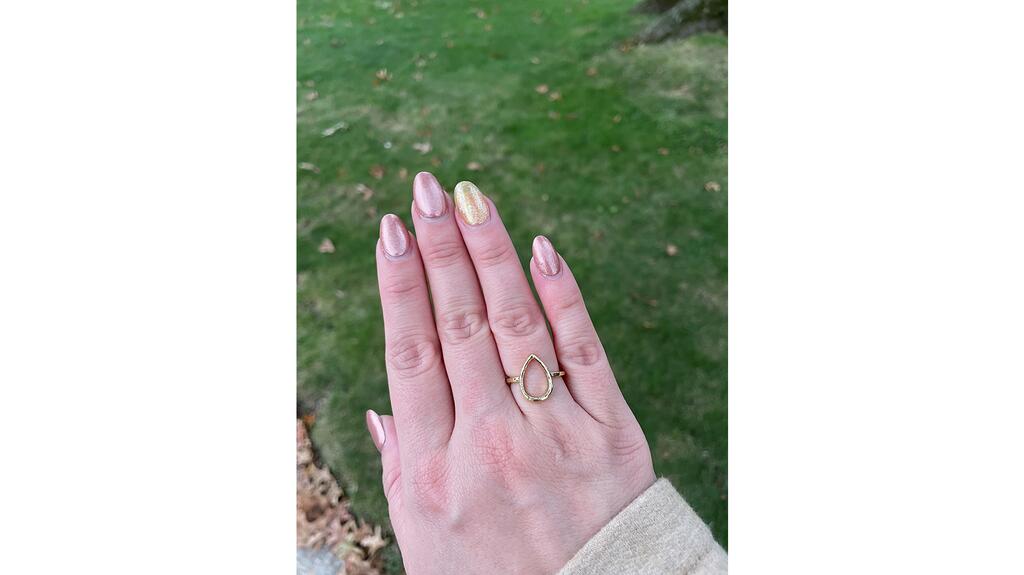 I had been careful with my jewelry, setting it back in its box each night.
When it was time to send it back, I packed it up meticulously in all the bubble wrap, bags, and boxes it came in, double-checked the package, and sent it on its way.
I was positive I had sent the ring back, so I called Rocksbox to clear up the situation.
The woman I spoke to was patient and kind, listening to my story and looking up my account information.
She refunded my card and put the credits back in my account on the spot without any fuss.
Pleasant experiences with customer service can be few and far between, so I'm awarding Rocksbox bonus points for its handling of this situation.
Onto the next box
Rocksbox's next suggestions for me were much closer to my style, with the help of my filled-up wishlist.
I love big hoop earrings, so the "Maggie" filigree hoops in 14-karat gold-plated over brass by Kendra Scott fit the bill perfectly.
Though returned, I loved these so much I've added them to my Christmas list.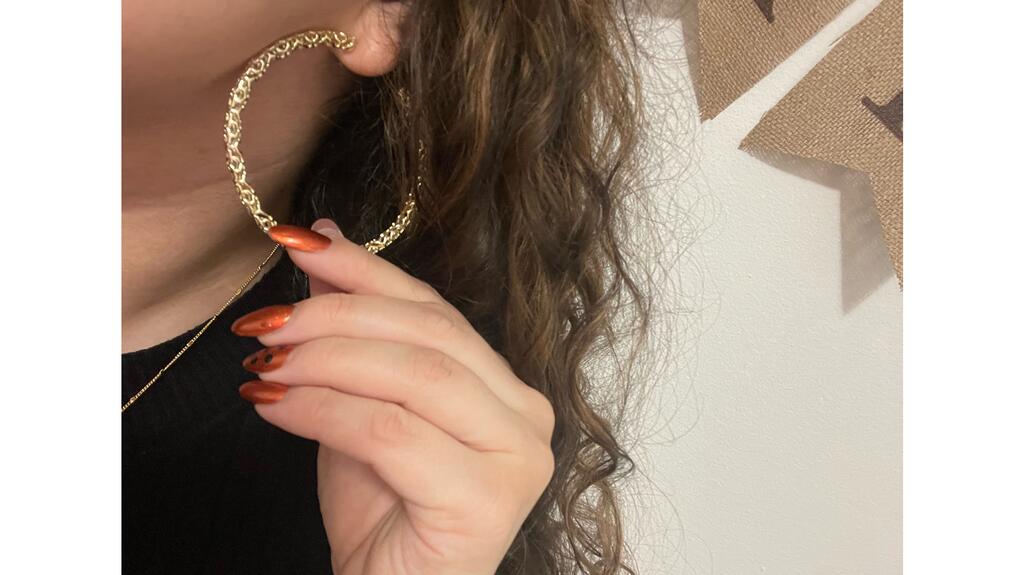 I was interested in trying more pieces from Rocksbox's demi-fine collection, so the 18-karat gold-plated over sterling silver ring with baguette crystals was also a good choice.
The necklace wasn't quite what I was looking for, however, so I swapped it out for the "Wishes" evil eye heart pendant by Kate Spade in gold over brass with cubic zirconia accents. 
The pendant was another favorite of mine and was included in my letter to Santa this year. It's currently sold out on Kate Spade's website, so I must be one of many admirers.
This box, possibly my favorite of them all, was returned without incident, and I happily awaited my next one.
More Jewelry
Rocksbox's suggestions for me in November were spot on, with every pick directly from my wish list.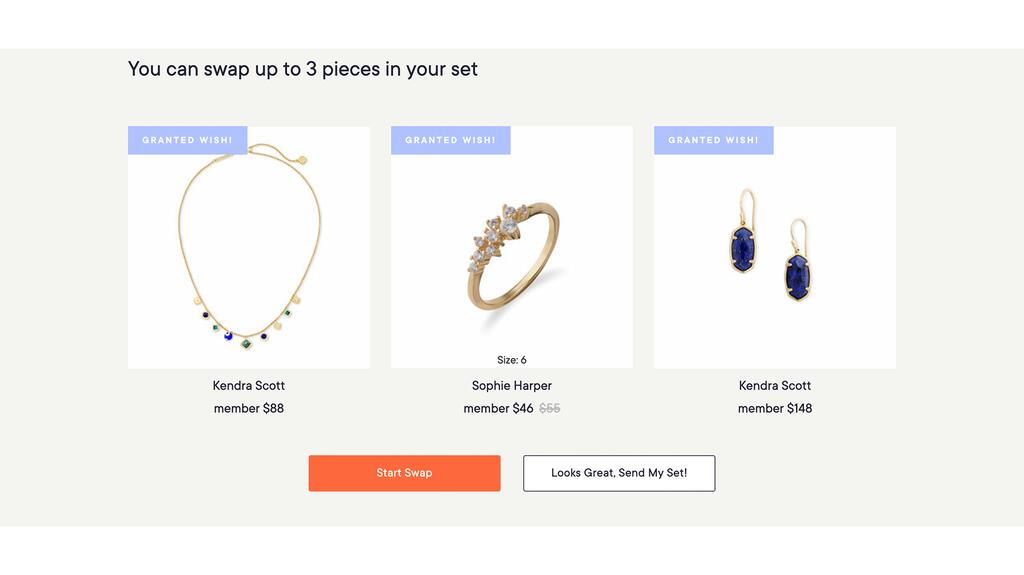 Ordinarily, I would've kept all these choices, but I had a 1920s-themed wedding to attend and I had a specific idea of what I wanted.
Rocksbox allows you to upload a photo of an outfit so a stylist can work around that. I did upload a picture of a similar dress to mine, but I don't know if it went through as I didn't receive a confirmation or acknowledgement.
It was a formal affair, so I wanted to add a little class to my emerald-green gown.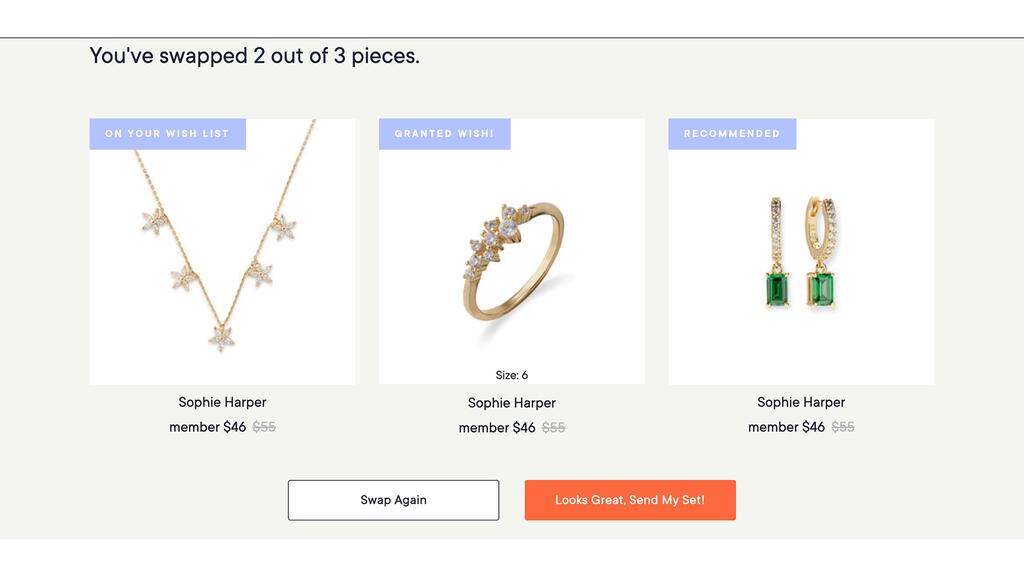 All the pieces I chose were by Sophie Harper, which was a happy coincidence.
I picked a cluster ring in 14-karat gold over brass with CZ.
I wore a one-shoulder dress, and the "Flower Station" necklace, also 14-karat gold over brass with CZ stones, looked stunning, if I do say so myself. 
This is a snobby thing to say, but sometimes cubic zirconia jewelry can give off that "cheap" vibe. But Sophie Harper's pieces were so far from that. They're elegant and fit right in next to my personal fine jewelry pieces.

I also chose the baguette drop huggie earrings in gold over brass with an emerald-colored stone.

These were gorgeous and matched the dress perfectly, but wow were these hard to get on!

I don't wear a lot of huggie earrings, and I do have long acrylic nails, but I managed all the other clasps and closures just fine.

I would've worn these a lot more often during my rental period, but it was too much of a hassle to put them on.

Final Thoughts

I genuinely enjoyed my Rocksbox subscription.

The $21 per month price tag may not fit into every budget, but when I think of what I must waste $21+ on each month, the subscription price doesn't seem so steep.

As someone who tends to save up for fine jewelry, and therefore only gets new things once in a while, it was fun to get a handful of new pieces to wear each month.

I think it's a great option for someone who wants to try a new look or style, but maybe doesn't want to, or can't afford to, buy the fine jewelry version.

The pieces Rocksbox stocks are on-trend, whether you're looking for mixed metals or chunky chains.

It has some cute seasonal options too, like spooky Halloween earrings or sparkly Christmas jewels.

The only downside was, as I previously mentioned, how its rental calendar works. 

It's possible I missed it when reading through the website, but I think it should be made abundantly clear that you don't get a full month out of your subscription unless you sign up early in the month.

If I had paid for my membership out of pocket rather than using a free trial, I'd have been annoyed.

For now, I've put my membership on hold, but I'm considering asking Santa to gift me a subscription. Considering all the supply chain issues, a gift card is probably easier to fit in the sleigh.

I'll let you know what I find under my tree. 
More on Editors