Everything You Need to Know About Jewelry at the Inauguration
The vice president's pearls, J. Lo's ode to France, and more.
On Wednesday, a new man took office as the president of the United States, and for the first time, a woman entered the vice presidential office.

At a pared-down inauguration ceremony at the U.S. Capitol, Joseph R. Biden Jr. and Kamala Devi Harris were sworn into their respective offices.

Harris' election marked a number of firsts that you've now heard innumerable times but are so unprecedented, they bear repeating until the novelty has worn off: In addition to being the first female vice president, Harris is also the first black vice president and first South Asian vice president.

What politicians and their spouses wear on historic occasions is rife with symbolism; the bigger the occasion, the greater the symbolism, and there's no bigger occasion than starting one's tenure in the White House.

Harris was born to a Jamaican immigrant father and Indian immigrant mother, so she fittingly wore a jewel designed by another child of immigrants to mark her historic swearing in.
Embed from Getty Images

Rosado was born in the U.S. to Puerto Rican parents.

He made his mark in the fashion industry prior to launching his eponymous high jewelry line in 2011.

This year, he branched out into a more attainable, but no less exciting, array of pearl jewelry under the moniker W.Rosado.

"It is truly an honor and a dream come true for me to be able to create jewelry for Kamala Harris and for such an important moment in history," he said. "She embodies the diversity and spirit of this country and I am so proud of her progress."

The necklace Rosado crafted for the inauguration features Australian South Sea pearls suspended in 18-karat yellow gold links, interspersed with diminutive diamonds.
Embed from Getty Images
Female political figures are known to sport a classic strand of pearls, and Harris has worn them plenty in the past, so much so that it
spawned a Facebook group
with half a million members vowing to wear pearls on Inauguration Day. 
It also inspired a day of pearl-wearing among members of Harris' sorority, Alpha Kappa Alpha, the oldest Black sorority in the U.S.

Wearing W.Rosado was an excellent way to honor the tradition while showcasing her unique flair.

On a day that's entirely about symbolism, the necklace, with its uplifting and subverting-the-traditional attitude, made the perfect statement piece and political metaphor.

And the message wasn't lost on the designer.

"With this collection we are defining a new language for pearls, bringing a perennial favorite into the future and shattering the norms of jewelry for both women and men," Rosado added.  "Pearls are an obsession for me and I'm always striving to find new ways of working with them."

Harris complemented the W.Rosado necklace with pearl button earrings not from Rosado (there's very little intel about them, meaning they're likely from her personal jewelry collection and may hold personal significance in the vein of an heirloom), while the American flag pin she wore on her lapel was from David Yurman.

Also front and center at the ceremony were its entertainers—Lady Gaga, Jennifer Lopez and National Youth Poet Laureate Amanda Gorman.

Her entire look was by Schiaparelli, including her enormous gold brooch, shaped as a dove holding an olive branch in its beak.
Embed from Getty Images
The overt symbolism, communicating a message of peace and reconciliation, was perfectly in line with the message of the day without sacrificing the songstress' signature boldness; you could have spotted her gold bird from the other end of the National Mall.

And while the design house responsible may be Italian, the brand is currently helmed by American designer Daniel Roseberry, so Gaga narrowly skirted dismissing the "Wear American" tradition.

Her inaugural successor, Lopez, missed the symbolism mark, however.

The singer's outfit itself got several things right.

Dressed in all white, symbolic for the color of suffragettes, Lopez sported layers of pearl bracelets as well as pearl earrings, clearly in line with political tradition.
Embed from Getty Images
But just as she incorporated a refrain from one of her own songs into a medley of songs in tribute to America, Lopez appeared to be focused foremost on her own look rather than promoting American designers, wearing head-to-toe Chanel.

Displaying a very recognizable French logo while singing American tunes at the American presidential and vice presidential inauguration? A definite faux pas, as they say in Paris.

The new First Lady, Dr. Jill Biden, was attuned to the mood of the day.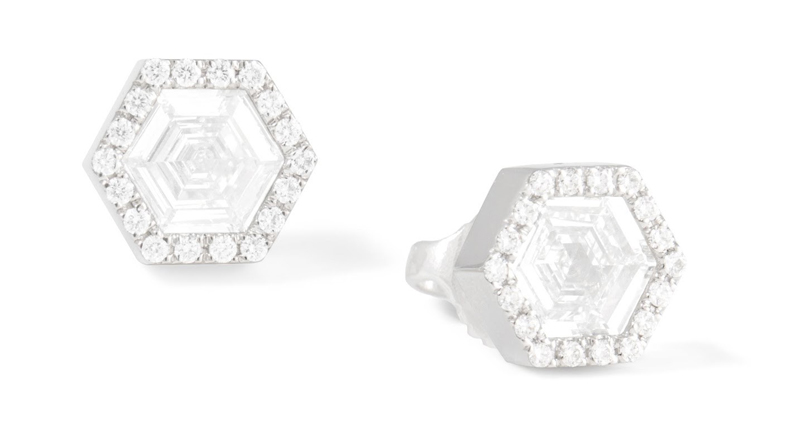 She had on the above earrings from American jewelry designer
Monique Péan
, who happens to be a woman of color and is devoted to crafting pieces that are environmentally and socially sustainable.

They were difficult to see, but overwhelmingly appropriate.
Embed from Getty Images
Now, for poet Amanda Gorman, who at a mere 22 years old is the youngest poet to ever perform at an inauguration, we can bend some of the "Made in America" decorum, and for good reason.

As journalist Gayle King, also well known as Oprah's BFF, explained on the CBS broadcast, it was Oprah Winfrey who gave Gorman the hoop earrings and ring she wore.


Embed from Getty Images
Winfrey gave the late Maya Angelou the coat she wore to recite a poem at President Obama's 2012 inauguration.

She contacted Gorman and offered to do the same for the Biden inauguration, but Gorman already had her coat picked out—it was bright yellow, her favorite color.
Winfrey came up with an alternative, and far superior, gift—the below pair of 18-karat gold Nikos Koulis hoop earrings with a dangling gold and diamond drop. She also gave Gorman a ring from costume jewelry brand
Of Rare Origin.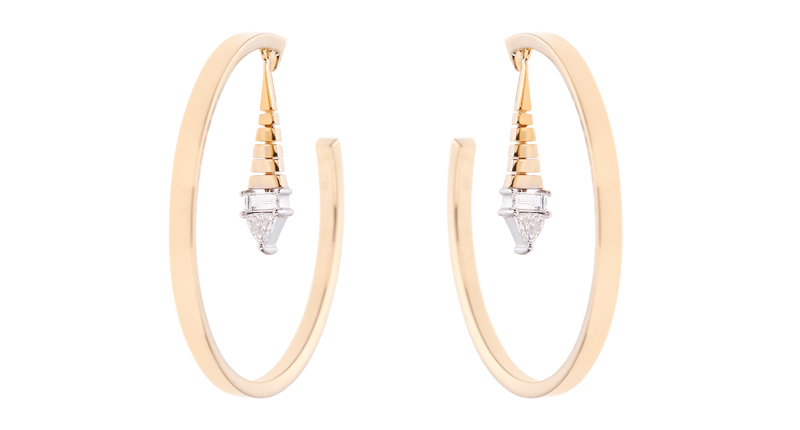 The company's signature "Aviary Classic Ring" features a caged bird in 18-karat gold vermeil. For Winfrey, it was an allusion to Angelou's autobiography, "I Know Why the Caged Bird Sings."

Of Rare Origin is an American company based in New York, and Nikos Koulis is … well, simply fabulous.

Because the earrings were a gift from an American icon we'll say the nod to Greece was an appropriate deviation from protocol, and a treat for jewelry lovers. 

After all, Greece is the birthplace of this tumultuous and beloved thing we call democracy.  
More on Editors
Editors
May 24, 2023