I'm Dreaming of a Sparkly Christmas
Associate Editor Lenore Fedow shares the jewelry and watches she's asking Santa for this Christmas.
I was around 4 years old when I got my ears pierced.

My mom took me to a nearby chain store and sat me down in a tall chair, my little legs swinging over the side. (Now standing 4'11", that hasn't changed much over the years.)

I picked out a pair of green and purple butterfly earrings. Two women stood on either side of me with piercing guns, and it was all over before I knew it.

My mom read the aftercare directions carefully and followed them to the letter, but it wasn't long before my little ear lobes were bright red.

Our nanny guessed, correctly, that I was probably allergic to the nickel in the earrings and should only wear "real" earrings from now on. "Snob's ear" is what my mother called it.

Fast-forward a couple decades and I still have a taste for the finer things, though my budget is lagging behind, and a career in the jewelry industry has only made it worse, or better!

I'm a big believer in dreaming big, so these are the pieces I'd like to see under my Christmas tree if money was no object.

The Perfect Pinky Ring

I wasn't certain I believed in love at first sight until I met this Harwell Godfrey ring.

The wonderful team at For Future Reference was gracious enough to allow me to borrow a few pieces from their talented designers to wear to the Gem Awards in January.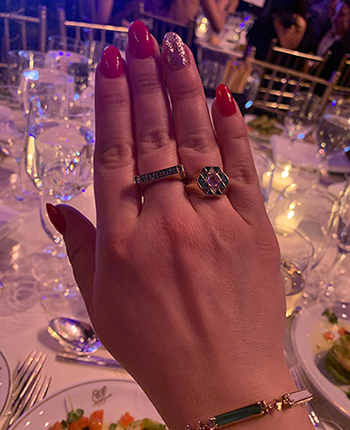 I loved every single piece I borrowed, from a pair of diamond-studded double hoops by Established to a gorgeous diamond and malachite bracelet from Sorellina, but the Harwell Godfrey ring and I? It was a soul connection.
To the chagrin of my fellow editors, I'm not really into yellow gold. I love it on other people, but it never feels right when I wear it.
This ring changed everything. From the rose-cut rock crystal center stone to the pavé diamonds to the malachite and enamel inlays, I wouldn't change a thing.
I returned everything I borrowed after the event, but it was hard to give this ring back. I considered buying it, but ultimately decided against it. 
"Am I a $2,450 pinky ring kind of girl?" I asked myself.
In spirit? Absolutely. In budget? I had to slow my roll.
But, like an old friend, I find myself thinking of this ring from time to time and look forward to a possible reunion with bated breath.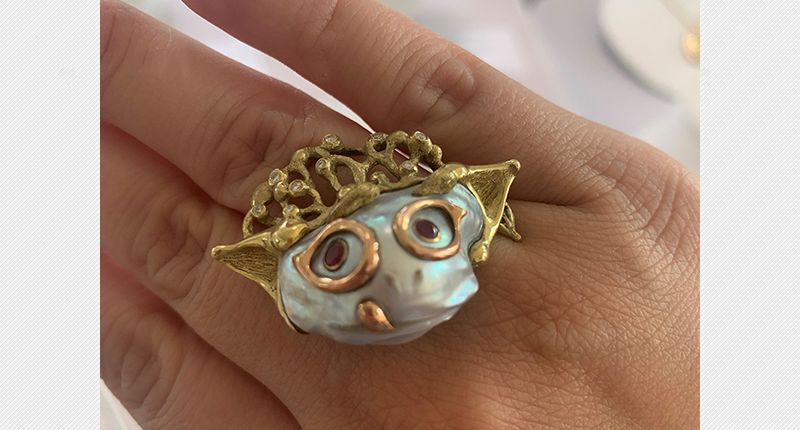 The Cutest Gremlin I've Ever Seen


This gremlin ring and I met at the 2019 AGTA Spectrum Awards Editors' Event.
There was something about his charming little face that just stuck with me.
Crafted by Ionescu Jewels, his face is a gray baroque South Sea pearl, set with ruby eyes and topped with a diamond crown, featuring 18-karat yellow and pink gold accents.
I knew jewelry could be fun, but this ring was funny. From his pointy little ears to his golden tongue sticking out, he just made me smile.
His full name is "A Little Gremlin About to Misbehave" and that mischievous spirit is captured perfectly.
As soon as I slipped the ring on my finger, I knew I wouldn't forget this little guy.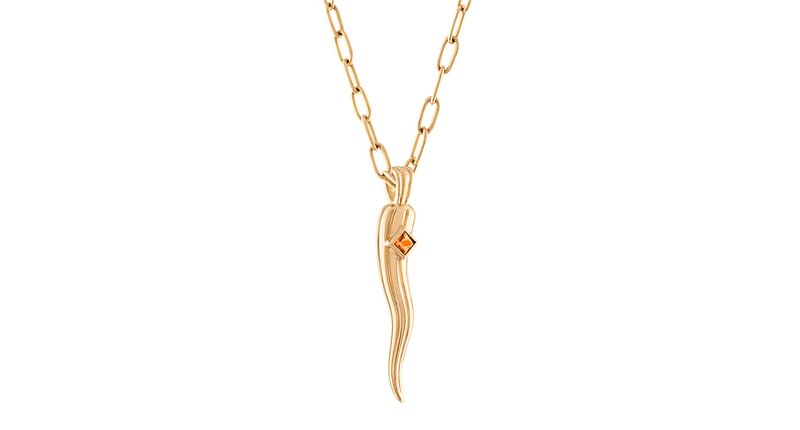 A Little Luck for 2021
Growing up in an Italian-American family, the "malocchio," or the evil eye, was no joke. Fueled by jealousy and envy, the evil eye could turn your entire life upside down.
In Italy, particularly in Naples where my family hails from, it's believed that the cornicello protects the wearer from the curse.
Gina Ferranti of GiGi Ferranti Jewelry created her own version of the Italian horn, crafted in 18-karat yellow gold and set with a princess-cut orange sapphire.
I caught up with Ferranti back in October to talk about her new
Portofino collection
.
Inspired by the Italian Riviera and handcrafted in New York, the whole collection is magnificent, so it wasn't easy to pick just one piece.
I chose this one in particular because it reminds me of home.
It's a tangible connection to my ancestors, giving me a little extra protection as I head into a new year.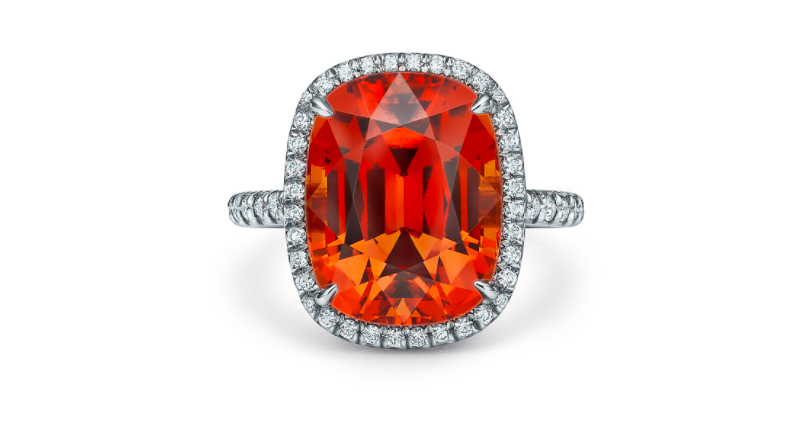 A Showstopper of a Cocktail Ring
I've had the privilege of seeing a lot of beautiful gemstones up close and personal during my time with National Jeweler.
Stones I had never heard of a few years ago are now firmly some of my favorites.
The first spessartine garnet I ever saw stopped me in my tracks, as I was absolutely overwhelmed by that gorgeous inner fire.
A born and raised New Yorker, Tiffany & Co. can do no wrong in my book, design-wise at least.
The pieces are nearly always classic and elegant, and this 11.25-carat cushion cut spessartine and diamond ring is no exception.
"Where would you even wear that?" you may ask yourself as you scroll through this story.
The answer is, anywhere I want because if I had this ring, you couldn't tell me anything. I would be insufferable.
I'd wear it sitting on the couch watching Netflix, getting my hand stuck in the popcorn bag because of the huge rock on my finger.
If you think I talk with my hands a lot now, just wait until I put on this ring.
(Also, this is an entirely imaginary wish list, so I'm free to put whatever I want on it!)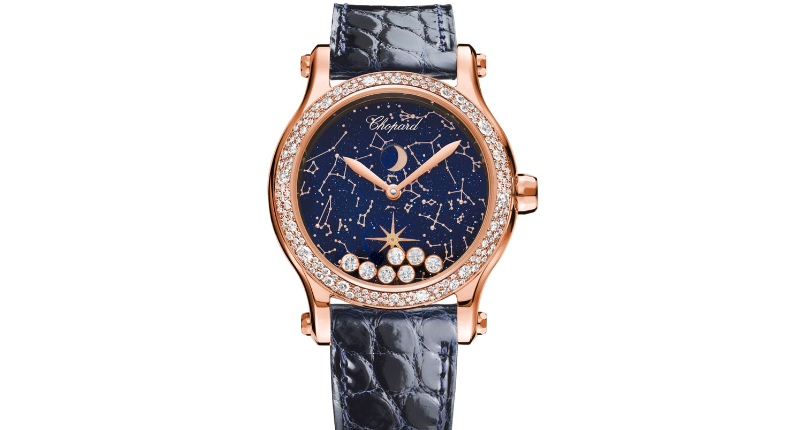 A Celestial Masterpiece Timepiece
Speaking of putting whatever I want on my list, how about a $44,600 watch? Who's going to stop me?
The Happy Moon watch by Chopard is a 36 mm 18-karat rose gold and diamond automatic timepiece with an aventurine dial and a blue alligator leather strap.
Inspired by a starry night, the high-precision moon-phase display is an absolute showstopper.
There were only 250 of these made so, to my family and friends, you better get a move on ordering this one. 
Start refinancing some mortgages, selling plasma, whatever needs to be done.
I ask for so little!
More on Editors
Editors
Apr 12, 2021
Editors
Apr 01, 2021