Diamond Council of America Revamps Courses
The nonprofit introduced a new platform for its distance learning courses.
New York—The Diamond Council of America has revamped its online education offerings and its website.
The nonprofit has introduced a new Learning Management System, which includes a new interactive course on diamonds and expanded course content, available on a streamlined platform.
"DCA has spent the last year prioritizing the enhancement of our digital spaces. Online education has never been more important and DCA is thrilled to be able to launch a revamped Diamond Course in addition to providing a better user experience through the new website and Learning Management System," said DCA President and CEO Terry Chandler in a press release about the new system.
The Diamond Course, designed with sales associates in mind, guides students on how to apply diamond knowledge to sales and everyday store operations.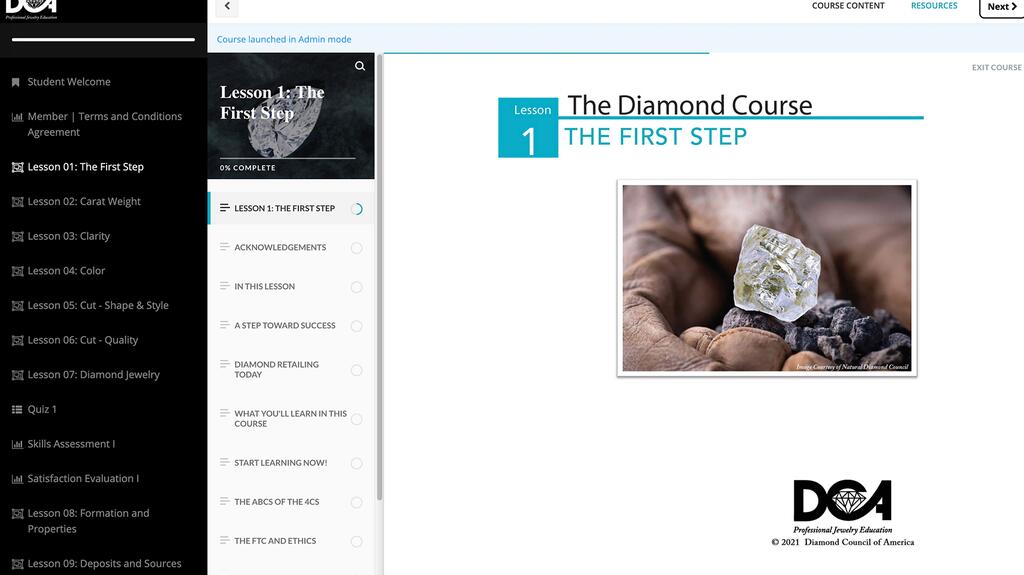 "With these new systems in place, we can serve a larger population of the jewelry industry and provide the education solutions that retailers need to be successful in today's environment," said Chandler.
The new system will also feature courses on beginning jewelry sales, advanced jewelry sales, and colored gemstones.
The LMS also hosts the courses Beginning Jewelry Sales, Advanced Jewelry Sales, and Colored Gemstones. 
The courses are available now on the new DCAlearning.org website.
The courses are $125 per course for DCA members and $200 per course for non-DCA members.
For more information about DCA, to enroll in DCA courses or to become a member, visit the DCA
website
.
 Related stories will be right here …
More on Technology