Feel-Good Friday: Meet a Rescue Dog Named Diamond
And puppies named Emerald, Opal and Tanzanite, who rescuers are trying to bring to the U.S. from a Korean slaughterhouse.
The jewelry industry loves dogs.


I learned as much at one edition of American Gem Society's annual Conclave event, when Omi Gems and Omi Prive's Manos Phoundoulakis brought one of his two beloved rescue pups, a German Shepherd named Boots, to raise awareness about rescues.
Manos and his wife rescued Boots from a Chinese slaughterhouse.  
I learned that millions of dogs are consumed in Asia each year, often slaughtered in a painful fashion, stemming from beliefs that torturing the animal tenderizes the meat.
The experience stuck with me.

In 2018, my local New York City animal shelter, Animal Haven, posted on Instagram about one of their canine alumni rescued from a meat farm in South Korea, where it is legal to breed and raise dogs for slaughter.
They linked to the dog's rescuers, two young women in South Korea, Annie Ham and Ivy Yoon, who physically went in to dog meat farms, trying to remove dogs and get them adopted in the U.S. (in Korea, there is a negative stigma surrounding adoption of meat farm dogs).
Following them on social media led me to adopt my own Korean slaughterhouse rescue in 2018, a shy and very loving boy named Sandwich.


This month, Ivy and Annie were working on a rescue of 65 dogs from a meat farm when they learned of another slaughterhouse fellow volunteers were trying to shut down in a city called Anseong. There, volunteers witnessed the dogs that died from sickness on the farm being fed to the others.     
Annie and Ivy were already desperately searching for funds to pay for vet bills for their 65-dog rescue. I realized this was my time to pay forward what they had done for me, rescuing my fur child from the meat trade.
A week ago, I started a GoFundMe that now goes directly to 501c3 Retriever Rescue of Las Vegas, a dog rescue that was created to adopt out Korean meat trade survivors and is funneling every single donated penny to the Anseong dogs.


With my fundraising promises intact, Annie and Ivy did the impossible, going to the Anseong dog farm and pulling out 16 puppies and dogs. Since then, they have pulled nine more.
These dogs are remarkable in part because they are extremely friendly and trusting of humans, leading volunteers to believe dogs were not slaughtered on-site but sold to other farmers for butchering.
Of our now 25 total dogs, 11 are puppies, and 10—including the one seen below—have distemper, a sometimes-fatal disease among dogs for which we vaccinate puppies in the U.S.
Treatment requires up to a couple of months of daily in-patient care at the vet, quarantined from other dogs. While cheaper than this would be in the U.S., this will cost us up to $3,000 per puppy.
With the cost of spaying/neutering, vaccinating, boarding, flight fees and paperwork for each dog to fly to America, and especially the high costs of the sick puppies, we are looking at about a total bill of $25,000. We're also hoping to rescue more from the farm.
We're still naming all of the pups, but considering how precious each one is, I thought it only fitting that some be called: Diamond, Emerald, Sapphire, Tanzanite, Opal, Alexandrite, Gemma, Bijou, Gypsy Ring and Goldie.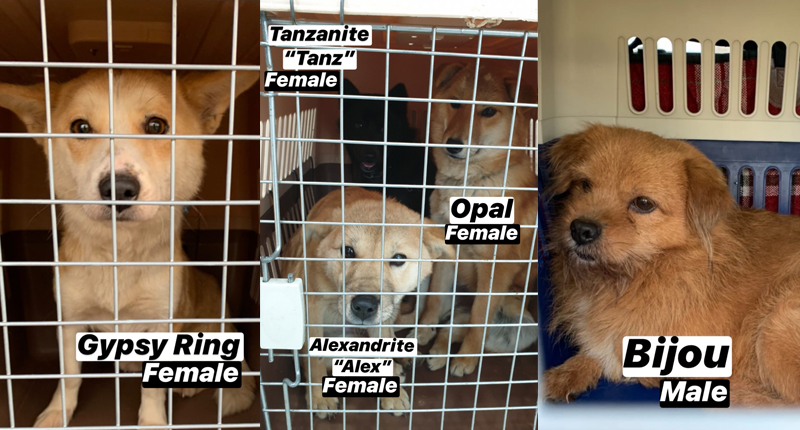 This friendly, loving bunch is what we call "highly adoptable" in the rescue world, and Retriever Rescue of Las Vegas, Southern Nevada Animal Rescue League and a few other organizations have already agreed to facilitate their adoptions (and if you have a particular dog you're interested in, let me know!).
The one step missing between the meat farm and their forever homes is, sadly, money for vet bills and the other aforementioned costs.
I've seen donations roll in from friends, individuals, strangers, and especially jewelry friends, who amaze me with their generosity.
I humbly ask that you share these dogs' stories with your communities, repost their stories on your social media accounts, and, only if you're able, donate to the GoFundMe or directly to Retriever Rescue, specifying your donation is for the Anseong dogs.
Let's bring these gems home.
More on Editors
Editors
Oct 13, 2021