Lightbox and Lab-Grown Diamonds: Tracing the Price Trajectory
When De Beers got into the lab-grown game in 2018, many wondered if it would drive down prices. Here's what's actually happened.
New York—In 2018, De Beers sent shockwaves through the industry by announcing it would begin selling lab-grown diamonds.
The diamond miner and marketer
made the announcement
just ahead of Las Vegas market week.
But it did so with the caveat that its man-made diamonds would be used in fashion jewelry only under a new brand called Lightbox.
The brand has a clearly defined pricing structure: $200 for a piece set with a 0.25-carat diamond; $400 for a half-carat diamond; $600 for 0.75 carats; and $800 for 1 carat.
The news sparked conversations about what would happen to lab-grown diamond prices now that an industry giant had lumbered into the ring and sent an unmistakable message about what it believes the stones are worth.
Three years in, National Jeweler is checking in with diamond market experts to see what actually happened since Lightbox hit the market.
The Immediate Effects
Prior to De Beers' May 2018 announcement, wholesale lab-grown diamond prices were high across the board, industry analyst
Edahn Golan
told National Jeweler in a recent interview, with wide margins for all sectors.
Then the news of Lightbox's launch hit, and, perhaps unsurprisingly, prices dropped.
Even after De Beers announced its pricing scheme, traders tried to keep lab-grown diamond prices high, Golan said, but retailers weren't willing to pay them.
 Related stories will be right here … 
According to Golan, who gathers data from wholesale transaction prices from manufacturers, between Q1 and Q3 of 2018, wholesale prices declined 26 percent.
They then continued to drop sharply in the fourth quarter of 2018, into the first quarter of 2019, and through Q3 2019.
Then, despite rising supply as more growers got into the game, the market saw prices recover.
In the fourth quarter 2019, "all of a sudden, prices were strong again," Golan said, a fact he attributed to strong consumer demand.
"We look at the percentage of retailers, especially specialty retailers, that keep lab-grown on hand, and we see the numbers just jumping during 2019."
In 2019 alone, market share for lab-grown diamonds leapt from around 2.1 percent to 3.4 percent, according to Golan's data.
That might not seem like much at face value, but it is significant when one understands that means about a 62 percent increase in market share in one year.
The Ups and Downs of 2020
So, despite a glut of product in the market, lab-grown diamond prices ended 2019 on a stronger note.
December of that year was strong for diamond jewelry sales in general, and the health of the market continued into 2020, kicking the year off with another good month in January, Golan said.
Data from
Virtual Diamond Boutique
, which added lab-grown diamonds and began monitoring prices in April 2019, also showed an uptick at the start of the year, with lab-grown diamond prices increasing nearly 2 percent on the platform from January to February 2020, bucking the downward trend from prior months. 
When March 2020 rolled around, the pandemic flattened the United States, with lockdown and stay-at-home orders enacted across the country. 
VDB's price numbers resumed their decline then, noting a steady decrease starting from February-March and continuing through August, with only a slight increase (+0.6 percent) registered in June. 
It was during the summertime, Golan noted, that retail stores in some areas of the U.S. started reopening—complete with curbside pickup, delivery, and other socially distanced services—and the market picked up.  
"We look at the percentage of retailers, especially specialty retailers, that keep lab-grown on hand, and we see the numbers just jumping during 2019." —Edahn Golan, industry analyst
The return to buying, mixed with new ways of doing business and socializing, led to some interesting trends.
Not surprisingly, earring purchases, thanks to the new Zoom economy, were up.
The reasons consumers were choosing lab-grown diamonds also changed.
Pre-pandemic, consumers were mainly buying lab-grown diamonds to save money on a purchase, ultimately opting for the same size and quality and pocketing the savings.
After summer 2020, however, they were opting to spend more on a lab-grown diamond and forgo the savings.
"My guess is that it was a sort of a psychological barrier they overcame," Golan remarked.
"The psychological barrier was that lab-grown diamonds aren't 'real diamonds.' But [then] they were thinking, 'I'm sitting at home and you don't really see my earrings up close … I allowed myself to buy lab-grown because you can't really tell. And I'll even allow myself to buy something bigger, because where am I going to spend the money anyway these days?'
"For the first time we saw the shifting behavior to buying bigger diamonds. Plus, on Zoom they're easier to see."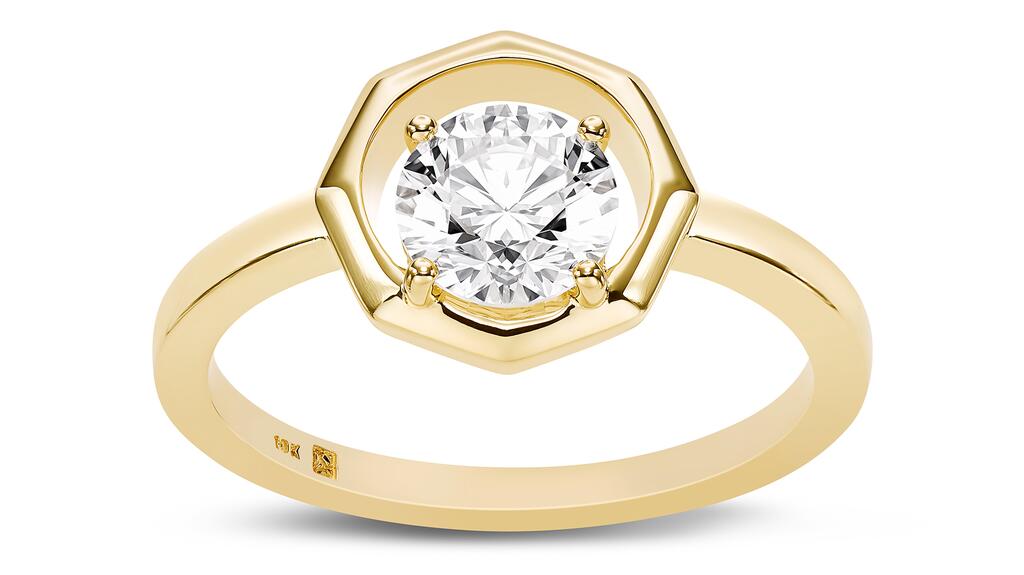 Despite an increase in consumer demand, at the end of 2020, while wholesale prices of natural diamonds were rising, lab-grown diamond prices continued to sink amid continued oversupply and competition, Golan said.
Overall, average wholesale prices for lab-grown diamonds were down 13.3 percent from 2019 to 2020, VDB's data shows.
VDB CEO Tanya Nisguretsky said while part of this could be attributed to the pandemic, it's also important to note the platform had already been seeing a decline in prices before COVID-19 due to other market factors.
Sizes and Shapes Under the Loupe
VDB offered data for average prices of all shapes and sizes of lab-grown diamonds but also was able to break it down further to highlight some interesting trends.
Its data showed lab-grown diamonds weighing up to 2.99 carats suffered steeper price declines in 2020 than stones larger than 3 carats. At the time, creating bigger stones was more difficult for producers, so prices there were holding steady, Nisguretsky said.
VDB's numbers show the following changes in average prices for lab-grown diamonds in 2020:
Up to 0.49 carats, -18.9 percent;
0.50-0.99 carats, -17 percent;
1.00-1.99 carats, -21.4 percent;
2.00-2.99 carats, -20.3 percent;
3.00-3.99 carats, +1.2 percent; and
4+ carats, -0.3 percent.
So far in 2021, prices for the bigger sizes have declined at a more rapid pace—they've dropped 10.6 percent for 3.00-3.99-carat lab-grown diamonds, and 8.7 percent for stones 4 carats and larger—as growers continued to improve production and the supply of larger stones on the market grew.
It's also interesting to note that when VDB breaks down price changes by shape, not all show declines over the past 2 1/2 years.
In fact, VDB found that prices for oval cuts rose from 2019-2020 (+2.9 percent) and 2020-2021 (+5.2 percent), as did prices for emerald cuts (+1.2 percent and +3.0 percent, respectively) and radiant cuts (+29.2 percent and +0.8 percent, respectively), which Nisguretsky said is based on simple supply and demand gaps. 
What Will 2021 Hold?
VDB noted a slight decrease in prices so far this year, but the rate of decline has slowed, indicating a slight stabilization, according to Nisguretsky. 
Average lab-grown diamond prices are down nearly 3 percent so far this year, the platform's data shows.  
Golan, too, noted that the price decline seen at the end of 2020 has continued into 2021. In the second quarter, prices were down 6 percent quarter-over-quarter and 41.1 percent year-over-year. 
He said consumers are benefitting from lower prices but added that retailers who know how to effectively sell lab-grown diamonds are "doing exceptionally well." 
"After a while, people are going to be able to produce a lot of the same qualities and sizes [of lab-grown diamonds], so it can't be about price." — Tanya Nisguretsky, Virtual Diamond Boutique

More retailers are selling smaller goods, which Golan attributed to customization trends. For the past few years, U.S. consumers have switched from wanting "the same, but bigger" to wanting "the same, but different." 

The other aspect of it, he added, is changing tastes—design has moved toward a plethora of color and design elements, and just a busier aesthetic overall.

"In that regard, smaller gemstones make a lot more sense to use," Golan said. "I hear more and more from retailers that people want an engagement ring that doesn't have one big diamond, it has a bunch of small diamonds." 

The prices of lab-grown diamonds in smaller sizes, especially those under 1/3 carat, are already "negligible," but Golan said he's noted a decline even in small goods as producers perfect their methods, allowing them to grow more for less.

VDB also registered a 1.9 percent decline in price for goods weighing 0.49 carats or less this year, though it's much smaller than the 18.9 percent drop recorded in 2020.

Looking ahead, Golan said he expects lab-grown diamond prices to continue their decline amid ongoing competition, a large supply, and the potential need to make up for a lost year in 2020. 

Nisguretsky said she anticipates prices will continue to stabilize. 

"I think that's very important, for this segment not to bottom out. After a while, people are going to be able to produce a lot of the same qualities and sizes, so it can't be about price."

Lab-grown diamond producers will have to continue to differentiate themselves in the marketplace and communicate what makes them different, she said. 


More on Lab-Grown