Smiling Rocks Launches Lab-Grown Diamond Bridal Line
"Smiling Brides" offers six diamond shapes and six classic settings.
New York—Lab-grown diamond company Smiling Rocks has launched an ultra-classic bridal collection called "Smiling Brides."
The New York City-headquartered brand, which debuted at the 2019 JCK Las Vegas show, offers a wide variety of fashionable fine jewels, from everyday-appropriate initial and animal pendants to graphic cocktail rings and earrings for a night out.
Smiling Rocks' newest collection hones in on timeless bridal style.
Smiling Brides offers six diamond shapes—round, pear, princess, cushion, emerald and oval—in four sizes: 1 carat, 1.5 carats, 2 carats or 3 carats. 
Customers can also choose from six setting styles: solitaire, a narrower "solitaire petite," pavé, a skinnier "pavé petite," halo, or halo with split shank.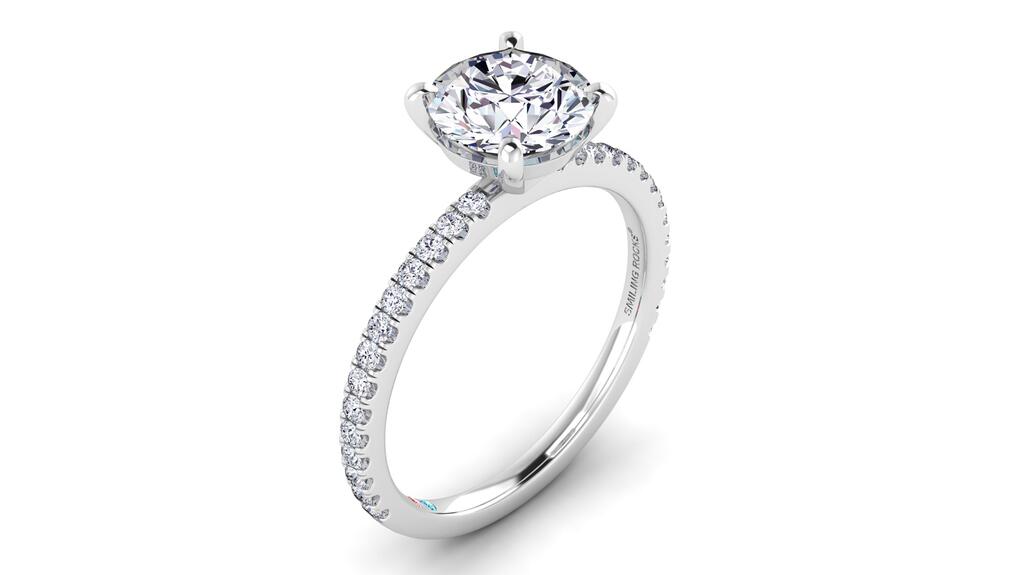 Smiling Rocks is offering retailers a display that showcases the full assortment so customers can choose their favorite. 
"Our retail partners can easily present all the classic designs in one given display," CEO and co-founder Zulu Ghevriya said, noting that seven out of 10 customers will choose one of the designs on offer. 
"There is no room for consumers to walk out of the store without picking a ring."
Each engagement ring features a small pink lab-grown diamond and a small blue lab-grown diamond on the inner shank as a Smiling Rocks signature, symbolizing the union of two people. 
Ghevriya and brand co-founder Manish Jiwani are veterans of the natural diamond business, working for more than 20 years in the sector, and continuing to do so, a Smiling Rocks spokesperson confirmed to National Jeweler.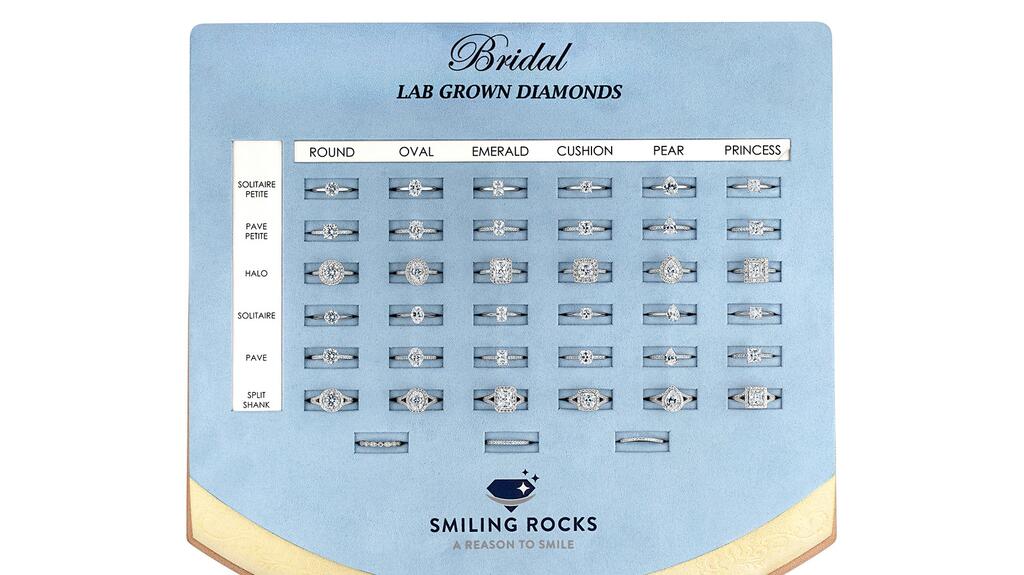 In addition to Smiling Rocks, they are the founders of in-house design and manufacturing company Prism Group, which supplies to majors, retail chains and independents. 
"Smiling Rocks is their dream project," said the spokesperson, who noted Ghevriya and Jiwani researched lab-grown diamonds for more than a decade prior to launch. 
"With this brand, they are able to leave a mark of happiness and contribute back to the community through the philanthropic business model of Smiling Rocks."
With each purchase, 10 percent of the sale is donated to one of the causes Smiling Rocks supports, with customers able to choose the organization. 
The company aligns with organizations that fall under four sectors: animal protection, medical support, environmental protection, and education support. 
Currently, Smiling Rocks donates to seven organizations: Space for Giants, the Y4D Foundation, Rethink Breast Cancer, Trees for the Future, One Tree Planted, First Responders Children's Foundation, and Sewa International. 
Smiling Rocks' Smiling Brides collection has a suggested retail price range of $3,999 to $13,749 and is set to launch in 100 stores globally, with a predominant focus on the United States.
More on Lab-Grown