A Day in the Life: Zhanna Beissekova, Head Gemologist at IGR London
Beissekova has been dreaming of gemstones since she was a sandbox excavator.
London—Zhanna Beissekova starts her day with a gemstone in one hand and a strong cup of coffee in the other.
As the head gemologist at IGR London, a women-run gemological lab
founded by designer Thelma West
, Beissekova is tasked with overseeing every aspect of the gemstone grading process.
When she heads to the lab in the morning, one of her first stops is the station where the parcels arrive.
"I come in and take a peek to see what we're getting today. It's always exciting. It's almost like a kid when you open your Christmas presents," she said. "It's like 'Oh my God!'" 
Every morning is Christmas morning for Beissekova, who revels in all the different gems and jewels that pass through the lab.
"In gemology, it's very important how many gemstones and [pieces of] jewelry you see because you may know a lot, in theory, but it's important to see the items," she said.  
Gemologists swap stories and inclusion pictures all the time, she said, all to the benefit of the field at large.
Beissekova, who earned her diamond and colored gems diploma from The Gemmological Association of Great Britain in 2016, is especially animated when talking about inclusions.
"You look at one inclusion, then there is another one. Then you figure out what actually happened to this stone, what story it's telling you, where it's from. That's the most exciting thing."
Grading is her favorite part of the job, she said, and she's fascinated by how every stone, even within the same species, is different from the other.
"I love when you put it under the microscope," she said. "You look and there's a whole other world."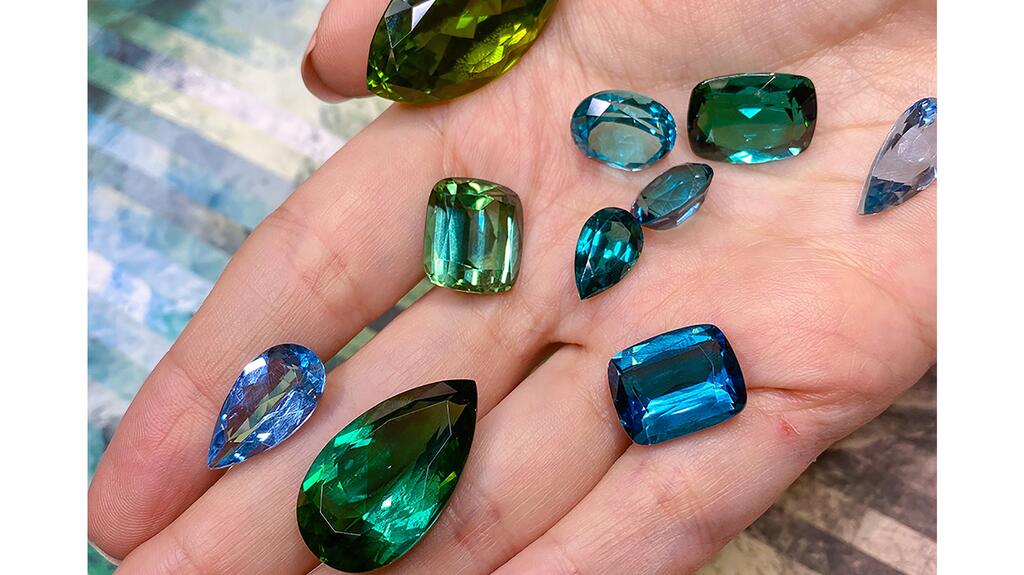 There's always a new specimen to see, which is partly why, Beissekova said, it's helpful for gemologists to share their findings.
 Related stories will be right here … 

Sometimes, when looking through the microscope, she'll see something especially interesting and have to call over some colleagues to show off her findings.

Just like some people find shapes in the clouds, Beissekova finds her own in gemstone inclusions and can't keep the fun to herself.

"The imagination goes wild. Some may look like a flower or the Northern Lights."

Lighting the Spark
Before she spent her days peering through a microscope, Beissekova studied business management and did administrative work for an oil and gas company in her native Kazakhstan.

But it wasn't for her.

Her grandparents worked in Kazakhstan's mining and gas industries, sharing stories that planted a seed of interest in geology early in life that, later, evolved into an interest in gemology.

"One day, I decided to have an expedition of my own. I went to the playground and I dug up a hole, but I didn't find anything. Just some pebbles, but I said, 'Oh OK, that must be it.'"

Her grandfather explained that mining was slightly more involved than that, telling her that you can also find gemstones deep in the earth.

And that's how the spark was lit.

Finding a career in gemology, however, is not easy to do in Kazakhstan, Beissekova said, because the jewelry trade is small and hard to join. So, she packed her things and headed to London to study.

After learning a bit more about gemology, she knew it was the only choice for her and set out to build a career.

'Who You Know Is Very Important'
Beissekova's days as a gemologist can be hectic, juggling ringing phones and report requests.

Though she normally works 9-to-5, her days can run longer if it's busy or she's participating in a talk or webinar.

She doesn't seem to mind at all.

"When you do something that you love, I would say that it's not enough."

Throughout her busy days, she has the support of her team behind her. They usually meet up in the morning to talk over coffee and see how everyone is doing.

The team at IGR London is small, so they are always checking on each other. It's a team effort at the lab, for sure, with every stone examined by more than two people to compare notes and confirm the grading.

When Beissekova isn't grading gemstones, she's helping to photograph them, leaning into her creative side.

She's been snapping pictures since college and even took a course in jewelry illustration.

Despite her interest in photography, Beissekova is adamant that she won't be changing careers anytime soon.

If she wasn't a gemologist, she would be a jeweler, she said, but definitely isn't considering a line of work outside of gems and jewelry.

"No, no, no, no," she said. "I would never leave the industry."

For those looking to join the industry, Beissekova shared some words of wisdom and harsh realities.


"Because it's quite a niche occupation and industry, who you know is very important. It's very hard to get into the industry and find a job."

To land her job at IGR London, Beissekova, a newcomer to the industry and to London, had to get her face out there.

She recommends looking for internships and workshops, and participating in talks, seminars, and webinars. Show up where you can and ask questions.

And don't forget to practice, she said, even if you're just looking at your friends' jewelry.

"Apart from having your education, your base and foundation that the university gave you, you always learn on the job," Beissekova said. 

"The industry is constantly changing, so you basically have to adapt and change yourself with it."


More on Grading