Try On This Diamond and Pearl Tiara Before It Heads to Auction
Sotheby's created an Instagram filter for the crown, estimated to sell for up to $1.5 million.
Geneva—A tiara with royal provenance will head to auction next month, and Sotheby's wants everyone to try it on—virtually—before it hits the block.
One of the most important tiaras to appear on the market in recent years, according to the auction house, the natural pearl and diamond piece is steeped in the history of the House of Savoy.
The House of Savoy is one of the world's oldest royal dynasties and was Italy's ruling family from 1861 to 1946.
The tiara dates to the second half of the 19th century, having belonged to two royal collections of Europe.
Sotheby's said it was likely a wedding gift to Maria Vittoria dal Pozzo for her marriage to Amadeo I of Savoy, Duke of Aoste, later King of Spain (1870-1873), in 1867, after which it stayed in the family for more than 150 years.
The tiara has graduated scroll motifs set with cushion-shaped, circular- and single-cut diamonds framing 11 slightly baroque drop-shaped natural pearls.
It is a crown that also can be worn as a necklace, as seen below. 
It's believed Musy Padre e Figli, court jeweler of Turin and one of Europe's oldest goldsmiths, with roots dating back to the early 1700s, made the tiara.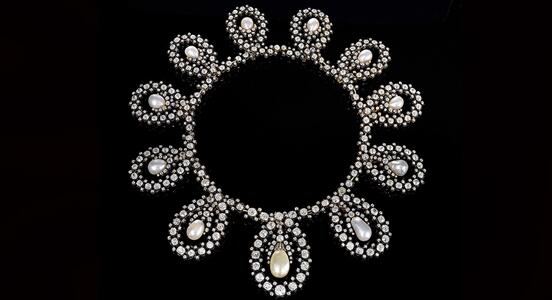 The tiara is the highlight of Sotheby's flagship "Magnificent Jewels and Noble Jewels" auction in Geneva on May 11, where it's estimated to sell for between $1 million and $1.5 million.
Ahead of the auction, Sotheby's created an Instagram filter that lets people try the tiara on virtually and take a picture of themselves wearing it against a 360-degree backdrop that is the Palazzina di Caccia di Stupinigi in Turin, formerly a royal hunting lodge for the House of Savoy.
Produced in partnership with Poplar Studio, the filter is available through the main
@Sothebys Instagram account
as well as its dedicated jewelry account,
@SothebysJewels
.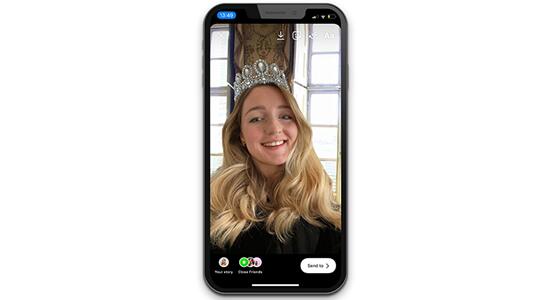 "Combining two ancient symbols of wealth and status (natural pearls and headpiece), the tiara we have the privilege to present in Geneva in May encapsulates all the pomp, power and presence associated with royal jewels, and with an option to be worn as a necklace, the versatility of this beautiful jewel will undoubtedly make it a very covetable piece for many collectors," said Benoit Repellin, head of the Sotheby's Geneva Magnificent Jewels auction. 
The crown heads to auction amid "unprecedented global demand for antique tiaras," Sotheby's said, fueled by an appreciation for their history and multiple, well-publicized modern royal weddings. 
 Related stories will be right here … 

Almost all the tiaras Sotheby's offered at auction last year found a buyer, the auction house said, with 83 percent topping their highest pre-sale estimates. 

The increased interest in tiaras has been particularly notable in Asia, and there are a handful included in the upcoming Sotheby's Hong Kong Magnificent Jewels auction on April 20. 

A natural pearl and diamond tiara from the late 19th century  is expected to sell for $246,000-$323,000, a diamond tiara for $123,000-$168,000, and an early 20th century diamond-set scrolling bandeau tiara for $77,500-$97,000.
More on Auctions
Auctions
Sep 27, 2023