Queen Victoria's Mourning Jewels Find New Life at Auction
The sale of items belonging to the queen's great-great granddaughter garnered three times more than expected.
The top jewelry lot was a banded agate and diamond pendant the queen's beloved husband, Prince Albert, had made for her in memory of her mother, Princess Victoria of Saxe-Coburg-Saalfeld, after she died in 1861.
The locket contains a miniature photograph of the princess, as well as a lock of her hair. 
Estimated to go for £1,500, it sold for £32,760 ($44,933). 
The other three mourning jewels in the sale were commissioned in memory of Princess Alice, Victoria and Albert's third child and second daughter who died on Dec. 14, 1878 of diphtheria. 
A hardstone, enamel and diamond pendant made by Robert Phillips with "Alice" on the front, and on the reverse, a lock of hair and "Dear Alice 14th December 1878," sold for well above its highest pre-sale estimate of £3,000, garnering £25,200 ($34,578, pictured at top of article). 
A buyer paid £23,940 ($32,833) for a banded agate pendant collet-set with a pearl commissioned by Queen Victoria. 
On the reverse is a glazed compartment containing a lock of hair and inscribed with two dates: Nov. 16 and Dec. 14, 1878. Princess Alice died of diphtheria on Dec. 14; she was preceded in death by her 4-year-old daughter Princess Marie of Hesse and by Rhine on Nov. 16, who also succumbed to the disease.  
Finally, an onyx and seed pearl button commissioned by Queen Victoria featuring a seed pearl-set "A" and a portrait miniature of Alice inside sold for £18,900 pounds ($25,913), well above its £1,500 estimate. 
Queen Victoria's mourning jewels had been in the royal family for generations. 
They went up on the block Wednesday at Sotheby's London as part of a sale of the family collection of Patricia Knatchbull, 2nd Countess Mountbatten of Burma. 


 Lady Mountbatten, as she was titled, was the queen's great-great granddaughter, in addition to being the eldest daughter of Britain's last viceroy of India, great niece of Russia's last tsarina and a first cousin to Prince Philip, the 99-year-old husband of Queen Elizabeth II. 
She died in 2017 at the age of 93.
Wednesday's auction included a total of 376 items that came from Newhouse, Lady Mountbatten's 18th century home. 
The sale was mostly a mix of jewelry, housewares, and art, as well as one interesting evening bag.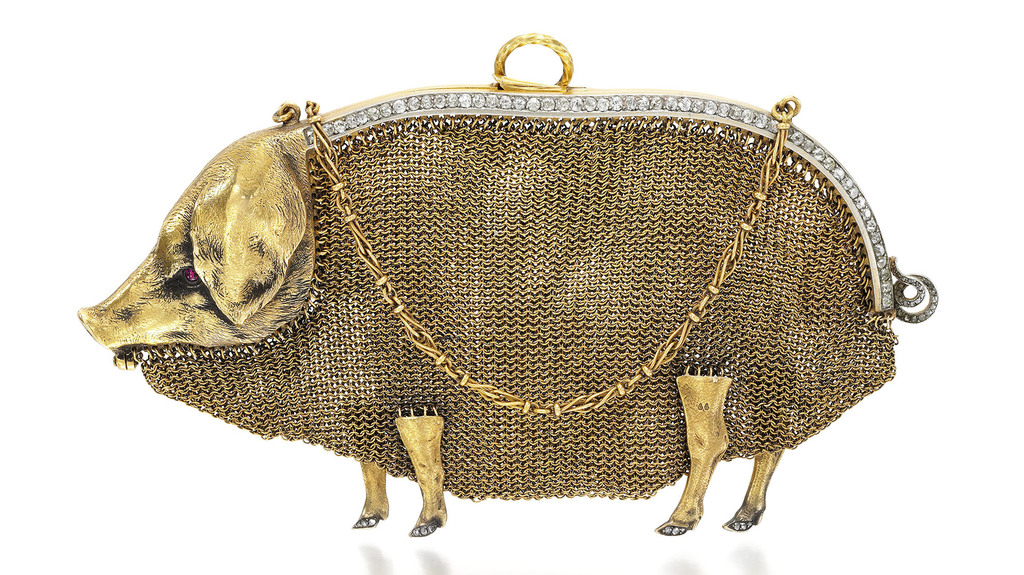 Described by Sotheby's as "amusing," "unusual" and "charming," the pig purse is a Lacloche Frères creation from 1905. 
The pig's eyes are cabochon rubies, while its tail and hooves are set with rose-cut diamonds. The diamonds along its spine are cushion cut and its body is mesh, with a fancy link chain handle. 
A buyer paid £109,620 ($150,327) for the swanky swine, well above its £2,000-3,000 estimate.  
The sale of the family collection of Lady Mountbatten took 11 hours and garnered £$5.6 million ($7.7 million) total, three times what was expected. 
Ninety-eight percent of the lots found buyers, and 90 percent topped their high estimates, the auction house said. 
"An auction like today, with its heady mix of history and glamour, does not come up very often, and so it has been a truly special experience to be a part of," said David Macdonald, Sotheby's specialist and head of the sale.
"Over the course of the last two months, it has been wonderful to see Lady Mountbatten's collection received so rapturously by people from all over the world, culminating in today's sale where her belongings found brand new homes where they will be treasured for years to come." 
More on Auctions