This Editor's Favorites from AGTA Spectrum Awards
Senior Editor Brecken Branstrator rounds up 10 pieces from the jewelry design contest that caught her eye.
The AGTA Spectrum Awards Editors' Day is something of an early Christmas for me.

Easily one of my favorite industry activities all year, I love that I get to spend hours looking at the amazing designs and phenomenal stones entered into the jewelry design contest, all while surrounded by a stunning New York City view and fabulous press and influencers from the industry.

This year was no exception.

I loved the amount of spinel I saw, and big statement rings were definitely having a moment. There was also a great range of materials and so much creativity.

Last week, we rounded up those pieces the panel of judges deemed their winners, but here are (some of) the pieces that caught my eye.

The Best Spinel(s)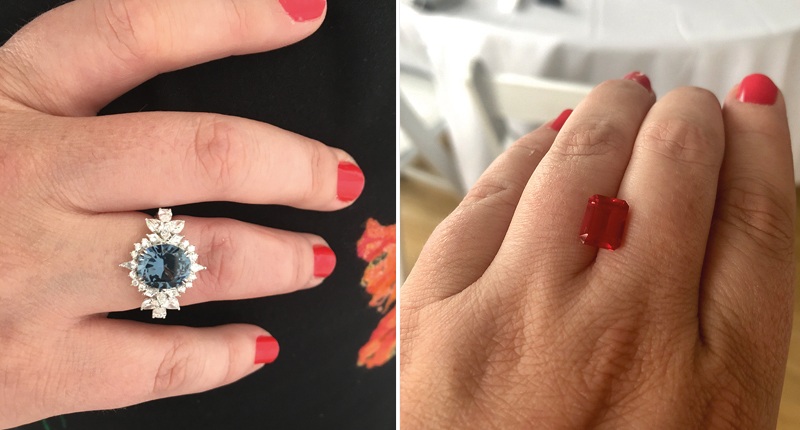 When I first started at National Jeweler, I'd always say my favorite gemstone was tourmaline. A colleague jokingly told me that was too vague as a favorite, that I had to pick a specific color tourmaline. I refused.

It's since changed to spinel, as I'm sure I've mentioned many times before, but for almost the same reasons: In addition to spinel's vibrancy, I love it for the colors it offers, and I won't pick one. I adore the pinks, could stare at the reds for hours, and don't even get me started on the steely blues and grays.

So I thought it was only appropriate then that when I couldn't decide between these two spinels, I didn't.

The ring on the left is from Caroline C and features a 4.50-carat blue spinel accented with 2.98 carats of diamonds set in 18-karat white gold. Not surprisingly, the ring won the Editors' Choice Award.

The loose stone on the right is a 3.26-carat emerald-cut orange-red spinel from Omi Gems dubbed the "Desert Rose."

The Best Summer Vibe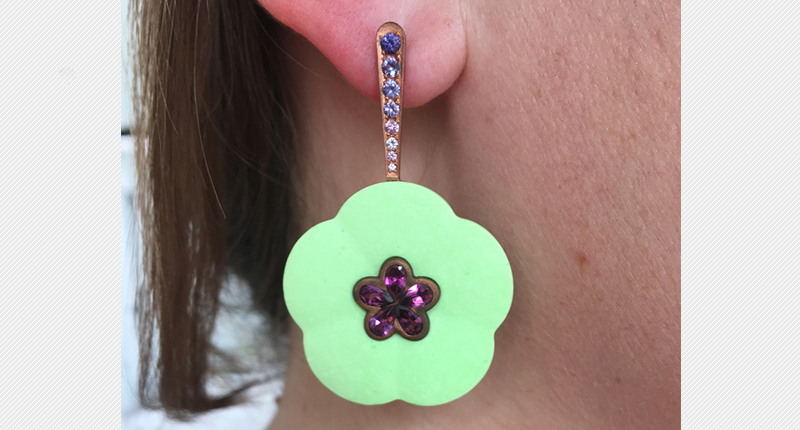 These earrings were already pretty vibrant hanging on the display, but I had a feeling they'd be even better on, and boy, were they. It's almost like they glowed with their coloring. I loved their whimsy with a bit of polish added through the faceted accent stones.

These "Spring Flowers" earrings from Gregore Morin of Gregore & Jennifer-Rabe Jewelers featured lemon magnesite accented with 2.26 carats of garnet and 0.39 carats of sapphire.

The Most Stunning Piece All Around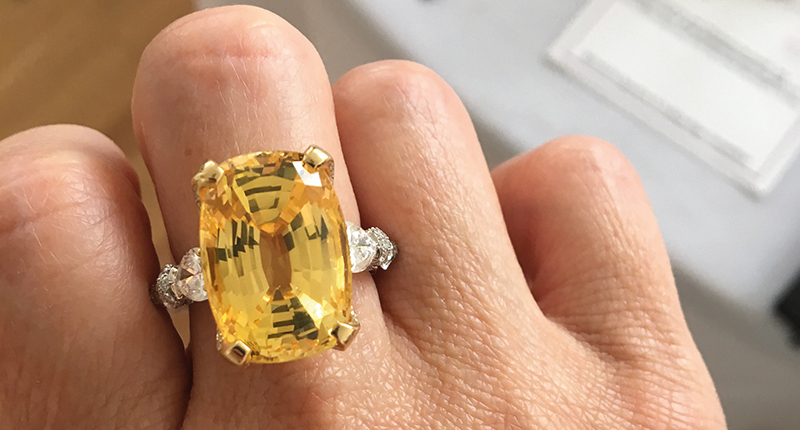 I always find it so interesting to compare the pieces the editors and bloggers fall in love with what
the judges pick as their winners, but this yellow sapphire ring seemed to be one that spoke to everyone.
You know that getting to see a 20.26-carat cushion-cut unheated yellow sapphire is going to be special, but when you add to it a spectacular diamond setting like the one this ring had, it gets even better.
This ring from Gross & Currens of the David Gross Group won first place in the Evening Wear category and was a favorite of both mine and of Editor-in-Chief Michelle Graff, which is why it's getting
so much love lately
.
The Bi-Color Winners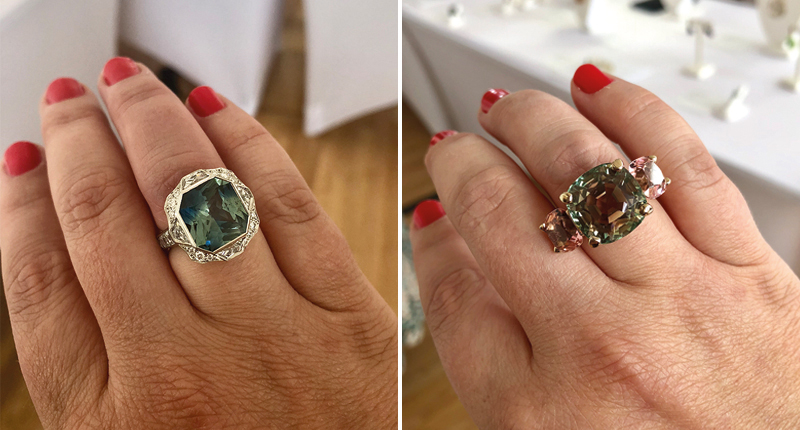 Bi-color gemstones really seem to be having a moment, and I love it. It adds intrigue to already beautiful stones.
There were two bi-color gemstones that really stood out to me in the competition and, not surprisingly, I fell in love with both. At left is Lindsay Jane Designs' platinum ring featuring a 6.78-carat bi-color sapphire accented with 1.84-carats of French-cut diamonds, 0.44 carats of brilliant-cut diamonds and 0.06 carats of white sapphires.
At right, Heath London's 18-karat gold "Love is at the Heart of Everything" ring featuring a 12.46-carat bi-color tourmaline flanked by 6.22 carats of pink tourmaline, 0.43 carats of tsavorite garnet and 0.50 carats of sapphire (the garnet and sapphire are not visible in the photo.)
The Once-in-a-Lifetime Gem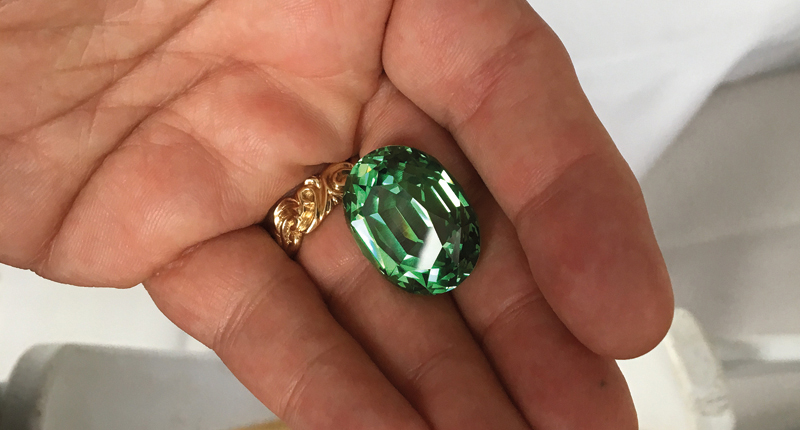 We are so lucky as an industry that we get to be surrounded by such incredible, rare beauty all the time.
For me, this 80.25-carat tsavorite garnet perfectly summed up that advantage.
Tsavorite in any large size is rare, let alone a piece of this size. Add to that an exceptional clarity, and it was one pretty fantastic gem to see in person. This tsavorite, which won first place in the All Other Faceted category of Cutting Edge, was cut by the pros over at Nomads.
The Hip, Trendy Earrings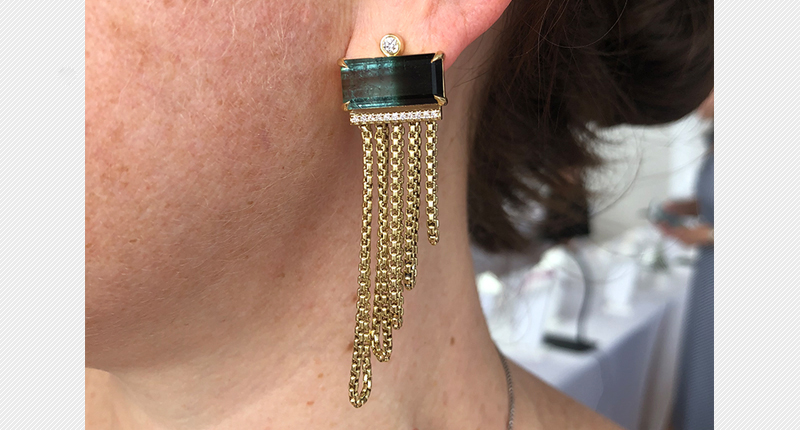 These earrings from Julie Lamb added a welcome edge to the tables of Spectrum entries.
I love the graduated lengths of 18-karat gold chain dangling from the tourmaline (again, bi-color!) with some diamonds to add a refined polish. I'd wear these earrings every day, with a dressier work outfit or casual weekend wear.
The Best Use of Gemstones in a Supporting Role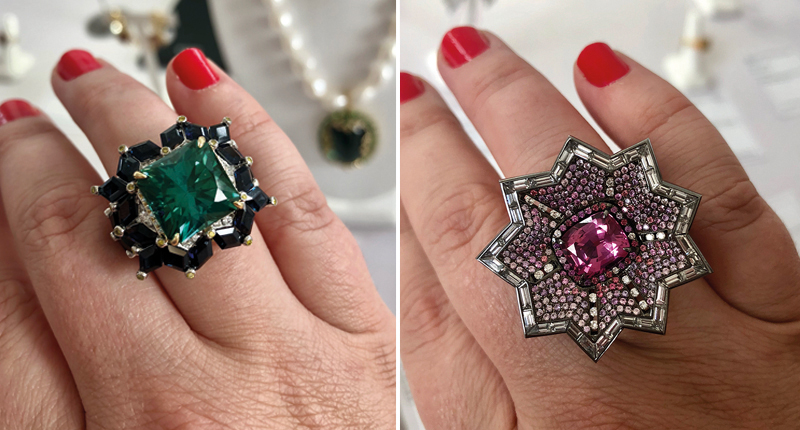 I don't mean for this title to take anything away from the center stones in these pieces. They are gorgeous in their own rights, of course, and could have carried a piece solo. What I love about these two rings, though, is how the accent stones add fun and excitement.
On the left is the "Galina Baby" ring from Manya Jewelers featuring a 10.62-carat tourmaline accented with 7.68 carats of sapphire, 0.18 carats of yellow diamonds and 0.25 carats of white diamond, all set in platinum and 18-karat gold. (Check out
this Instagram post
on our account to see this ring from more angles.)
At right is the 18-karat white gold with black rhodium plating "Aurora" convertible ring and pendant from EvelynH Jewelry featuring a 3.52-carat spinel accented with 1.81 carats of sapphire, 0.68 carats of spinel and 2.39 carats of diamond.
More on Editors