Q&A: Catching Up with Fura Gems
National Jeweler Senior Editor Brecken Branstrator chats with Dev Shetty, CEO of the company that's set to launch organized emerald mining in Colombia.
When it comes to colored gemstone mining, there aren't many large, organized companies in the game.

But there's one that has been popping up in the news again and again over the past year as it has bought mining licenses and built up its operations.

Fura Gems started out as Fura Emeralds but when CEO Dev Shetty, formerly COO at Gemfields, took the helm in January 2017, he wanted to move the company beyond just Colombian emeralds. So it was renamed and rebranded to communicate the message that it is a mining and marketing company with a focus on color.

Fura Gems since has built an executive team with plenty of experience in the colored stone industry, with much of the top management comprised of former Gemfields executives.

Working to build its portfolio, the company acquired the Coscuez emerald mine in Colombia and four ruby licenses in Mozambique.

To get a better idea of where the company stands, I recently had a chat with Shetty about its position in the market, outlook and goals.

This interview has been edited for length and clarity.

National Jeweler: Let's start by talking about the Montepuez ruby mining project. Where is that at today?

Dev Shetty: We bought four licenses; we own 80 percent interest in that business and 20 percent is owned by the local partners. Out of the four, three mines are located in the same belt where the Gemfields Montepuez ruby mine, which I bought and built for them back in 2011, is located. We targeted basically the same belt, and we have already started the drilling program. The plan is very simple: We expect to complete 5,000 meters of drilling by the end of June and to start commercial production and bulk sampling by July 1.

NJ: Is it too early to share projected production figures?

DS: For the first year—we follow calendar years—we are targeting 2 million carats. And we'll be ramping it up as we go along. Over the next three years, we should be ramping it up to 5 to 6 million carats. Early indications are looking very encouraging.

NJ: Mozambique rubies have an interesting position in the sector right now. What do you see as your role in the market?

DS: Between myself, Ashim Roy, who is the vice president of operations and the guy who built the Mozambique mine for me at Gemfields, and Rupak Sen, the marketing director, who was with us for 10 years at Gemfields, we come with a lot of experience in this space. What that means is that not only do we have the technical and geological understanding, but we also have access to the market.

We basically will target both ends of the spectrum: the top quality and the lower quality rubies. I always believed that if you build the segment, you have to build it from the bottom up, not from top to bottom. Your top quality will always do the talking anyway, because there's always a demand for the higher level, so the key is to make money at the lower end. Our positioning is going to be very clear: We want to be able to make money from both the low qualities and the higher qualities.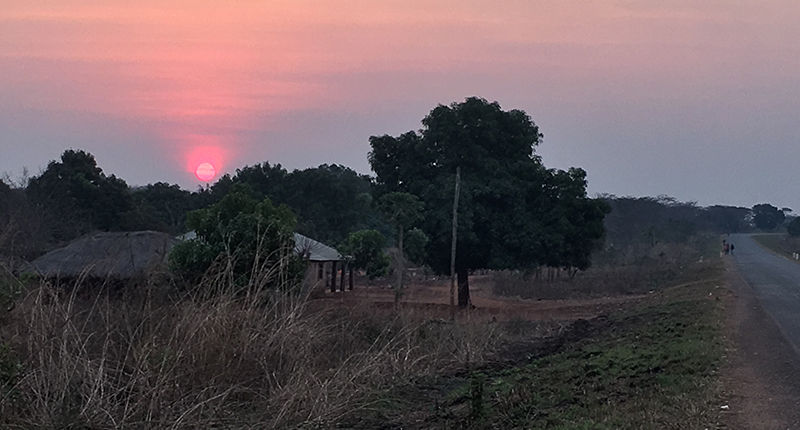 NJ:
You just started the initial production at the Coscuez emerald mine in Colombia. How's the material so far?
DS:
It's very exciting for us. I didn't expect it to get going that soon, but it's coming along very nicely. We
completed the transaction
in the middle of January.
I always believed in the project because it was the same one I bought for Gemfields before
they handed it back
. This was the mine where about 95 percent of Colombia's emeralds used to come from. The potential is huge. It was always all artisanally mined; they haven't even scratched 10 percent of the resource.
We went there the first week of our takeover but didn't want to start production mining (right away). We put it under care and maintenance to make it safe for the people to work. We sent all the employees to training on health and safety, and they came back on April 15.
We now have a total of 240 employee working with us in Coscuez; most of them are local Colombians.
We should be ramping up production as we go along, but the objective is to gain the geological knowledge (first) to build a long-term plan. We want to gain an understanding of the geology as we're developing the science to build a larger mine since no one has done it (there) before.
We have started our bulk sampling project. January 2019 is when we start upscaling the mine on a large-scale basis, and we expect to start selling Colombian emeralds from Coscuez around March 2019.
NJ:
Colombia tends to come under extra scrutiny from consumers because of its past. How will Fura assure the trade and consumers that everything is being done ethically and that there aren't reasons to be concerned about the project and who's involved?
DS:
One thing with us, which is what I have always taken a lot of pride in, whether it was with Gemfields or now with Fura, is that we always try to work on something we can put our name on. That's No. 1.
No. 2, where we can prove the whole chain of custody and the route to market. In Colombia, we are the first people developing the ethical route to market. We are planning to do that by going back to the textbook. When we started the operation, we basically started from scratch. We did due diligence of the people from whom we bought the mine.
NJ:
And that includes ownership in terms of whoever is partnering with the company to work on it?
DS:
Absolutely, yes. That's been taken care of.
But that was just the starting point, right? Because in the past, in Colombia's history, what keeps coming up again and again, especially with Colombian emeralds, is that people were not paid salaries. They were paid money only when the production was there. But that is not what we are doing. Everyone we hired there has been put under an employment contract. They are going to get benefits. They are going to get salaries. They are going to get whatever the law permits plus insurance.
More importantly, we'll ensure that we're hiring people who are eligible to work, so this means there is no child labor on the ground.
And when you go beyond that, with the mining methodology that we are going to use, we are going to ensure the environment is a top priority. That is the reason when people were hired, even in Colombia, the first thing we did was to start training them on health and safety. All employees went through two months of health and safety training. That's purely because we start from scratch; we have to make them understand the importance of health and safety, the environment, also make them understand what a salary means and working in a shift pattern. They all are trained on that, and when new recruitment starts, the old staff will be training them on that aspect.
As far as the mining methodology is concerned, we are using best practices. In the past, it was all artisanally mined. We are not going to mine artisanally; we are going to bring in modern technology. Once we start selling, we want to ensure that we pay all the taxes and all the royalties, and the selling takes place in a very organized and transparent manner.
NJ:
What platform will Fura use to sell its gems in the market?
DS:
We are going to sell via auction.
We already have a marketing division created, which is going to start educating people about Colombian emeralds and making them aware of the ground reality. Because when people talk about Colombia, they talk about people who have died, about cocaine and talk about so many things that now don't exist. I won't say it's gone away completely, but I think Boyacá is now much safer. I was there for three weeks. I spent a lot of time on the ground.
So we want to bring that feature out, openly and clearly, and make people aware of the real ground situation and talk to them about the new Colombia, especially after the peace deal has been struck, things have changed a lot. 

Marketing will be a key driver for our business. It is going to help us build aspiration and demand for both Colombian emeralds and Mozambique rubies at both trade and consumer levels. Keeping this core objective in mind, we have appointed the Thompson Group as our creative agency. Having worked with them in the past I know the quality of work they do and also the strategy they put forth for building categories.

The company will be responsible for our overall branding and communication. They have already started work on creating a new Fura brand identity and also on our social media campaign, both of which we are excepting to go live by May 10.

NJ: Will you guys be doing generic colored gemstone marketing to help raise consumer awareness as well?

DS: Absolutely. I'm a very big fan of generic marketing. If one person takes the lead, it lifts the whole sector. And it always helps to add value to your portfolio also.

NJ: Are there any other projects outside of these two you can tell me about?

DS: We are going to add more for sure, but our focus remains on these two. We want to ensure we get them up and running completely because our objective is to start selling Colombian emeralds from March 2019 and we want to start selling the rubies from June 2019. So there's a lot of work that needs to be done first.

NJ: Are you open to different gemstones and different origins?

DS: We are open to origins. We are basically looking into only the top three, to be honest: emeralds, rubies and sapphires. That remains our prime focus. We are not looking for tourmalines and garnets and so forth—yet—because if we are able to get control of the top three, then we can add the others.

There is one particular diamond project in India we are keen to look at called the Bunder diamond project. Rio Tinto had done the initial groundwork on this project. It has a proven resource of about 30 to 35 million carats. In India, mining licenses are given through an auction process; we will be surely bidding for this license. If we get it, it will be great. If not, we will not lose our sleep over it. We are not currently looking at any other diamond projects other than this.

NJ: To step back and take a broader look at the gemstone sector, what are you seeing in the market right now in terms of pricing and demand and the health of the market?

DS: I think the market still is quite strong for color because there is a lot of demand coming from both East and West. China and India in the East continue to dominate the trade. As for the West, America is still a place that's a very important goal for us. The demand is still there. 


"If the trade isn't aware, how is the consumer going to know?"

Because diamonds have become to some extent a commodity, the prices have gone benchmark. With color that's not the case. It adds a lot of value to the retailer because it tends to have a little bit more margin. I'm seeing that a lot of the diamond manufacturers are using color to increase their margins. And I have permission to say that two of De Beers' sightholders have invested in Fura because at some point they want to start getting into rubies and wanted access to rubies. They may do that with emeralds later, but they're quite interested to start with rubies.

This is a trend we're seeing: that people are quite keen to add color to their portfolio. So demand remains quite robust.

People ask me, if Gemfields is supplying rubies and we start supplying rubies, are we going to flood the market and is the price is going to fall? The answer is no. Burma, at its peak, used to sell $1 billion of rubies and that has come down to $200-odd million dollars now because of the embargo and the mines going very deep. Even with all players there's a big gap between $200 million of Burmese rubies and $1 billion. There's a lot of catchup to be done.

Remember, Burma was all non-marketed product. It was not marketed, it was not branded. The branding happened just like Colombia, because of the past and the legacy factor. But when an organized player gets involved, the opportunity is to take that $1 billion beyond. I think with us coming in and Gemfields in there and more people may join the bandwagon, I think we'll be able to better organize the sector than it was before.

NJ: What do you think are some of the biggest challenges facing the market today?

DS: I think the biggest is lack of awareness. Even today, if you walked into, say, a store on Madison Avenue or Bond Street (in London) and start asking about color, so much of the sales staff doesn't know. Forget the consumer. If you ask the boss, he might not know the origin. If you ask where the ruby comes from, they will say Africa. They don't even know Mozambique. A lot of awareness and education is needed in the trade. If the trade isn't aware, how is the consumer going to know? 
More on Editors
Editors
Feb 01, 2023