5 Things to Know About … Conch Pearls
Senior Editor Brecken Branstrator explores the characteristics of these rare, often pink pearls.
Everyone knows about oyster pearls; their luster and beauty make for classic and timeless jewelry. 
But for the gem connoisseur looking for something a little different, there's a mollusk that creates a pearl in shades of pink and peach that resemble some of the best colors of coral.
Conch pearls are produced naturally by the queen conch mollusk, found in the Caribbean. Most are elongated or baroque in shape; near-round specimens are extremely rare.
They were used in the Victorian era for the carving of cameos, and became even more popular during King Edward's reign. They also can be seen in some Art Nouveau jewelry pieces.
Their popularity lasted through about the Art Deco period, after which they disappeared from the scene for a while before regaining popularity in the late '70s and 1980s.
This was due in part to American professional diver Sue Hendrickson, who started buying the pearls fishermen in the Caribbean found when emptying shells for sale. She eventually built up a collection of high-quality pearls and helped reintroduce them into jewelry design.
Now, this pink-hued pearl is used in designs from well-known brands such as Mikimoto, Tiffany & Co., Harry Winston, Chopard and Hemmerle.
Here are five facts about conch pearls that you might not have known.
1.
They differ from oyster pearls in that they are non-nacreous.
Conch pearls are calcareous concretions of the queen conch mollusk, a large sea snail with a spiral-shaped shell. They have a pearl structure but, like melo melo pearls, are non-nacreous, according to the Gemological Institute of America.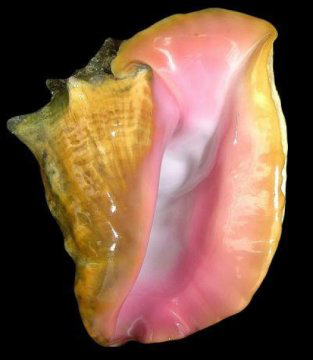 They also weigh more than an oyster pearl and are sized by carat weight instead of millimeters, and are harder and more resistant to erosion.
But conch pearls and nacreous pearls do have the same chemical composition; the only difference between them is their polycrystalline structures, according to the GIA.
2.
The finest examples often exhibit a "flame-like structure" that's visible to the naked eye.
Because they are formed by concentric layers of fibrous calcium within the queen conch, the layering often produces a flame-like structure.
The most coveted have a vibrant chatoyancy that allows the flame to be visible to the naked eye; in fact, flame vibrancy is one of the most important determinants of value for a conch pearl, along with its shape and size.
Conch pearls also can come in a variety of colors, ranging from pink to white to brownish, though pink is the most common. 
Sonny Sethi of Tara Pearls said in Tucson that the conch pearls that are "baby-bubble-gum pink" in color continue to be the most in demand for them.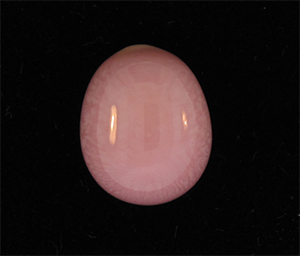 3.
The queen conch is extremely rare.
There are a range of numbers in regards to the rarity of conch pearls, but most sources have it somewhere between one conch pearl found in every 10,000 shells to one in every 20,000.
Sethi told me that in his experience, one in 2,000 shells holds a pearl, one in 10,000 contains a conch that can be used in jewelry; and one in 100,000 holds a gem-quality piece.
Adding to this is the fact that the queen conch lives in fairly shallow water, is slow to grow and has a late maturation that makes it susceptible to overfishing, according to the U.S. Fish and Wildlife Service.
In fact, it's in decline because of overfishing and is now a threatened species.
Queen conch was once abundant in the Florida Keys but, after a collapse in conch fisheries in the 1970s, it is now illegal to commercially or recreationally harvest queen conch there.
It also has been listed in the Convention on International Trade in Endangered Species (CITES) agreement since 1992 and since then, most of the countries involved in the trade of queen conch have been consistently agreeing to a number of actions to improve its sustainability and legality.
According to CITES, the queen conch is making a slow comeback.
4.
The idea of a cultured conch pearl is a relatively new idea.
In the development of all pearls, nacreous or non-nacreous, an irritant gets trapped inside the mollusk and the pearl begins forming around it.
Because a queen conch shell has only one entrance, it is more difficult for an irritant to become trapped inside and start the pearl formation.
This is why it has been so difficult to cultivate them, until very recently.
In 2009, scientists at Florida Atlantic University's Harbor Branch Oceanographic Institute developed proprietary seeding techniques to produced beaded (nucleated) and non-beaded cultured pearls from the queen conch.
After less than two years of research and experimentation, researchers Héctor Acosta-Salmón and Megan Davis produced more than 200 cultured conch pearls. The researchers then took the specimens for laboratory testing. 
I reached out to the university to see what progress has been made since then, but they said they didn't have any additional information at this time.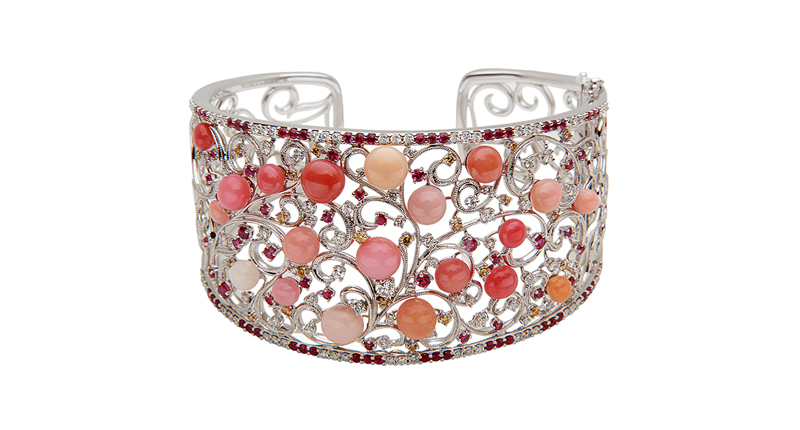 And, according to a
2015 article in the GIA's Gems & Gemology
, the Laboratoire Français de Gemmologie analyzed eight samples of cultured conch pearls from a farm in Honduras.
The article said the cultured conch pearl samples had a "luster (that) was porcelaneous, and the surface was very smooth and homogenous with no defects. Almost all the samples possessed a typical but subtle flame pattern."
Though the article noted at the time that "queen conch pearl culture is undergoing intensive development," with the quality improving with each harvest, lab director Olivier Segura said Monday via email that the recent events in the Caribbean have had "huge consequences" on their farming.
Sethi told me no cultured conch pearls have yet hit the market, and Segura noted that while the farmers had improved techniques, in his opinion, the culturing of conch pearls is "not yet a market issue."
5.
Demand in the United States is steady.
While conch pearls are in demand once again, thanks to their uniqueness, that demand is staying fairly consistent, Sethi said.  
This is not that surprising, given their rarity and higher pricing, which makes them accessible only to a certain customer. 
Since they got into the conch pearl market seven or eight years ago and started advertising it, Sethi said not much has changed for them in this sector. 
"The demand is there, but it's only at the very elite level," he commented, adding that this means conch pearls can only be sold at stores with a deep understanding of the gemstone. 
More on Editors
Editors
May 24, 2023