Petra to Hold Tender for 20-Carat Blue Diamond
Analysts say it could sell for as much as $15 million.
London—Petra Diamonds said it will hold a special tender for an "exceptional" large blue diamond recovered in South Africa last month.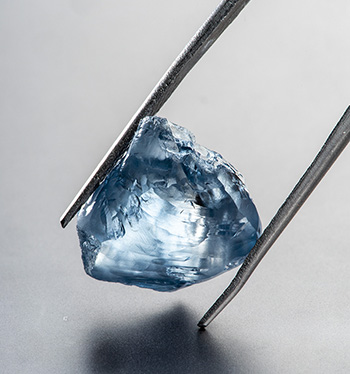 The company unearthed a Type IIb, 20.08-carat gem-quality blue diamond at its Cullinan mine in September and now will put the stone up for sale.

Viewings will take place from Friday, Nov. 1 to Thursday, Nov. 7 at Petra's diamond marketing offices in Johannesburg.

Appointments can be made by contacting either Greg Stephenson, group head of sales and marketing at (+27) 836-379-849 or Greg.Stephenson@petradiamonds.com, or Stephanie Hulett, sales and marketing, at (+27) 716 722 570 or Stephanie.Hulett@petradiamonds.com.

The tender will be held Friday, Nov. 8 through Friday, Nov. 15 at 12 p.m. at the city's Diamond Exchange and Export Centre (DEEC).

Viewings during this time will be facilitated by the DEEC; bookings can be made by contacting them directly at (+27) 11-223-7077.

Shore Capital said in a note Monday it expects the diamond to fetch between $13 million and $15 million, while investment bank Berenberg valued it at between $10 million and $15 million, Mining.com reported.
More on Sourcing