De Beers Shuts Down Mine in Canada
De Beers has ceased operations at its Snap Lake mine and will take the next year to determine if mining there is worthwhile given the drop in demand for diamonds.
Toronto--De Beers has ceased work at its Snap Lake mine, putting the location on care and maintenance status while it takes the next year to evaluate market conditions and determine if the restarting work there is worthwhile.

More than 400 people lost their jobs because of the closure.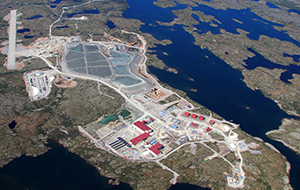 Snap Lake mine is Canada's only underground diamond mine, and its output has included a range of gem-quality diamonds in the white and near-white categories, according to De Beers.According to Tom Ormsby, De Beers' head of external and corporate affairs in Canada, Snap Lake mine produced nearly 1.2 million carats of diamonds in 2014, and since opening in 2008 had been accounting for about 3 to 4 percent of De Beers' total output annually.
Ormsby said work on the mine, a remote fly-in/fly-out location that is northeast of the Canadian city of Yellowknife in the Arctic Circle, will take place in stages and require a team of 120 people. Over the next nine months, that team will be scaled down to about 70 people who will oversee the mine's care and maintenance from that point forward.
"For the next year, our focus is on safely putting the mine into care and maintenance while monitoring market conditions to see if the potential to restart the mine as a viable ore body will be possible," he said. "We will regularly review our options going forward, which would include restarting the mine, extending care and maintenance, closing the mine or selling the asset--but those decisions are down the road at the moment."
In other company news, De Beers announced the appointment of Nimesh Patel as chief financial officer. He succeeds Gareth Mostyn, who now is the executive head of strategy and corporate affairs for De Beers.
Patel comes to De Beers from Anglo American, where he was group head of corporate finance. He also spent 15 years in investment banking at JPMorgan and as a managing director at UBS. 
More on Sourcing