The Smart Lab: Onsite vs. Offsite Reviews
Emmanuel Raheb, CEO of Smart Age Solutions, explains which one he thinks jewelers should utilize and why.
The Internet has made it easy to gather information about potential purchases, and modern shoppers are taking full advantage of that.

One of the most important factors in an online shopper's purchase decision are reviews.

Some interesting statistics about online shopping and reviews: 91 percent of consumers in the 18-34 age group trust online reviews as much as they trust personal recommendations, according to BrightLocal's 2018 consumer survey, and 57 percent of online shoppers ignore companies with less than a 4-star average.

Online reviews do not fit into the customer purchase journey in a linear fashion, however.

Potential customers can encounter reviews at any stage of the buying process, whether they are shopping for specific pieces or a jeweler from whom to buy their engagement ring. In either case, a review can influence a shopper's perception of your business.

When discussing reviews, it's important to know the distinction between onsite and offsite reviews.

Onsite reviews are those customers leave directly on your website about specific products or your business in general after purchases. Offsite reviews, meanwhile, are reviews left on Google or other sites that can sway shoppers who haven't visited your website.

Although consumers use both types to evaluate a business before making a purchase, jewelers who want an advantage should utilize onsite reviews instead of relying only on offsite reviews.

In this article, I will explain how through onsite reviews, retailers have an opportunity to increase their conversion rates.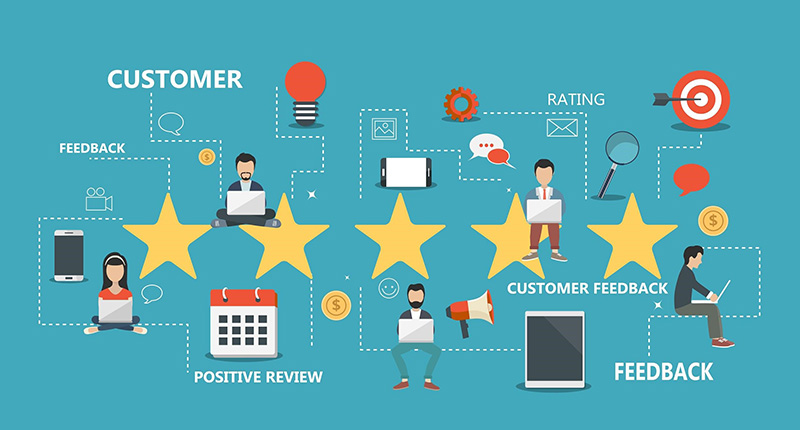 Onsite Reviews Offer an Advantage

One of the reasons onsite reviews improve the conversion rate of many products is that they keep shoppers on your website longer.

When shoppers are thinking about making a purchase, they look for credible information that can inform their decision.

Data from Northwestern University's Spiegel Research Center has revealed that credible reviews can increase conversions by up to 270 percent and that reviews are much more important for higher-priced items.

Although consumers are able to look up offsite reviews, you run the risk of them not returning to your website afterward.

To really maximize that potential 270 percent conversion-rate growth, jewelers should have reviews available directly on their webite. The aim is to have your consumer make it to the purchase stage of the sales funnel in as few clicks as possible.

Reviews left by other shoppers contain a wealth of information for prospective buyers. They can know what the purchase experience was like
and also be notified of any difficulties other shoppers might have.
An example of a company that does onsite reviews well is
Amazon
(of course!).
Because users are research-focused, they want to see reviews of a product before buying. Amazon makes this incredibly easy to do by allowing users to sort through hundreds of reviews without having to navigate away from the product page they're currently on.
Additionally, Amazon allows users to filter reviews by star rating, as well as sort them based on which were rated the most helpful by other users.
Your e-commerce platform won't necessarily have these capabilities, but the principle of making the research phase as seamless and efficient as possible is something all jewelers can integrate into their strategy.
As consumers' expectations grow, so does their desire for more seamless website experiences.
If you make it easy for consumers to do research on your website they can trust, they most likely will end up making a purchase.
Emmanuel Raheb is the CEO of Smart Age Solutions, a digital ad agency and coveted Premier Google Partner. With nearly 18 years' digital marketing and e-commerce experience, Raheb is passionate about helping and strategically growing national jewelry brands and local retailers alike. Contact him at eraheb@smartagesolutions.com.
More on Technology