The Smart Lab: Why Facebook Pop-Ups Are a Plus
The social media giant has opened pop-up shops in nine cities. Emmanuel Raheb explains why this is a good thing for small businesses.
In a world where everything seems to be transitioning into the digital space, it might be surprising to hear about an online player like Facebook investing in offline business. But like so many other online businesses—Amazon, Warby Parker, Rent the Runway, etc.—it is.

Popping Up All Over the Place
On Nov. 5, Facebook partnered with Macy's and opened one pop-up shop in each of these major cities: New York; Pittsburgh; Atlanta; Fort Lauderdale, Florida; San Antonio, Texas; Las Vegas; Los Angeles; San Francisco; and Seattle.

Facebook said the goal of these pop-up shops, which will be open through February, is to help consumers discover new brands.

The shops are an experiment the social media company is performing to test the hypothesis that it can use data to sway people's holiday purchases; they are geared toward holiday shoppers who don't know what to buy for others.

The experiment consists of taking 15 items that are generating the most buzz on Facebook and displaying them in physical retail locations.

Facebook's specific hypothesis is that showing unsure or undecided shoppers the items that most consumers approve of will increase the likelihood they will buy said items.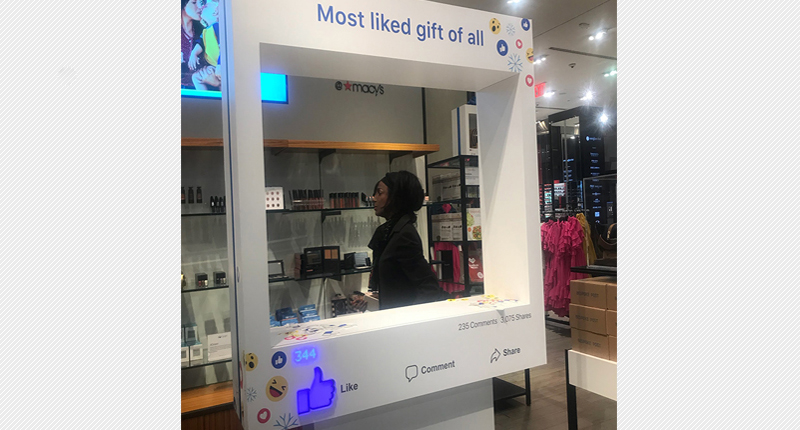 The Facebook pop-up shop inside the Macy's flagship store in New York's Herald Square (Photo credit: Smart Age Solutions)
The Local Business Advantage
All the products featured in Facebook's pop-up shops come from small businesses. Facebook is eating the cost of these shops, which means that small businesses have a great opportunity to get their name and product into a well-established store at little or no cost to them.

These pop-up shops come at an important time.

A common refrain among small business owners and marketers is that they "don't have the budget or resources." But digital marketing has lowered the cost of reaching consumers exponentially, and a savvy marketer or agency can attain great results for a small business.

In fact, Google has maintained that small businesses have the same, if not a better, shot at succeeding on digital platforms than large companies do.

If you're asking how this is possible, then you're asking the right question.

Large companies cannot compete with local businesses in every single domain. In essence, the greatest advantage of a large company—its size—is also its weakness in many respects. At this point in time, no one can cater to consumers like a perceptive local business.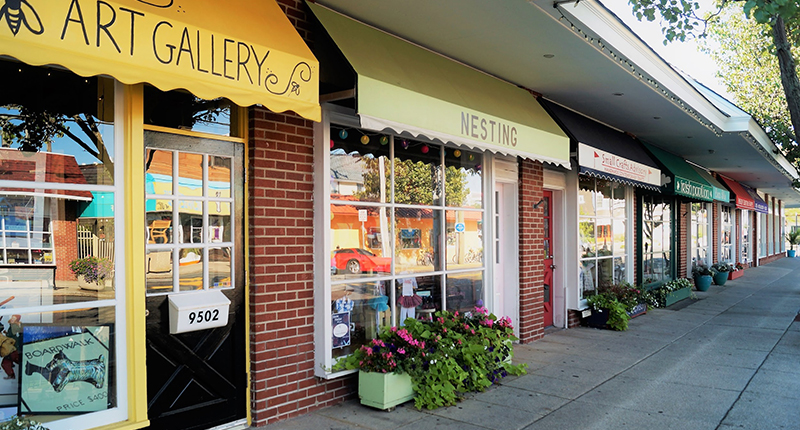 The Takeaway
By creating websites and ad accounts with social media
sites, local businesses arm themselves with the tools they need to learn everything they need to know about their target market.
In that respect, digital marketing is not all about making sales online. It actually can help you drive more in-store sales.
But, more importantly, it's about gathering data on your customers so you can serve them better. Websites and digital marketing are the tools small businesses need to succeed.
Local businesses also have an advantage over online-only retailers. The physical space that some online players see as a liability is actually a huge asset.
Physical retailers have the space to host customers in their own area. The best online engagement pales in comparison to meeting IRL (in real life). This is the reason large online players, like Facebook and Amazon, are investing in physical stores.
It is up to local businesses to understand their target markets through digital marketing and web analytics to use their physical spaces effectively.
Emmanuel Raheb is the CEO of Smart Age Solutions, a digital ad agency and coveted Premier Google Partner. Raheb is passionate about helping and strategically growing national jewelry brands and local retailers alike. Contact him at eraheb@smartagesolutions.com. 
More on Technology