Retailer Hall of Fame 2019: David and Julia Gardner
The couple has utilized their complementary skill sets to carve out a niche in College Station. Here's how they did it.
Being located in College Station, Texas, a town that largely revolves around Texas A&M University, puts David and Julia Gardner in a unique position, as the makeup of their customer base differs from the average U.S. retail jeweler.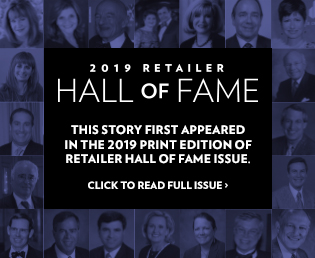 At David Gardner's Jewelers & Gemologists, they attract the international figures who visit the university and the George H.W. Bush Presidential Library and Museum, which sits on campus.
Being in a college town—particularly one where the undergraduate enrollment tops 50,000—also means they have many young consumers to target. And with them a group of alumni who—attached as all Aggies are to their alma mater—return to campus again and again, bringing with them another opportunity to sell.
"Our marketing opportunity operates on several fronts because of this—we operate with a huge young market as far as engagement rings go. We operate with the professionals in the community. And third would be the former students who become very connected to the community and A&M," David says.
That might seem like a varied group to cater to, but between David's talent for design and Julia's marketing acumen, the Gardners have managed to carve out a niche that is unmatched in the area.
"The strength of the business is the duo … each one has extreme strengths in certain areas, and in each of those areas they complement one another," says friend and Underwood Jewelers President Clayton Bromberg.
The way the store is set up—to focus on the design process—"puts them in a uniquely qualified position to compete in College Station," he adds. The couple's expertise and knowledge are also backed by memberships in associations such as the American Gem Society, and the store's status as a trusted town fixture helps too.
Straight to the Source
Though David started in jewelry at a young age, working in a Zales Jewelers store as a teenager tasked with taking repairs to a local jeweler (with whom he would eventually apprentice), he still didn't necessarily think that's where he would end up.
He and Julia married young, and worked their way through college. 
David graduated with a degree in marketing but eventually found himself working for another jeweler who designed everything he sold in his shop. There, David discovered his passion and talent for design and made the decision to stick with jewelry.
The Gardners opened their store in 1983, building the business from the ground up, with David serving as the creative force behind design and Julia overseeing their marketing efforts. 
After more than three decades, they've had to adapt to more than a few changing consumer habits and trends.
The conversation of how to reach younger buyers is one the entire retail industry is having, but it's of prime importance for retailers like the Gardners, whose store is literally surrounded by consumers ages 18 to 21.
To make sure they're getting the right messaging out, the store goes straight to the source: they've established a Student Advisory Council, usually comprised of about 30 to 45 college-aged kids.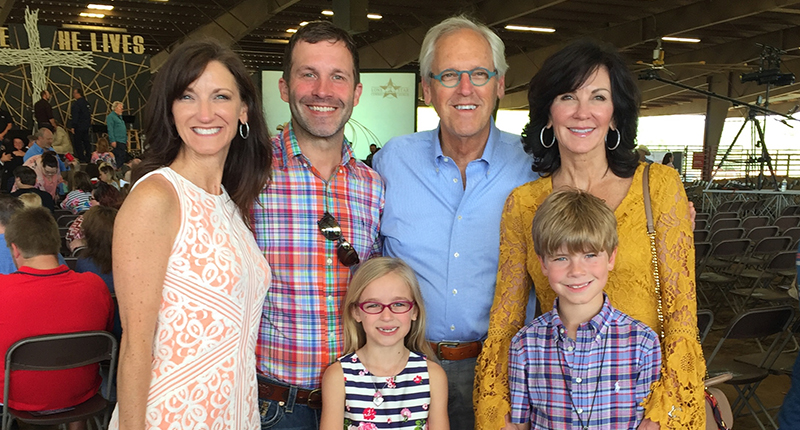 And they know how to entice them to participate: they bring the students into the store and feed them dinner while soliciting their feedback and advice.
For example, this spring the store was planning a bridal event. Before they got too far into it, David and Julia asked a group of male students to give feedback on the event names they had in mind.
What they found out was the guys thought calling it a "bridal event" was confusing. Instead, they chose "Ring by Spring," a melodic play on words that also has significance to students, who get their class rings by spring of junior year.
"We found out that our community [College Station] doesn't ask their opinions. That's not something people do," Julia says. "We think we know them because we read about them, the millennials. But they eat it up. It's very lively, very interactive and high energy … We love to learn from them, and we implement what they say, and that feels good to them."
Rethinking Business
The Gardners run their store by the pillars of honesty and integrity, and, both children of professors, they also put a strong emphasis on education and knowledge. 
They value it not only for themselves but also for staff and will help staff members cover costs associated with jewelry education. 
"We want every person here at the first of the year to say, what is going to make this year great? And it's usually not just money. It's about helping them achieve something they haven't achieved before," David says.
He attributes much of what they have achieved to AGS.
"I always went to [AGS Conclave] and said, 'I want to come away with an idea that will impact my business at least a million dollars in volume.' With that in mind, it forces you to listen better, to focus on application, to ask the right questions." — David Gardner
David served as board president of the society from 2012 to 2014, a term that included overseeing the return of the Young Titleholders committee.
"You don't become the president of the American Gem Society unless you yourself are a good person," Bromberg says, referring to the additional time and effort required of serving. "He made that commitment."
But it's safe to say David feels he's gotten as much, if not more, from AGS than he has put into it, crediting the organization's annual Conclave with providing the inspiration for some of their best ideas.
"I always went to the meeting and said, 'I want to come away from Conclave with an idea that will impact my business at least a million dollars in volume.' With that in mind, it forces you to listen better, to focus on application, to ask the right questions."
Indeed the Gardners have asked the right questions over the years, adapting their retail store to an ever-changing consumer base.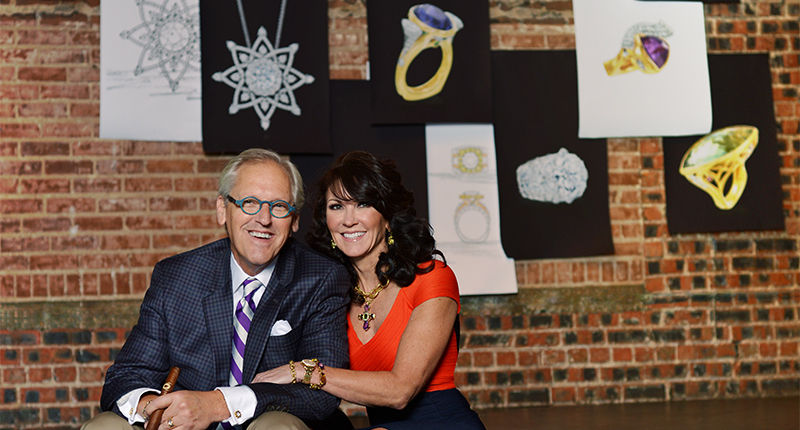 A little less than three years ago, their listening led them to jettison almost all brands and, instead, focus on their own. 
While it was a bold move, it wasn't an unfounded one. David and Julia say consumer response to their DG brand drove the decision, and the numbers supported it.
"It wasn't as crazy as you would think. We were already having tremendous success [with our brand]," David says. "We just weren't focusing on it, so that's where I think the normal way of doing business was actually hindering us, and it was time to clean it up."
Knowing consumers were loving the jewelry they were making in-house, the Gardners said goodbye to more than 10 brands—some were difficult goodbyes since they had long-standing relationships—and revamped their own marketing.
"Right after we did that, I think we had a year of 25 percent growth," David says. 
He designs a line for the store and takes on custom, one-of-a-kind projects for customers as well, both of which offer something the Gardners feel shoppers can't find anywhere else.
In fact, John Henne, president of Henne Jewelers in Pittsburgh, liked one of David's designs so much—a cross pendant that incorporates an infinity symbol—he started carrying it in his store. 
"The strength of the business is the duo ... each one has extreme strengths in certain areas, and in each of those areas they complement one another." — Underwood Jewelers President Clayton Bromberg
The jeweler's designs run the gamut, from what he refers to as "vanilla with sprinkles" to what they like to call "DG Crazy."
"I'll have people put 80 percent of their budget into DG Crazy and drop the diamond to only be 20 percent [of the cost] so they can get the DG Crazy, because they want different, unique, crazy — a conversation piece," he says.
The store's design also adds to the unique experience David Gardner's Jewelers & Gemologists can offer.
It is meant to have a welcoming, interactive feel that allows clients a peek behind the curtain, with the bench jewelers working in the middle of the store in the design studio and the showcases radiating out around them.
"When you come into their store, for the person who's interested in having something made, one-of-a-kind, you instantly get the feeling … that these people are experts," Bromberg says.
Texas A&M alumnus Logan Lee, a former guard on the Aggies basketball team, got to know the couple when he bought an engagement ring from them as a student. Now, a decade after graduating, he works with them in a professional capacity because they advertise on the website for which he works, TexAgs.com.
He says the design center is one of his favorite parts of the store.
"There aren't a lot of places that will show you the ins and outs of how they get to pieces and how everything was created."
Now, less than three years into the big shift, David and Julia say they've gained traction when it comes to marketing their business as its own brand.
For colleagues, it's another example of how the self-made business owners continue to be at the top of their game.
"I think what you learn from them—and you have to apply it to your own situation—is that everybody's got an unfair advantage from which they can compete," Bromberg says. "The two of them took their strengths in building that store and turned it into their unfair advantage … You're not going to be able to outdo them at what they do. They're the best at what they do."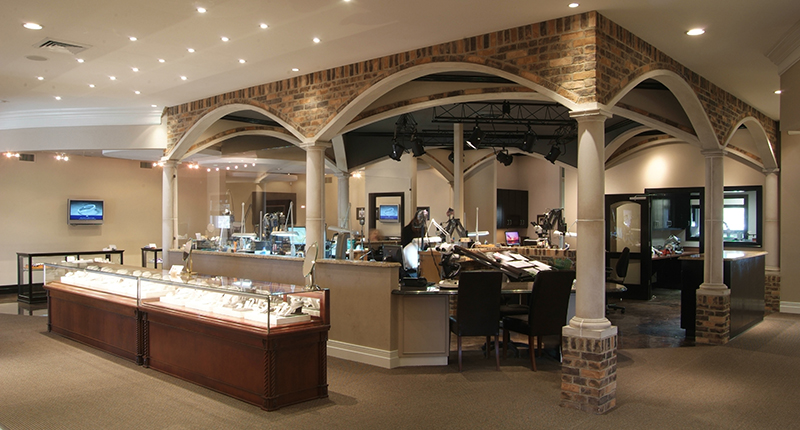 Caring for Community
A common thread among the industry's most successful retailers is that they are also among the most active businesses in their community. But few seem to have taken it to heart quite like the Gardners.
In College Station, they engage in more than 300 partnerships, big and small, on average every year to help various organizations raise money.
The number, almost unbelievable in its scale, is the result of their unofficial internal policy of "not saying no," David says.
Julia adds: "We both grew up here … and then we also had parents who were generous and gave, so it was very natural for us."
Lee, the former student, says the Gardners are "pillars in [their] community" when it comes to their generosity, love and support for the College Station area.
Last fall, their involvement reached new heights.
David Gardner's Jewelers & Gemologists marked its 35th anniversary in 2018, and, not surprisingly, the Gardners opted to celebrate the milestone in a philanthropic way.
Touched by the story of A&M football coach John James "Jimbo" Fisher Jr.'s son and his fight against a rare blood disease called Fanconi anemia, the Gardners celebrated their store's anniversary by hosting a fundraiser for Kidz1stFund, which Jimbo and Candi Fisher created to help raise awareness about and funds to fight the disease.
And the Gardners did it at their house.
More than 200 people turned out. They had a tent with a wood floor outside, live music inside the house and out, and three different bars. They raffled off a necklace made especially for the event. Fisher was there too, as were a few football players and ESPN.
The end result? They raised $150,000 in one night, all of which went to the Kidz1stFund. The Gardners absorbed all expenses.
This doesn't surprise anyone who knows them.
Pittsburgh jeweler Henne is in the Retail Jewelers Research Group with the Gardners, in which participating retailers are transparent in their business operations with one another. Henne says as he was going through the Gardners' financials in detail, what stood out to him is exactly how much they give to their community, charities or organizations.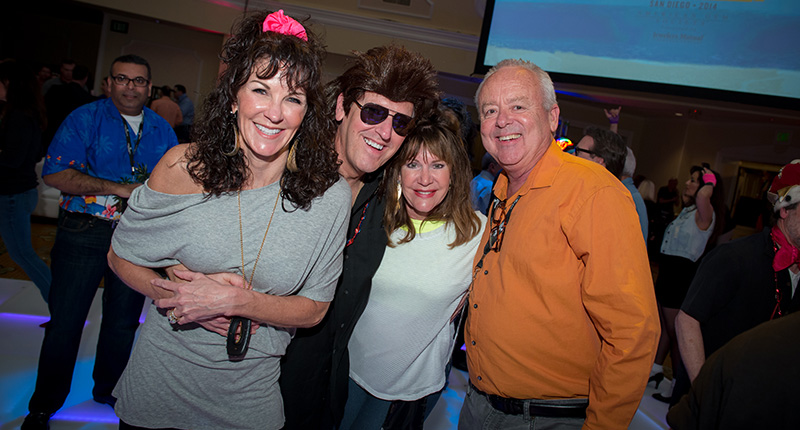 It also played a major role in the store's relocation 13 years ago. 
A bigger store—7,500 square feet to be exact—has allowed them to be more "community involved," David says.
"You would not call it retail efficient … but we have a lot of fun with it."
They've had as many as 40 events in one year in the building, a figure that comprises more than just store events. 
The Gardners open up their space to community and student groups, for board meetings and fundraisers, which is all part of Julia's "magical" marketing, as David refers to it, designed to get people into the store in an atmosphere in which they're comfortable. 
"All jewelry stores, or most, have an intimidation factor," Julia says. "The last thing in the world we want is for somebody to feel intimidated. Because our store is set up the way it is—with our shop/design studio in the middle—it does have a warmth to it and an energy. But they don't know that until they come in."
It's part of the "people-first" way the Gardners run their business and their lives, Lee says. 
Lee recalls that while working with David on his now-wife's engagement ring, he asked the jeweler not to make it too expensive. David told him that as long as he paid something toward it every month, no matter how little, they'd make him the ring he wanted.
Says Lee: "It's those types of actions that make me, No. 1, a friend for life, but No. 2, also a customer for life." 
More on Independents