Tupac's Crown Ring Expected to Go for $200K-$300K at Auction
The rapper and actor designed the ruby and diamond piece himself and wore it during his last public appearance in 1996.
New York—Sotheby's upcoming auction of hip-hop memorabilia will feature
another crown
but, this time, it is from the collection of a West Coast rapper.  
Musician and actor Tupac Shakur designed a gold, ruby and diamond crown ring, and wore it at his last public appearance, the 1996 MTV Video Music Awards (VMAs).  
Expected to sell for as much as $300,000—a conservative estimate considering Biggie's plastic crown sold for nearly $600,000—it is set to be the highlight of Sotheby's online-only hip-hop auction, which opens for bidding next week. 
Shakur, who went by the stage name 2Pac and, later in his career, Makaveli, had just been released from jail when he commissioned the piece in early 1996. 
The ring represented both a coronation and rebirth for the rapper, who was looking to start over personally and professionally. 
As Sotheby's put it, "To commemorate this momentous arrival into a new stage of life and illustrious career, Tupac got new bling." 
His godmother, adviser, money manager, and lifelong supporter Yaasmyn Fula served as liaison between the young musician and jewelers in New York to craft the ring according to Shakur's specifications. 
Influenced by Niccolo Machiavelli's political manifesto "The Prince," which he read while incarcerated, Shakur modeled his ring after the crowns of medieval kings of Europe in "an act of self-coronation," according to Fula, and a celebration of survival.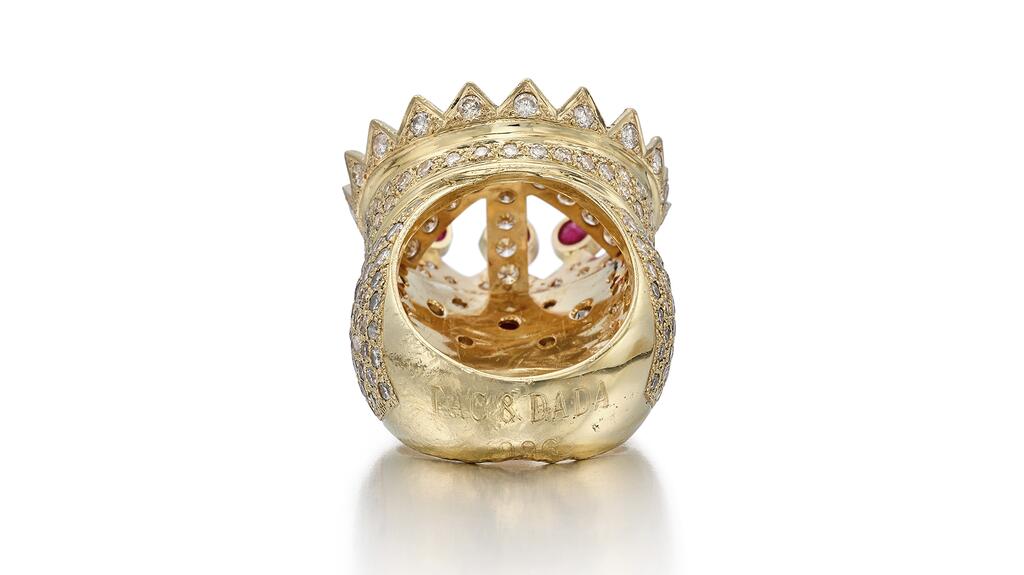 The crown in Shakur's ring sits atop a diamond-encrusted gold band and features diamonds, faceted rubies and, at the center, a cabochon ruby. 
Sotheby's said the musician picked rubies for the piece because of their symbolic ties to monarchy and wealth, a continuation of the ring's royal narrative.
Shakur, who was described as "always one to love out loud," had the outer, palm-facing side of the band inscribed with "Pac & Dada 1996," a reference to his then-recent engagement to actress Kidada Jones. 
He typically wore the ring on the ring finger of left hand, and that's where it was spotted at the VMAs on Sept. 4, 1996 in New York.
Shakur was murdered in Las Vegas a little over a week later. He was 25. 
 Related stories will be right here … 
The Sotheby's sale is one of several events celebrating the 50th anniversary of the style of music known as hip-hop, which originated in a basement in the South Bronx in 1973. 
It's also Sotheby's third annual sale dedicated to hip-hop, once again organized in collaboration with former Tommy Boy Records President Monica Lynch. 
The auction house is presenting the sale in collaboration with media and content company
Mass Appeal
. 
In addition to Shakur's ring, the auction will include art, sneakers, studio equipment, flyers, posters, and more from artists including Wu-Tang Clan, Nas, Ice-T and Afrika Islam, Fab 5 Freddy, Big Daddy Kane, Futura, Lee Quiñones, and UNKLE & Mo' Wax founder James Lavelle, among others. 
The online-only auction will be open for bidding from July 18-25, with a public exhibition scheduled for July 20-24 at Sotheby's New York. 
More on Auctions