Halstead Grant Names 2023 Winner
S. Howell Studio took home the prize in the supplier's 18th annual contest.
Prescott, Ariz.— Stephanie Howell of nature-inspired jewelry brand
S. Howell Studios
is the winner of the 18th annual Halstead Grant for Emerging Jewelers, the bead supplier announced last week.
Howell will receive a $7,500 cash grant, $1,000 in jewelry supplies, a trophy, and a trip to Halstead's headquarters in Prescott, Arizona.
She will also take home a feedback report from the judging committee.
It was during a jewelry class at Middlesex Community College that Howell said she, "became enthralled with the fluidity, malleability and permanence of metalsmithing."
She graduated from Southern Connecticut State University in 2011 with a bachelor's degree in Studio Art. In 2019, Howell founded S. Howell Studios in Moran, Wyoming, home to the Teton Range, where she takes much of her inspiration.
Her
latest collection
combines mountain motifs with grandidierite stones, a rare teal-hued mineral. 
Howell's jewelry starts at $25 and is priced up to $1,250 for custom and limited-edition pieces. All her pieces are made and packaged with a focus on sustainable practices.
"I am incredibly honored and proud to be this year's recipient of the Halstead Grant. The rigorous application process pushed me to continually improve and seek guidance, ultimately propelling me towards success and affirming the value of perseverance and professional development in the early stages of my business," Howell said. 
"Winning the grant has provided me with invaluable resources and support, empowering me with a renewed sense of confidence in my entrepreneurial journey."
 Related stories will be right here … 
The Halstead Grant began in 2006 to help emerging designers craft business plans, which is part of the application process. It provides resources for entrepreneurs to set goals and plan clear steps toward creating self-sufficient businesses.
The application process encourages applicants—all in their first five years of business—to strategize for entrepreneurship, touching on marketing, competitive analysis, finances, and production capacity.
Winners are decided on the basis of design and "business prowess."
"Stephanie presented a plan for authentic artistic expression and financial independence," said grant founder and Halstead President Hilary Halstead Scott.
"She is proof that 'artrepreneurs' can excel creatively and earn a good living in the field. She is an example of hard work and dedication. She elevates nature jewelry to new heights."
In addition to Halstead Scott, this year's judging committee consisted of Halstead Director of Finance Brad Scott, Halstead Marketing and Creative Manager Kelli Vanyek Greene, Halstead Studio Coordinator Sylvie Alusitz, and guest judge Michelle Moyer—owner of KP Studio in Phoenix, Arizona and the designer of Michelle Haumont Jewelry.
The 2023 Halstead Grant finalists are Allison Alane Jewelry, Kate Dannenberg Handmade, and Silver Borders. Each received $1,000 cash and $500 in jewelry supplies from Halstead, a change from last year's three finalist prizes of $500 and six semi-finalist prizes of $250.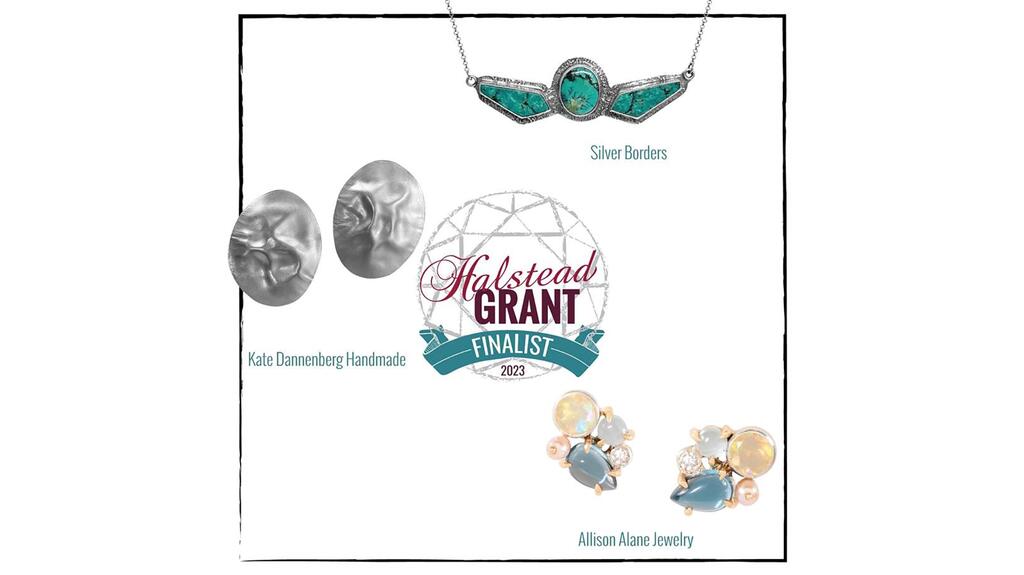 Last year's winner
was Ope Omojola, designer of Octave Jewelry.
The 2024 application is
now available
with a May 1 deadline. 
More on Events & Awards